Introduction
Microsoft is pushing out updates to System Center Configuration Manager Technical Preview at a very fast pace. Less than a month has passed since 1601 was released and now  1602 is available for Technical Preview 4. This outstanding release contains updates for iOS and Android amongst other things (see Whats new below).
Checking for the update
In Configuration Manager Technical Preview 4 version 1601 go to the Updates and Servicing section and click on Check for Updates in the ribbon.
Note: This is not present in 1512 or previous versions, if you are on a previous version then restart the sms_executive component.

This will kick start the dmpdownloader component into action. Use CMTrace to open the dmpdownloader.log available in <ConfigMgr installation path>\Microsoft Configuration Manager\Logs. Look for User requested dmpdownloader sync in the log file to verify you clicked on Check for Updates.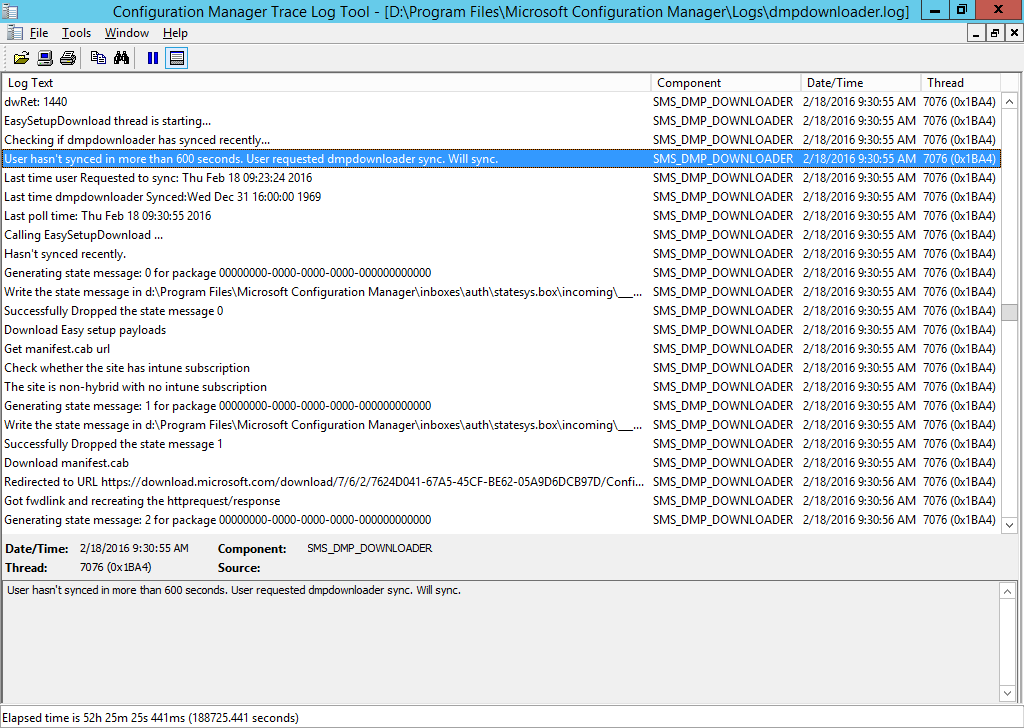 Once an applicable download is found you'll see something similar to the following in the log file
Generating state message 6 for package 6ebc8427-a4e1-4fd7-a452-8b43c6a4a195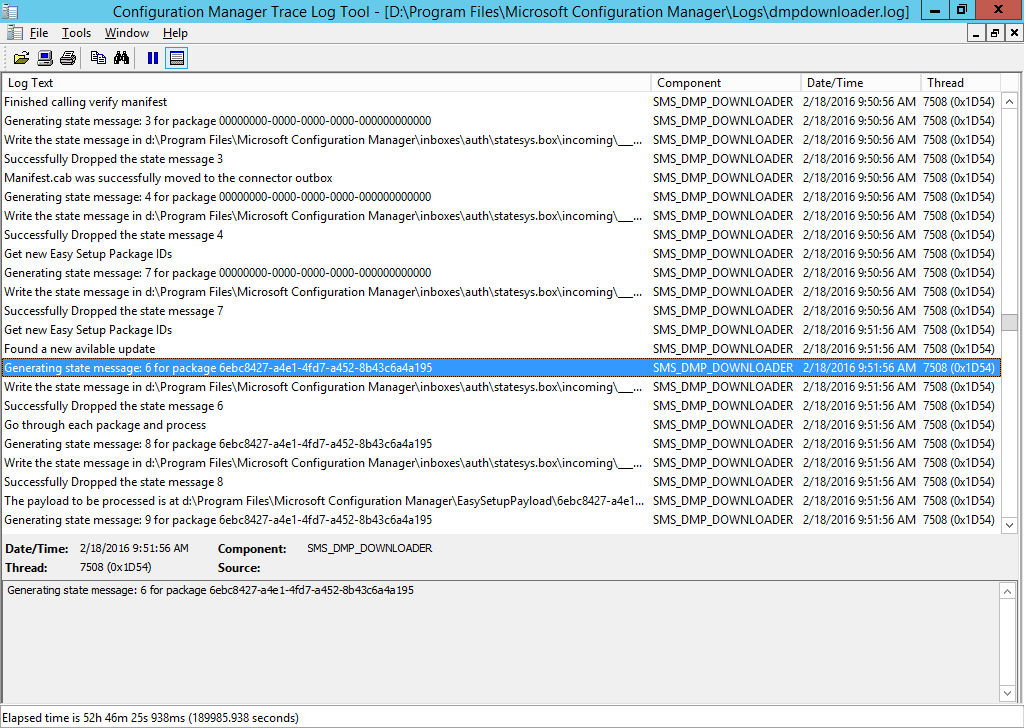 The package GUID will most likely be different for each release. Once the download is determined to be applicable it will be downloaded.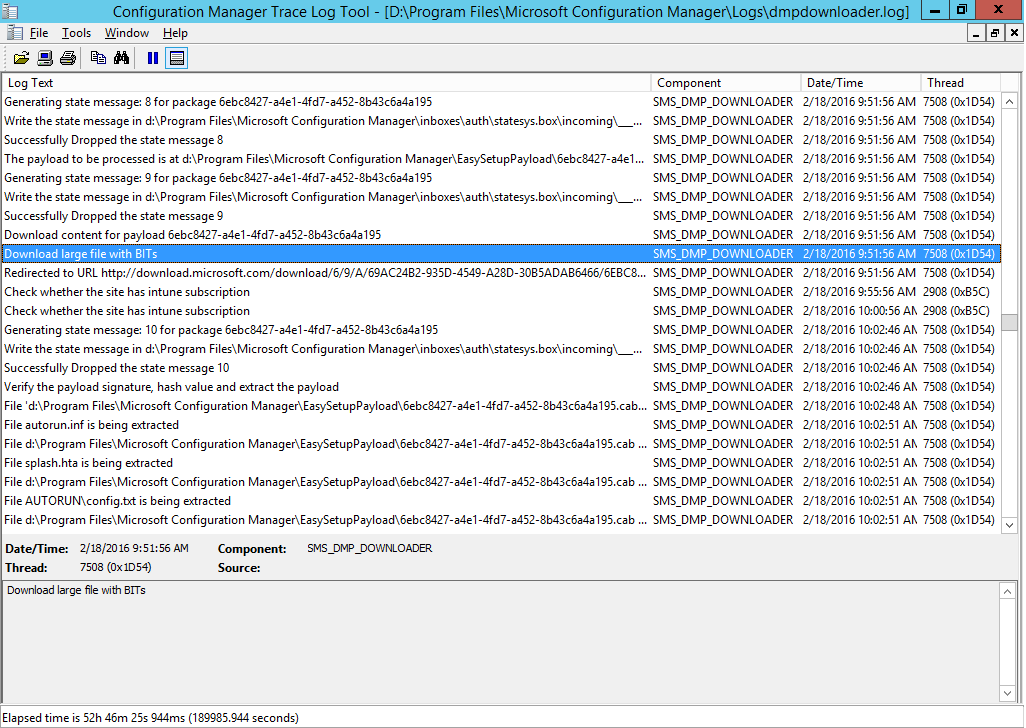 Once download and extracted it will be made available in the console as state Available.
Installing the update
Right click the update to install it.

The wizard will be displayed along with the available options.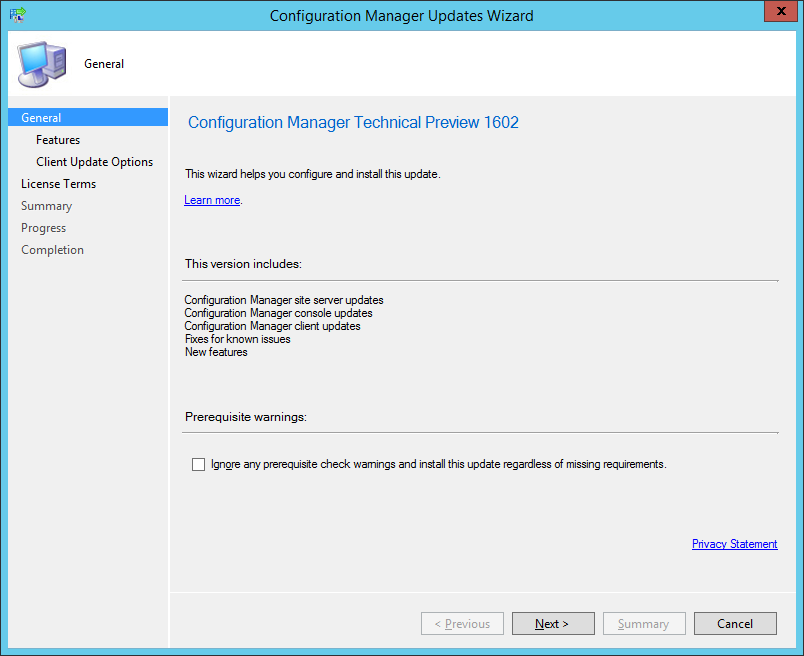 There's a new feature called iOS Activation Lock Management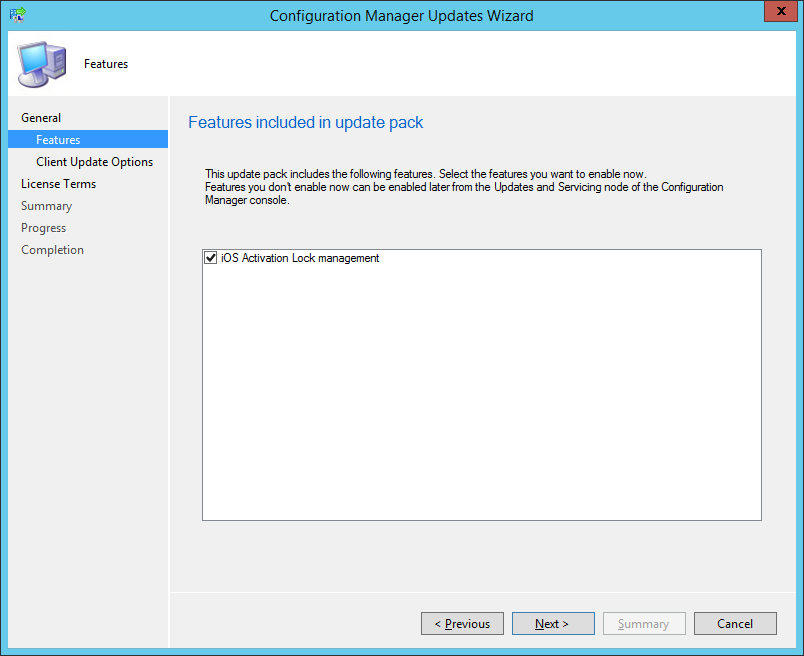 Select your Client Upgrade options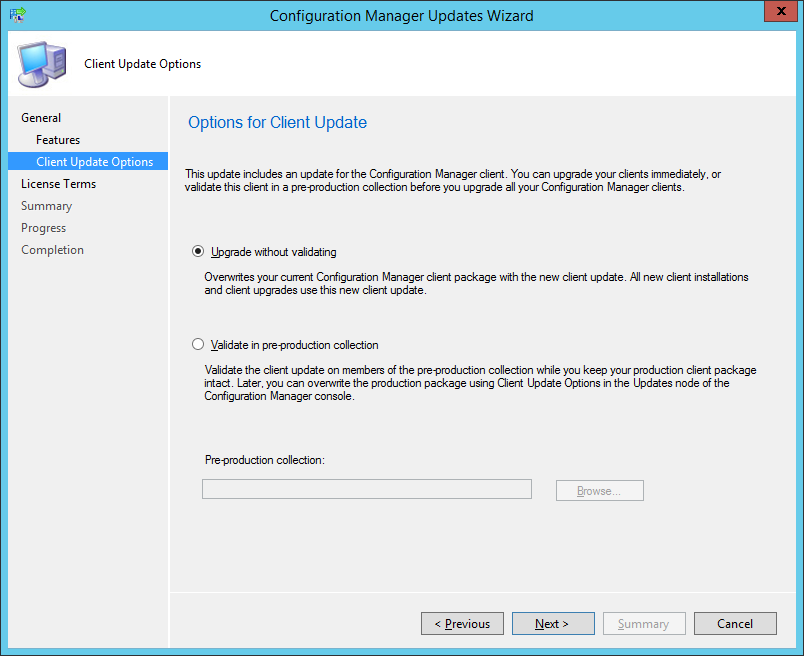 Accept the EULA
and review the summary at the completion screen.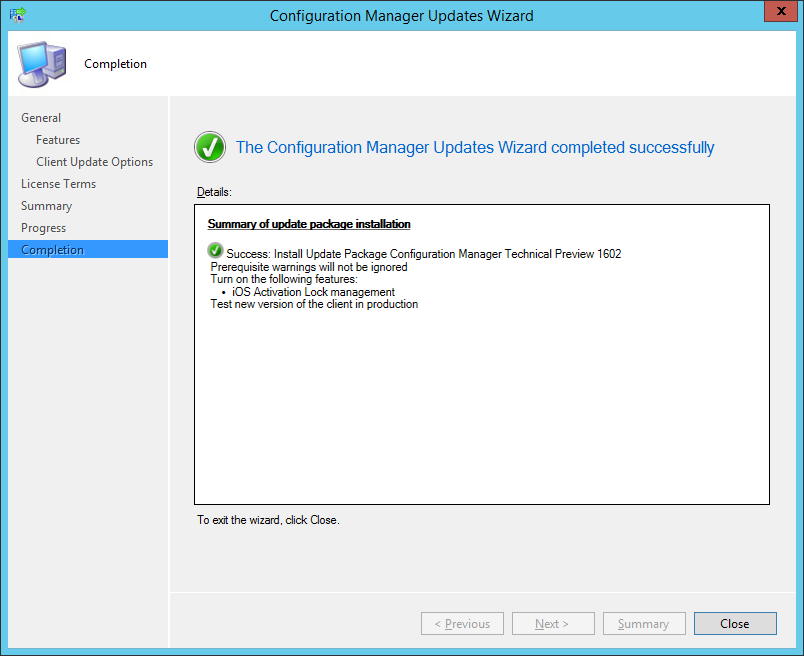 The state will now change to Installing in the console.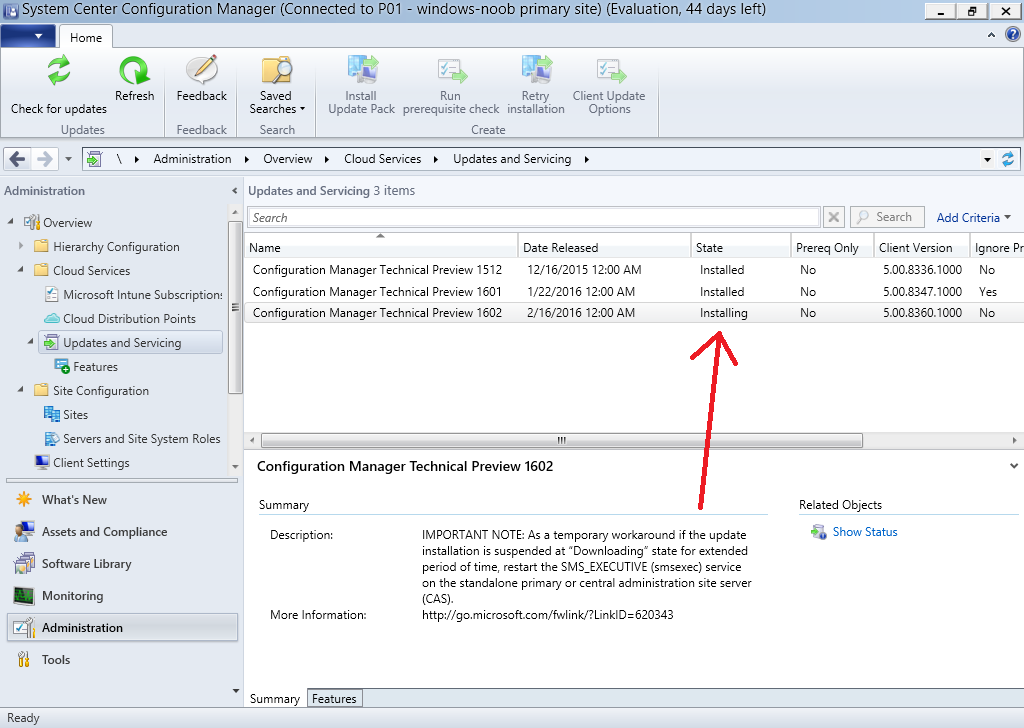 Use CMTrace to check the CMUpdate.log file found in <ConfigMgr installation path>\Microsoft Configuration Manager\Logs for detailed info about the installation of the update.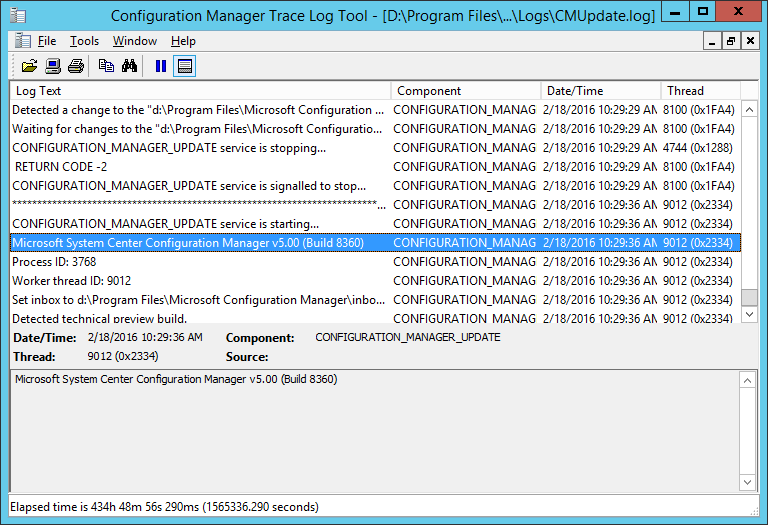 Or click on Show Status in the console to get details about the installation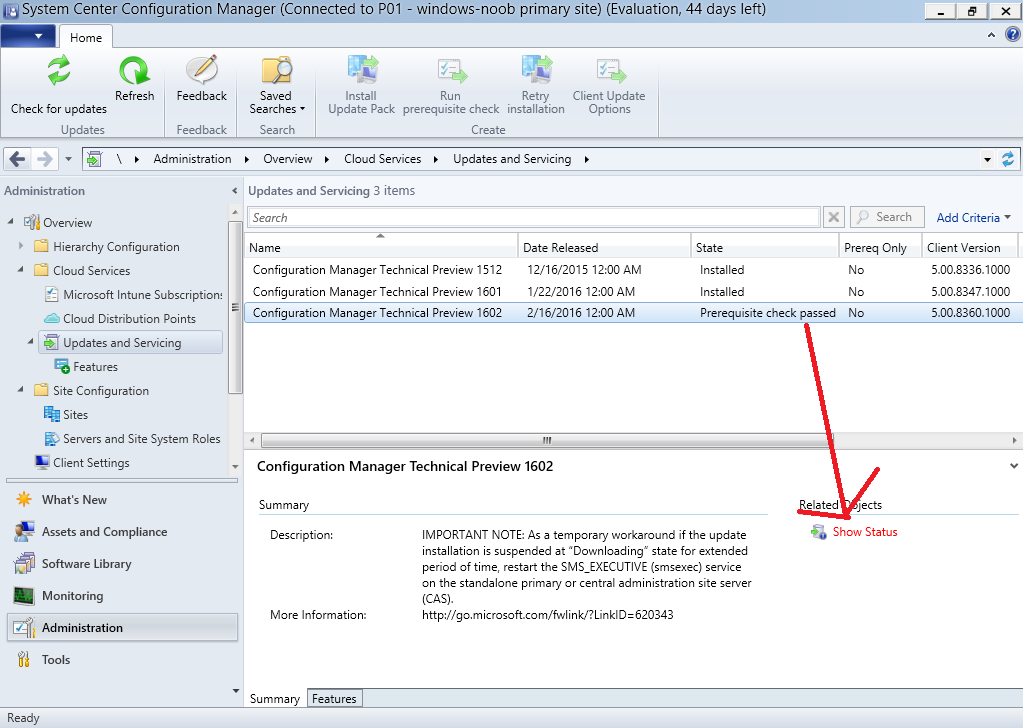 Which brings you to the Site Servicing Status page, here you must select the update being installed and click on Show Status again.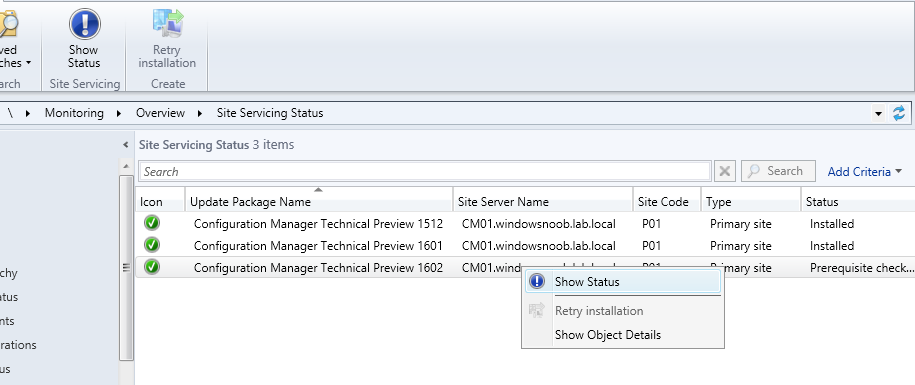 which will show you the Update Pack Installation Status

After the update is installed you'll see this informing you that a new update is available for the Configuration Manager console itself.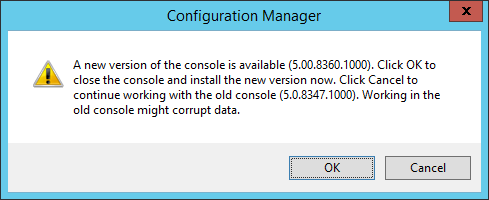 And finally it's installed.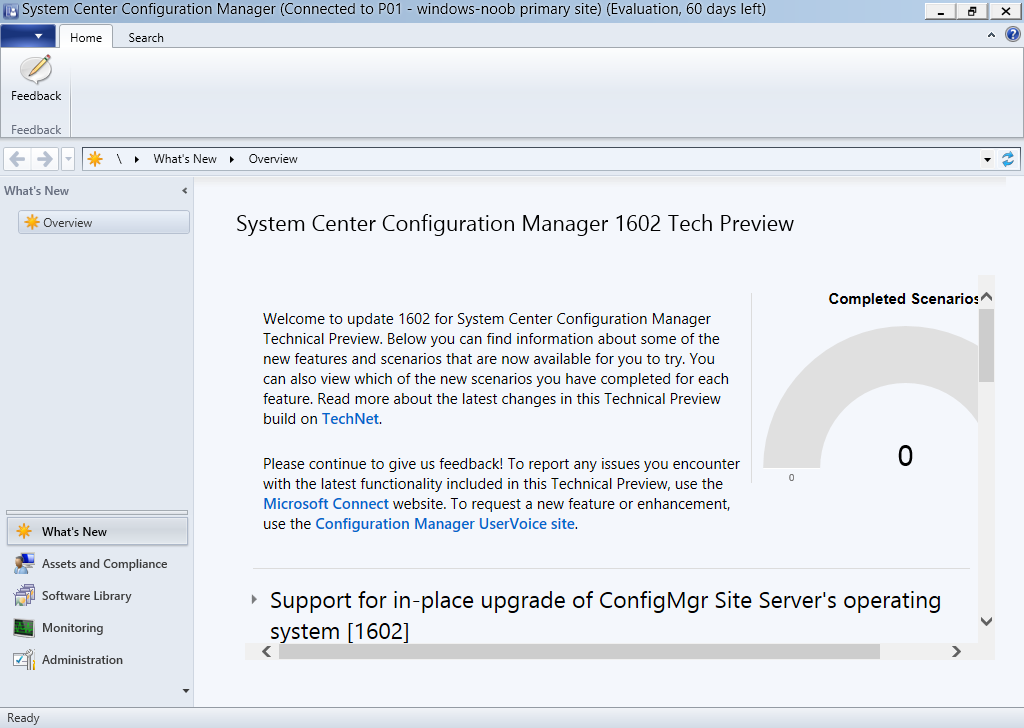 Whats New ?
System Center Configuration Manager Technical Preview 1602 contains the following new features
Inplace OS upgrade – New Feature !
Microsoft is showing that once again it listens to uservoice and has added support for inplace OS upgrade of the ConfigMgr site  server from Server 2008R2 to Server 2012R2.
WOW !
Sync Policies button in Software Center – New Feature !
Yet another uservoice request, now your users can initiate a sync for policy directly in the Software Center.
In addition there's the following new features:
Microsoft Office mobile apps for iOS and Android are pre-created for customers using ConfigMgr integrated with Microsoft Intune.
iOS Activation Lock management capabilities include: enabling, querying for the status, retrieving bypass codes, and performing an Activation Lock bypass on corporate-owned iOS devices.
Related Reading
Update 1601 now available in System Center Configuration Manager Technical Preview