Introduction
Reinstalling computers via PXE boot (in WinPE) is still a valid OSD scenario, however that method brings challenges not least when UEFI capable hardware is in place and when that hardware is also encrypted with Bitlocker.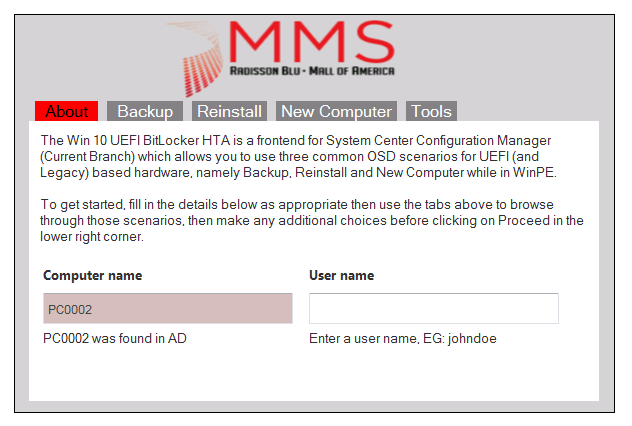 The above HTA get's around the initial hurdles that UEFI and Bitlocker present.
Problem
When deploying Windows 10 version 1607 with System Center Configuration Manager (Current Branch) verion 1606 and ADK 1607, and when migrating computers using the reinstall scenario (from WinPE) you might see failures relating to staging the boot image.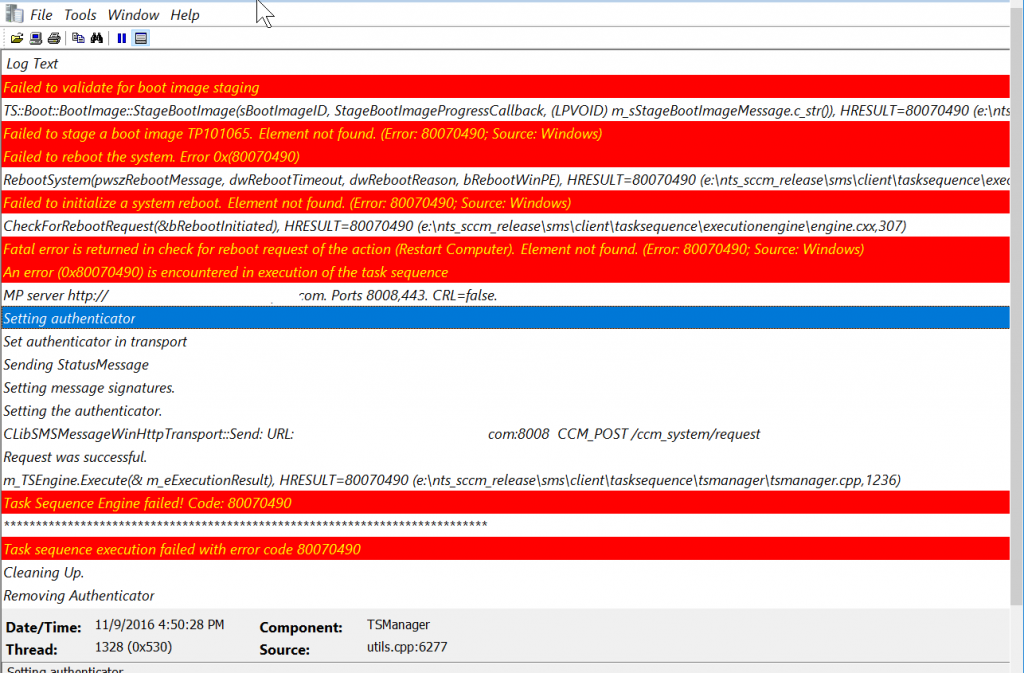 After doing a lot of testing we found that if a computer failed to stage the boot wim, that a bios upgrade solved the problem, I've contacted Microsoft to ask them what the 'element not found' means and will update this post if I get more info.
Below you can see two SMSTS.LOG files from a failed versus working reinstall. On the right, it correctly identifies that the disk is bitlockered (unlocked) and stages the boot wim, on the left, it fails with an 'element not found' error message similar to below:
Unable to find a volume that is suitable for staging the boot image. Element not found. (Error: 80070490; Source: Windows)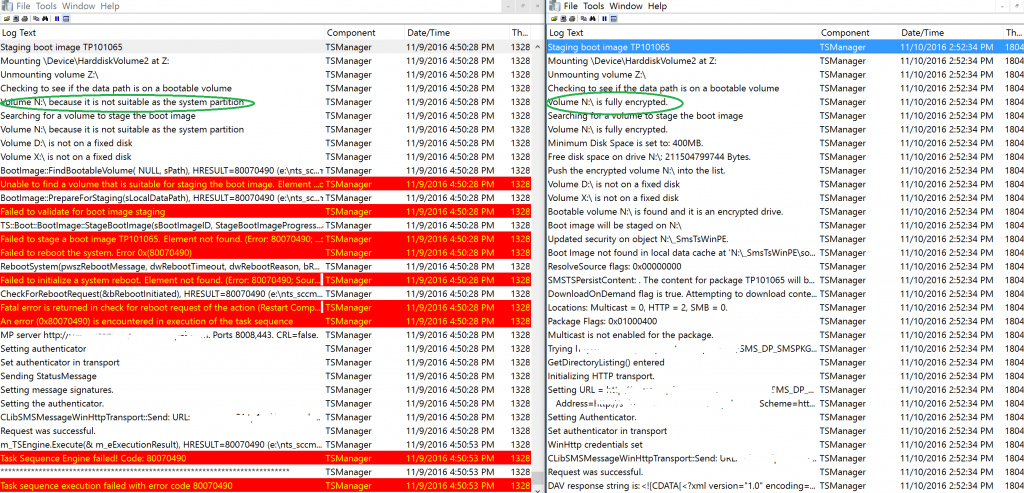 Solution
The solution is to upgrade the bios to the latest version and try again, or better yet, upgrade the bios before deploying or migrating to Windows 10.
We've seen this problem on several different models of Lenovo ThinkPad. The release notes of the bios update for ThinkPad W540 contained this info:
<2.21>
UEFI: 2.21 / ECP: 1.11
– [Important] Added support for Microsoft Windows 10 64bit.
While the Lenovo Thinkpad T450 (thanks Mike) has this info:
1.19>
– (New) Updated verbtable for noise.
– (New) Changed Haswell + N16s Tolud.
– (New) Updated Winuptp & Winuptp64.
– (Fix) Fixed an issue that srsetupwin fails to install pop/hdp with clearing SVP.
– (Fix) Fixed an issue related to SCCM 80070490 error when HDP is set.
– (Fix) Fixed an issue related to silent install auto restart issue.
And the one highlighted in italics looks familiar