Introduction
Microsoft has released yet another update for System Center Configuration Manager (Current Branch), this time it's version 1610, that means that since System Center Configuration Manager's (Current Branch) first release there have been the following releases:
So what's new ?
Windows 10 Upgrade Analytics integration allows you to assess and analyze device readiness and compatibility with Windows 10 to allow smoother upgrades.
Office 365 Servicing Dashboard and app deployment to clients features help you to deploy Office 365 apps to clients as well as track Office 365 usage and update deployments.
Software Updates Compliance Dashboard allows you to view the current compliance status of devices in your organization and quickly analyze the data to see which devices are at risk.
Cloud Management Gateway provides a simpler way to manage Configuration Manager clients on the Internet. You can use the ConfigMgr console to deploy the service in Microsoft Azure and configure the supported roles to allow cloud management gateway traffic.
Client Peer Cache is a new built-in solution in Configuration Manager that allows clients to share content with other clients directly from their local cache with monitoring and troubleshooting capabilities.
Enhancements in Software Center including customizable branding in more dialogs, notifications of new software, improvements to the notification experience for high-impact task sequence deployments, and ability for users to request applications and view request history directly in Software Center.
New remote control features including performance optimization for remote control sessions and keyboard translation.
This release also includes new features for customers using Configuration Manager connected with Microsoft Intune. Some of the new feature include:
New configuration item settings and improvements now only show settings that apply to the selected platform. We also added lots of new settings for Android (23), iOS (4), Mac (4), Windows 10 desktop and mobile (37), Windows 10 Team (7), Windows 8.1 (11), and Windows Phone 8.1 (3).
Lookout integration allows to check device's compliance status based on its compliance with Lookout rules.
Request a sync from the admin console improvement allows you to request a policy sync on an enrolled mobile device from the Configuration Manager console.
Support for paid apps in Windows Store for Business allows you to add and deploy online-licensed paid apps in addition to the free apps in Windows Store for Business.
Upgrading to 1610
You can upgrade directly to System Center Configuration Manager (Current Branch) 1610 from 1511, 1602 or 1606. If you are however upgrading from System Center Configuration Manager 2012 (SP1 or R2SP1) then you must upgrade to 1606 first. Below you can see the process of upgrading from 1606 to 1610.
Click on Check for Updates if nothing appears today (2016/11/18) run the PowerShell script  to get into the fast ring for this release.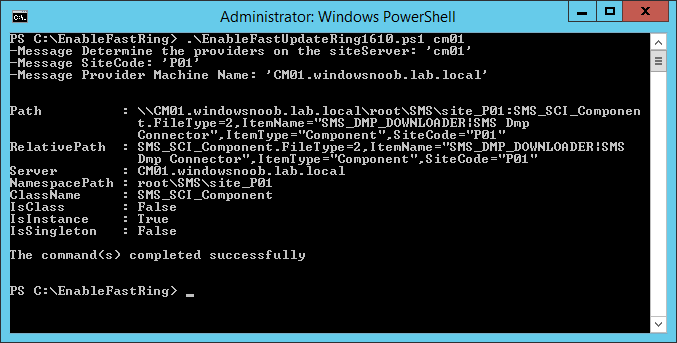 Once it's found by the sub-system, the console will list the update in a state of downloading.
and the dmpdownloader.log will reveal the Generating state message 6 and it's corresponding guid.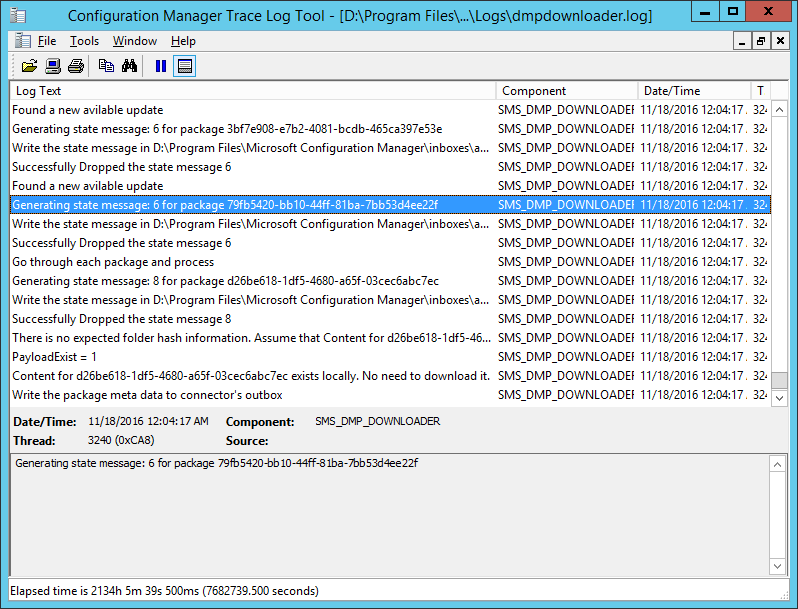 Once it's downloaded the console will list it as state available.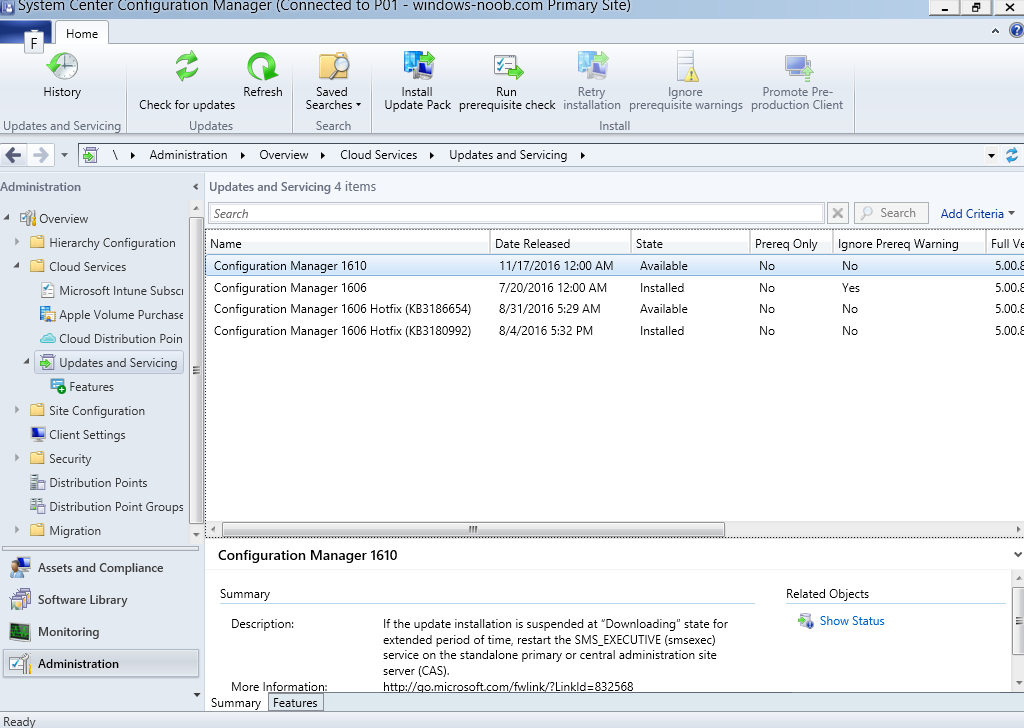 Installing the Update
Right click on the update and choose Install Update Pack when the Wizard appears, make your choice for pre-reqs and click next.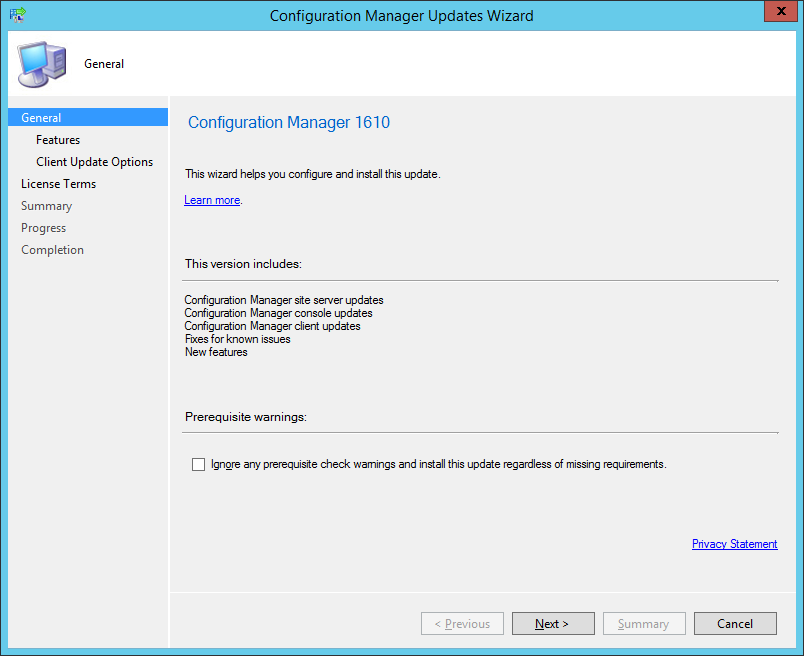 review list of Features included in this update pack, only one was selected when I ran this, so I selected the other two.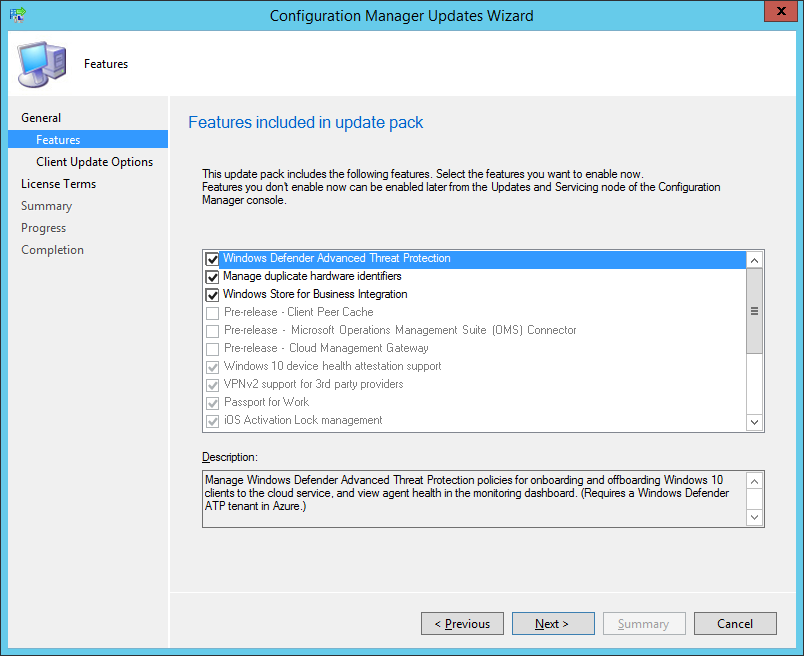 Before clicking next at the Client update settings please see this post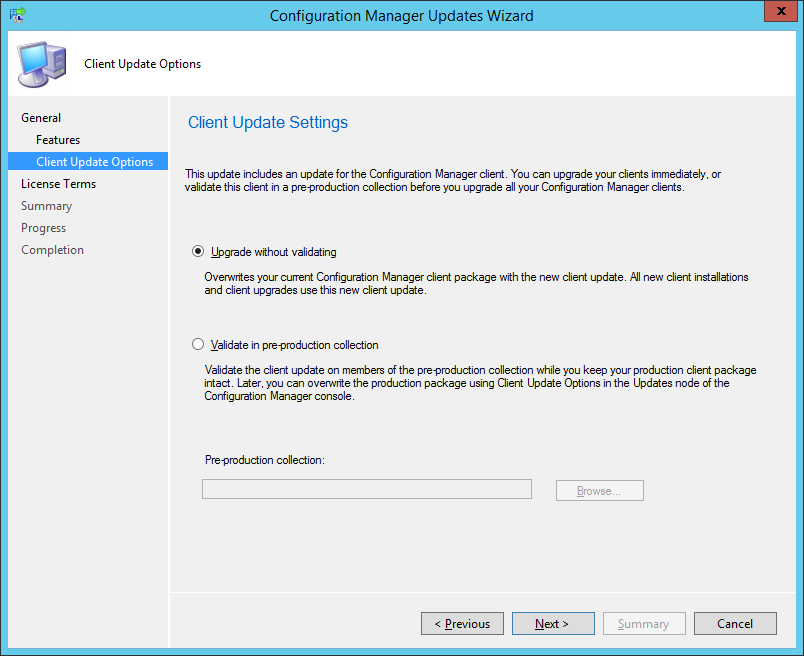 and review the EULA, Accept and continue
close that wizard when done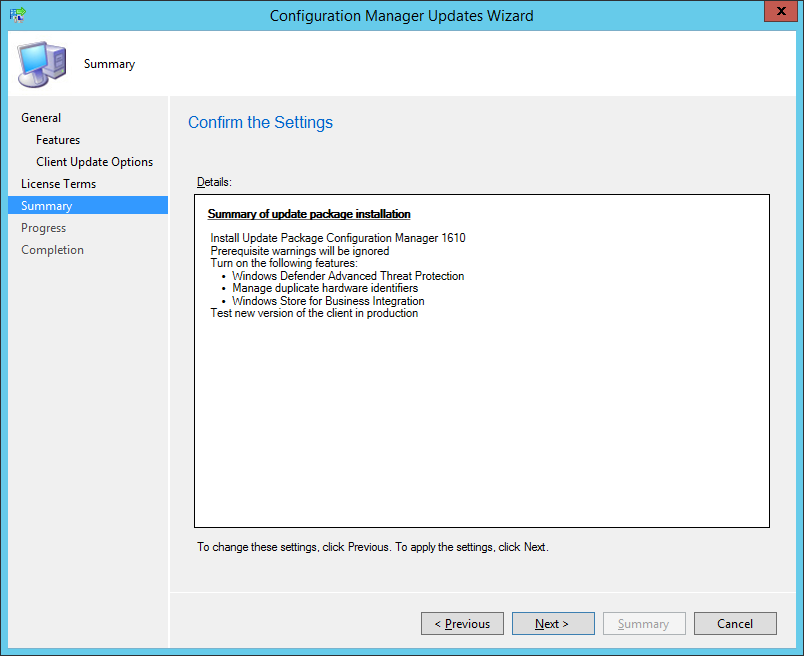 Note: The CMUpdate.log will take some time to start logging the installation of the update, so be patient if nothing appears to happen, it will. Once the update is installed you'll see a HMAN notification.
at which point you can upgrade the console to the latest version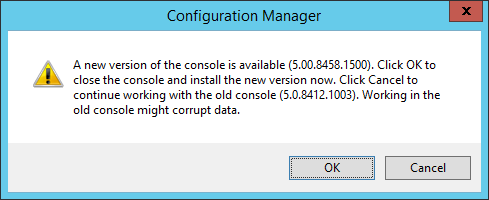 once done, the console version also sports a new Support ID