Those of you that were interested in Microsoft Ignite in Florida recently, would have probably noticed me tweeting ecstatically that I was delighted about receiving a Lenovo P1 from @Joe Parker (Principal Engineer, Manager at Lenovo).
This was the culmination of conversations held via twitter and email between myself and Joe, which basically started out from a need to replace my Hyper-v Lab.
A month has come and gone and I've been busy working, and when I have time, getting my data migrated over from the old lab to the new, and now it's pretty much done.
A quick look at my previous lab
But first, a bit of a background, my previous Hyper-v lab was an aging Intel i7 with 16GB of ram but with a whopping 5 TB of SSD storage (1 x 1TB and 1 x 4TB). That computer was my home lab machine for many years and it's safe to say that pretty much the last 5 years of guides on windows-noob and niallbrady were done via virtual machines hosted on that computer.
It did a great job but it lacked the power, speed and expand-ability that I needed for now and the future. It's age was showing daily. Even exporting or importing virtual machines to external discs was slow, very slow, not to mention how little 16GB of ram feels in today's lab environments.
Not enough memory
When starting labs such as my 8 part PKI lab mini series, I'd frequently get errors like this and that was after configuring those virtual machines to run on the bare minimum of ram:-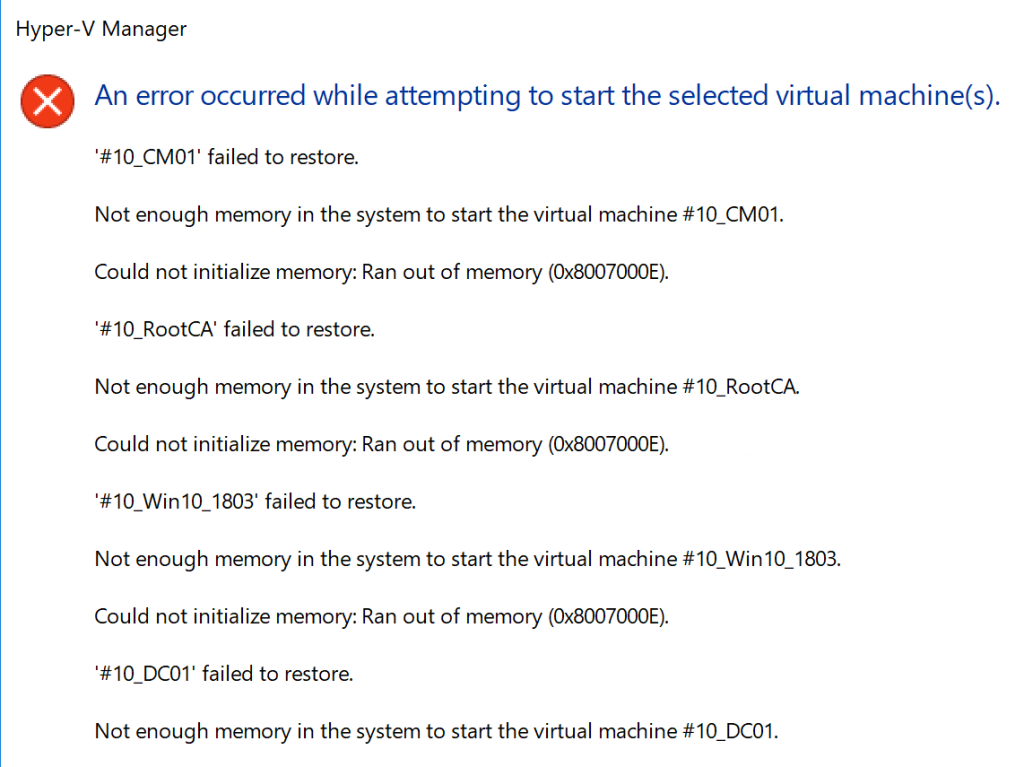 Clearly, I had to do something as the computer was old and I needed something fast, and better able to handle newer operating systems and memory demands that those virtual machines in Hyper-v demanded. I knew I needed a Workstation, and as I often demo labs to others, I wanted it to be mobile.
Joe @ Lenovo
I reached out to Joe as I knew he was a friend of the community and that he appreciated MVP generated community content especially in the Enterprise Mobility space.
Lenovo was producing some amazing new products of which they were rightly proud and I was no stranger to Lenovo, having used their products for years both at home and in work,  so I already knew their products were both reliable and of good quality.
Joe offered to help and I was more than happy to accept his help.
Unboxing
I received the new mobile workstation @ Microsoft Ignite and was straight away impressed with the package, it was delivered in a lovely ThinkPad box.
Inside the box was dare I say it, a beautiful Lenovo P1 (brief specs below), for the full specs see this page.
Intel® Xeon® E-2176M 6 Core Processor with vPro™
NVIDIA® Quadro® P2000 4 GB
32 GB DDR4 2666 MHz ECC (Xeon only)
2 TB PCIe SSD (Raid 0)
15.6″ 4K UHD (3840 x 2160) IPS multi-touch, anti-reflective, anti-smudge, 400 nits, 100% Adobe color gamut, 10-bit color depth
2 x Intel® Thunderbolt 3 (Type-C)
2 x USB 3.1 Gen 1 (Type A)
Windows 10 Pro for Workstations
One thing to note is it has 32GB of RAM, but it's ECC ram (error correction) and this is the only option currently with the Xeon processor, if you want 64GB of ram, go for the i7 bundle instead. I think you can even put 64GB of non-ECC ram in the Xeon box but I havn't tested it.
I unboxed the P1 and was straight away impressed, it feels smooth to the touch and exudes great build quality and attention to detail. And it looks gorgeous. I mean, look at it !
Using the P1
When you start the P1, it's hard to believe how fast it boots up, those NVMe discs are just so fast in a Raid 0 configuration (2 x 1TB in Raid 0) that Windows hello logs you in jiffy and you can start working right away. The first thing you'll notice (apart from the speed) is the brilliantly bright and vibrant color screen, it's 4K capable and touch enabled.
The colors just jump out at you. The screen is really crystal clear and I can't fault it other than you might see some hints of light on very dark screen's around the edges when the brightness is turned up full, but that could be because my unit is an Evaluation Unit (pre production).
I enabled the hyper-v feature on the P1 and started copying over some of my labs. Starting my labs is now both quick and easy, and I can start more than before, easily double with the 32GB of ram.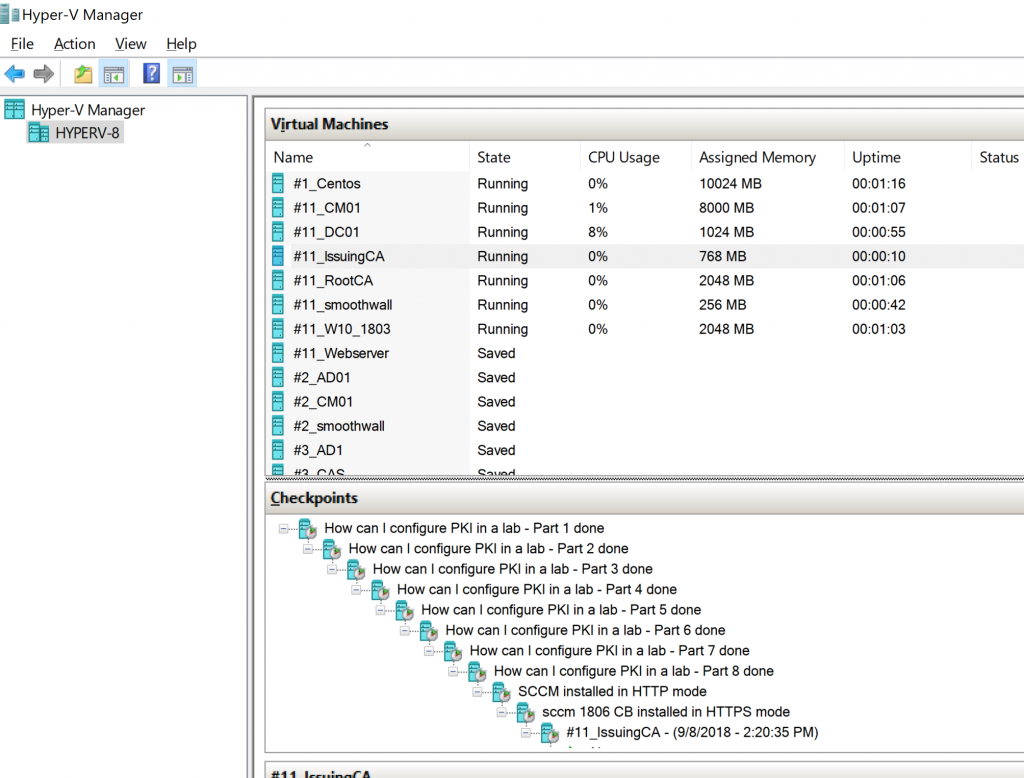 But my goal is to utilize more ram per virtual machine as previously they were struggling with bare minimum amounts of ram. I did a non-scientific test, starting the very same 6 vm's on my old versus new hyper-v host machine, here are the average results, where hyperv-7 is my old lab and hyperv-8 is the new lab.
hyperv-7 19.70 seconds
hyperv-8  9.50 seconds
That's quite an improvement !
When you think of a mobile workstation, most of you (including me) are all too familiar with big, chunky, heavy lumps of things that might have the power, but are so heavy and ugly that giving them a mobile description, is a stretch.
Not so with the P1, you can pick it up with one hand easily,  it's very slim and light so it's easy to carry around from one meeting to the next. Plus, this laptop looks great, so you won't be embarrassed with it either, on the contrary it will be the opposite ! Trust me, this is probably the nicest, lightest mobile workstation you'll ever pick up.
It's also well specked with Thunderbolt 3 (type C, 2 ports) so my plan is to buy an adaptor for my 4 TB SSD and connect it directly via Thunderbolt 3, that'll give me 6TB of storage for my new lab.
BenchMarks
The NVIDIA Quadro P4000 Max-Q video card is ISV certified, meaning it's designed for professional work and you can utilize the Nvidia control panel to select and customize your individual preferences.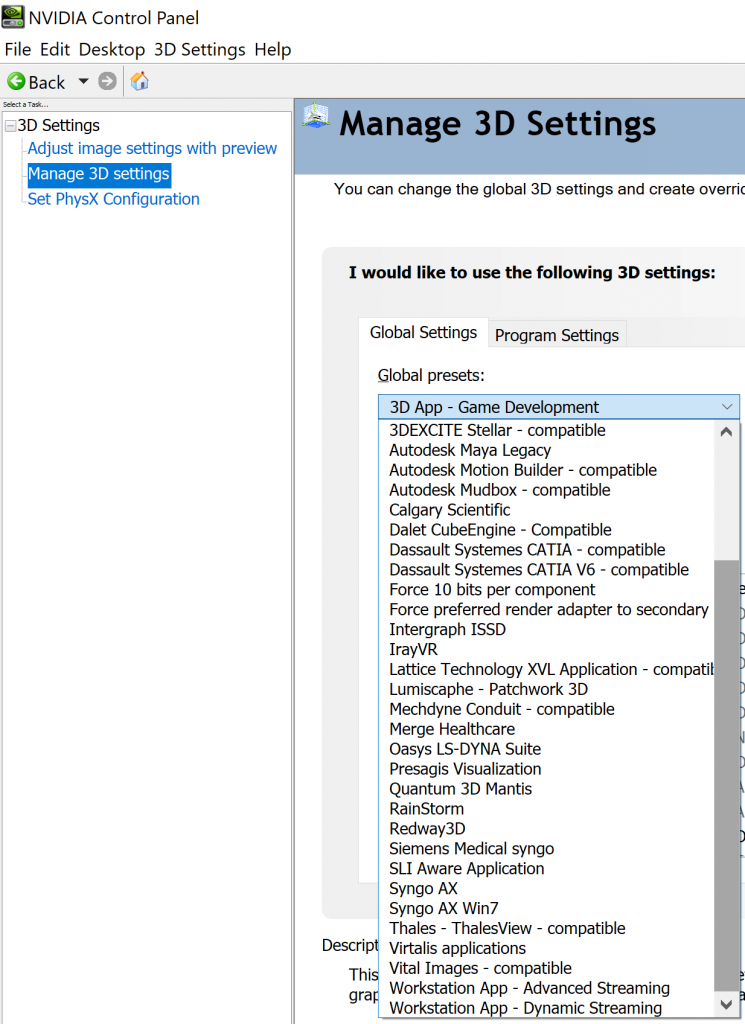 "The Quadro GPUs offer certified drivers, which are optimized for stability and performance in professional applications (CAD, DCC, medical, prospection, and visualizing applications). The performance in these areas is therefore much better compared to corresponding consumer GPUs."
To get detailed benchmarks for this video card please see the following site.
I'll come back in a few months to report on how my lab is working out on the Lenovo P1, but until then, thank you for reading and many many thanks to Joe and all the other great people @ Lenovo for making my dream come true !
Recommended reading
cheers
niall