Introduction
I'm no stranger to Tachyon, I'm currently blogging about it in this series. When I heard that a new version was about to be released I was definitely interested. I signed up and watched the 1E Tachyon 8 Launch Webinar which showcased a preview of Tachyon 8, hosted by Michael Wright (Director of Product Marketing, 1E) and Bogdan Udrea (Chief Technologist Product, 1E).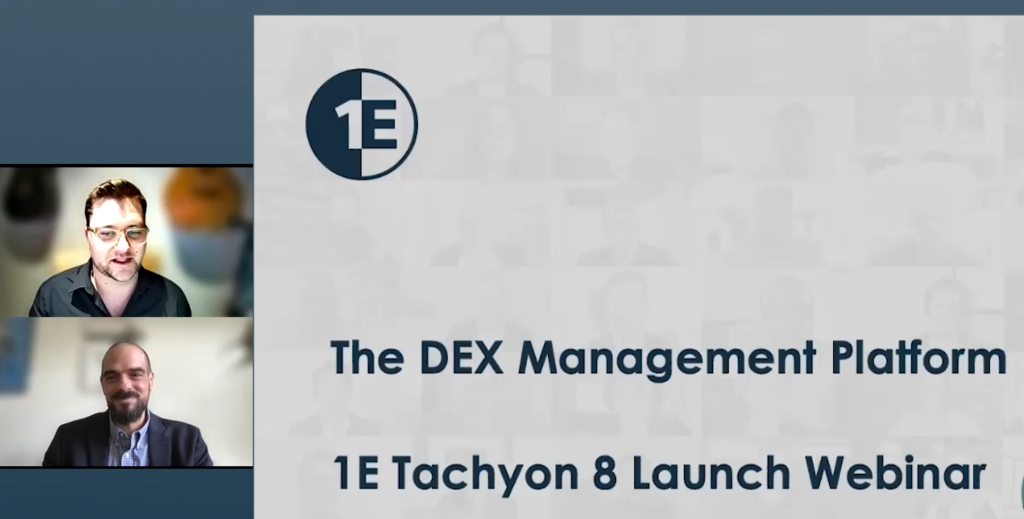 The webinar showcased what is new and exciting about the latest version of Tachyon and why you should be excited about it and it's host of new features. If you do watch the webinar (and I encourage you to do so) take note that there is a huge amount of information to digest.
Why release a new version now ?
The first question to ask yourself would be why should Digital Workplace Leaders like you be interested in another release of Tachyon from 1E ? This blog post will hopefully clarify and simplify points about why there is a new version of Tachyon.
"Software constantly evolves to adapt to new problems and the scenarios they present."
One of the first reasons is challenges from within the workplace, including something referred to as The Great Resignation. You only have to take a look online at Tik-Tok and you'll see multiple videos of people resigning from their current workplace. The quit rate in the United States just hit an all time high, and now more than ever, we live in an employee centric world.
Ask yourself these questions: Is your organization a contributor to the global challenges that many companies are facing ? Is your organization IT Infrastructure a contributor to why your employees are switching jobs ?
The Great Resignation.
It's clear that the hybrid workplace (which came into its own niche during the never ending Covid 19 pandemic) increased employee-IT friction because workers were forced to work from home, sometimes without adequate tools and having to figure out why they couldn't access on-premise resources or do their job as they used to when in the office.
Tickets were raised, users were not happy.

Users that cannot work for a couple of hours because an application is crashing reduces productivity and increases frustration. To add to the users frustration the ability of the IT Help Desk to help them with their problems by visiting the users desk is out of the question as their desk is more than likely at home.
"Everything is dependent on experience."
What forward looking companies have realized is that employee's engagement and productivity (regardless of whether they are working from home or in the office) is dependent on experience. This has led 1E to create something called the Experience Economy for the workplace and that is one of the building blocks of Tachyon 8.
Experience Economy
As a home consumer you expect certain performance from your Internet Providers, you expect high performance and the speed that was advertised when you purchased it. You also expect things like Siri, Alexa or Google to understand what you said when you summoned them.
The same needs to be true for employees in the workplace, those employees should get the type of experience they expect from the business, and they should not be negatively impacted changes in the workplace carried out by IT and they should definitely not be treated like second class citizens.
Focusing on what matters
When a problem invariably happens it's not enough to simply observe the problem. We know through monitoring or user complaints that there is a problem, and just acknowledging it doesn't help. As an IT Admin you can acknowledge a problem but if you cannot do anything about it then the user will suffer and that doesn't necessarily help improve the situation.
What can Tachyon 8 do to relieve this friction factor? Tachyon 8 focuses on what matters, it's not enough to simply focus on a problem. 1E navigated through the following four areas when creating Tachyon 8 to drive insights to action acceleration.
Analytics and Insights
Resolution Acceleration
Action and Prevention
Engagement and Empowerment
Insights to Action Acceleration.
Tachyon 8 enhanced the capabilities across these 4 key areas to:
Expand and improve upon what is collected and provide insights into analytics
Cool capabilities built into the RCA toolkit
Prevent issues at scale
Engage with employees using the toolset in Tachyon 8 to facilitate self-service
Tachyon 8 has increased the level of insights into key problematic areas namely networking, boot and login, applications and software to provide better visibility from a networking perspective, to investigate why devices are slow to boot or login, and to assist with determining if applications are affecting the overall productivity of the device.
Resolution acceleration provides a quadrant view to give a device a unique placement on horizontal and vertical axis compared to other devices in the enterprise but also to be able to show the correlation between a certain metric (or event) and the impact that has had on the overall experience or whatever you are concerned about on that device. In addition, you can do a side by side comparison between affected and 'good' devices to determine what is causing the problem.
From the Action & Prevention space, Tachyon has continued to publish management packs. These are sets of instructions to address a problem statement in real time on a problem device.
Tachyon 8 has added a new user engagement ability which allows admins to engage with their users, not necessarily a survey. It also adds enhancements around interactions with those users to let them know about something or to enhance self-service capabilities.
Use cases
There are actually hundreds of use cases and scenarios that can be run in Tachyon 8, if you'd like more info about them then do join 1E's Tachyon Tuesdays where they'll start unpacking these use cases and how you can benefit from them. To summarize though, they can be broken down into the following four categories.

Use cases that address Employee Engagement and Empowerment for example are announcements, this is a one way communication to the end user. Announcements can be used to announce IT or non-IT changes.
Interactions compliment announcements by using the User Engagement module in Tachyon where the 1E client can automatically engage with a user based on how they react to whatever has occurred.
These four elements are built into a persistent user interface within the 1E client, which allows users to revisit certain elements and go back and open tickets if that's what the user wanted to do.
Updated UI
With Tachyon 8, the UI has been expanded in several areas. For example, previously the Tachyon Experience module looked like this:
With Tachyon 8, focus areas have been added including Advanced Analytics, Inventory Management and User Engagement as you can see here:
What do the users see ?
The users get to see an updated 1E client agent when it's appropriate. They also get access to the new persistent user-interface so that they can revisit previous problems if  and when necessary.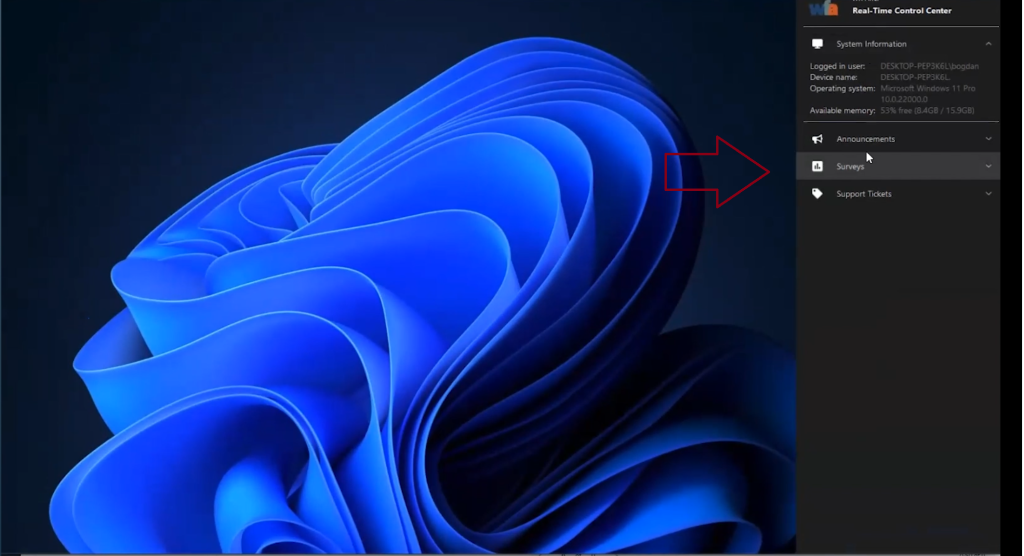 Announcements can be customized to make them look more like they are coming from an individual rather than an organization to make them feel more personal.
When will the release be available ?
Early adopters of Tachyon 8 are actively using this in their environments today. If you'd like to try it now, please reach out to your 1E Account Manager and they will make it available.
Conclusion
The development team behind Tachyon 8 have learnt valuable lessons from customers, business needs and partners to focus on what really matters. They've used this knowledge gained to add additional functionality to assist with the challenges posed by hybrid workplaces.

DISCLAIMER: The contents of this article are the opinion of the author and have been written from an impartial standpoint; however, 1E may have reimbursed the author for time and expenses for undertaking the findings and conclusions detailed in the article.