Pearson's very kindly sent me a copy of the new System Center Configuration Manager Current Branch Unleashed book written by a bunch of MVP's (and former MVP's) who are dedicated, talented and working in the SCCM (and Intune) field.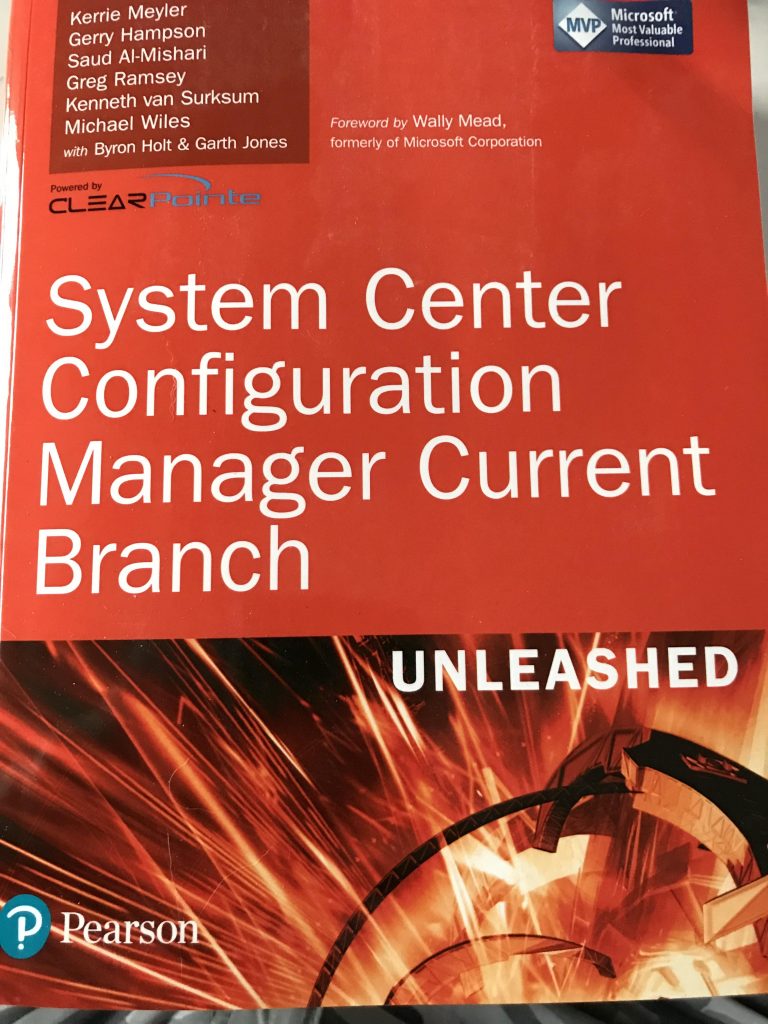 Any of you that have read an Unleashed book, knows that the content inside is thorough, that it contains detailed advice and information and that you can use it as a blueprint to getting things done. Sidenote, I wrote a chapter in a previously released Unleashed book entitled System Center 2012 Configuration Manager Unleashed, and i know the hard work involved with putting together that chapter, under Kerrie Meyler's guidance. She really works you hard, but the end result, is a masterpiece.
This book, is big, physically big and it feels like it weighs a ton, so you can be sure that there's a lot of information in it. But first, who wrote it ?
The main players are listed on the front as
Kerrie Meyler
Gerry Hampson
Saud Al-Mishari
Grey Ramsey
Kenneth van Surksum
Michael Wiles
with contributions from Byron Holt and Garth Jones, and there's a forewood from the grandfather of SCCM himself, Wally Mead.
With all those names, you know this is going to be good. The content is broken down into the following parts, each chock full of interesting and knowledgeable content.
Part I – Configuration Manager Overview and Concepts
Part II – Planning and Installation
Part III – Configuration Manager Operations
Part IV – Configuration Manager Administration
Part V – Appendices
Those five parts are further broken down into many sub sections, for example Part III has the following sections (which are in fact, separate Chapters, there are 24 Chapters in the book totally).
Using the Configuration Manager Console
Client Management
Managing Compliance
Creating and Managing Applications
Creating and using Deployment Types
Creating and Managing Packages and Programs
Distributing and Deploying Applications and Packaged
Managing Software Updates
Integrating Intune Hybrid into your Configuration Manager Environment
Managing Mobile Devices
Conditional Access in Configuration Manager
Endpoint Protection
Configuration Manager Queries
Configuration Manager Reporting
Operating System Deployment
So by now you can see the level of detail in this book. The content doesn't disappoint either, it contains screenshots and notes to guide you through doing things correctly. For example, if you want to understand Configuration Manager and WMI then jump to page 89 to get lots of details that spans several pages, with examples and tips to get the output  and information you desire.
Each chapter lists the sections involved, so you get an overview of what content is covered, and of course there's an appendix (no wait, actually there are 4 of them !) along with an Index.
There's way too much content in this book for me to list so all I can say is if you are looking for a book that covers pretty much everything you can do with System Center Configuration Manager Current Branch, then this is the one for you, it does cover up to version 1710 of the SCCM Current Branch release cycle, but that's inevitable as it has to go to print sooner or later.
Thumbs up from me, and I for one will have this one to hand, in work and use it as a reference.
You can buy this book here (Microsoft) or here (Amazon)
cheers
niall