Introduction
System Center Configuration Manager (Current Branch) version 1802 was released yesterday. You can read the official announcement here and for a detailed list of what's new, please see the following blog post.
I blogged about how you can upgrade to 1802 here.
With each new release, things evolve and change, and it can be a challenge knowing which version of SCCM supports which version of Windows ADK (Assessment and Deployment Kit).
What is the Windows ADK ?
Windows ADK is a set of tools to extend the capabilities and management of Windows 10 (and Windows server). and Microsoft describes Windows ADK as:
"The Windows Assessment and Deployment Kit (Windows ADK) has the tools you need to customize Windows images for large-scale deployment, and to test the quality and performance of your system, its added components, and the applications running on it."
What version of ADK is supported with Configuration Manager 1802 ?
Never fear, there is a support matrix out there to help you with this. The following link has a table which details what versions of Windows ADK are supported by the different Current Branch releases of SCCM.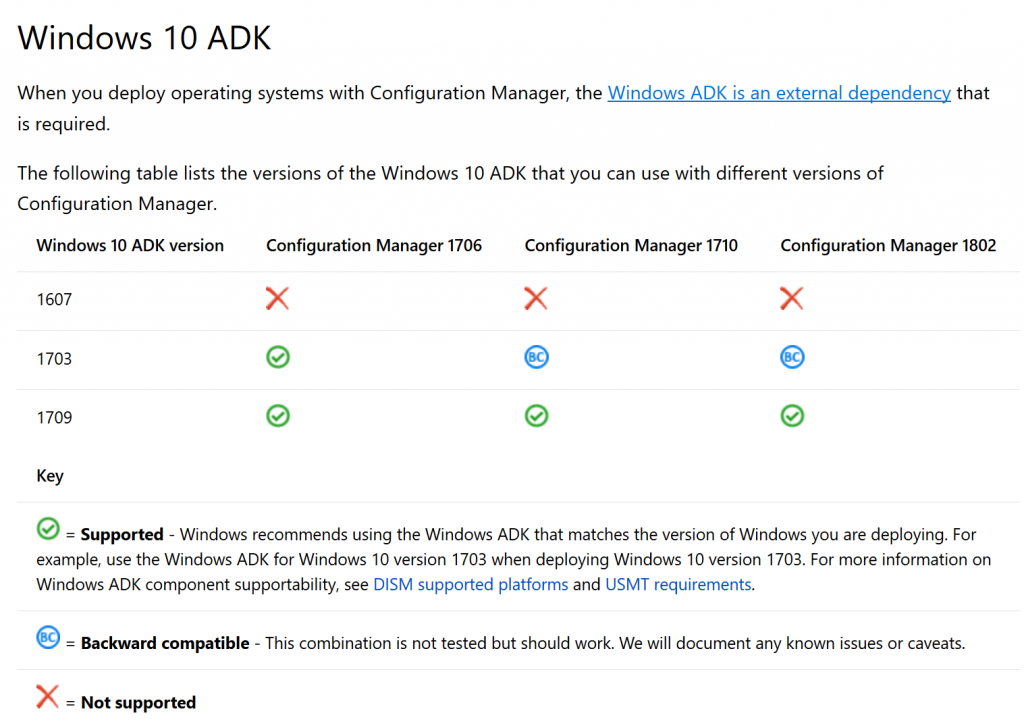 From the table you can clearly see that ADK 1709 is supported with Configuration Manager 1802, with backwards compatibility included for ADK 1703.
Happy installing !