Introduction
Another month has passed by and finally we get to play with the latest Technical Preview release of System Center Configuration Manager from Microsoft. There are two main versions (of Configuration Manager) available:
System Center Configuration Manager (Current Branch)
System Center Configuration Manager (Technical Preview)
System Center Configuration Manager (Current Branch) is designed for use in production, for managing anything from small to very large Enterprises whereas System Center Configuration Manager (Technical Preview) is for lab environments only and is limited to 10 clients. The Technical Preview releases are released monthly, and contain the latest and greatest features being trialed in the product, and usually these new features are the result of feedback from uservoice.
Current Branch releases on the other hand are released only a few times per year and contain stable, tested features that are mature enough to release into production environments.
System Center Configuration Manager Technical Preview 1705 is now available. This release offers the following new features:
Configuration Manager Console

High DPI console support – With this release, issues with how the Configuration Manager console scales and displays different parts of the UI when viewed on high DPI devices (like a Surface Book) should be fixed.

Application Lifecycle and Content

Removing Network Access Account (NAA) requirement for Client Peer Cache – In this release, we are removing the NAA requirement, so that peer cache source computers no longer use the NAA to authenticate download requests from peers.

Clients and User Discovery

Azure Active Directory (AD) Onboarding – Create a connection between Configuration Manager and Azure AD. Install and register Configuration Manager clients with Azure AD identity. Enable Configuration Manager on-premises services like Management Point or cloud services like Cloud Management Gateway to have the capability to authenticate with devices and user identities in Azure Active Directory. By using Azure AD, devices will not need client authentication certificates for HTTPS.
Azure Active Directory (AD) User Discovery – Now you can enable user object discovery from Azure AD.

Software Updates and Compliance

Configure and deploy Windows Defender Application Guard policies – You can now create and deploy Windows Defender Application Guard policies to Windows 10 clients that help protect your users by opening untrusted web sites in a secure container.
Improved end user experience for Office Updates – Improvements have been made to the end user experience for Office updates which includes improved toast notifications, business bar notifications, and an enhanced countdown experience.

Core Infrastructure

Configuration Manager Update Reset Tool – We are adding a new tool to reset and restart in-console updates when they have problems downloading or replicating.
SQL Always On asynchronous-commit mode replica support – Configuration Manager now supports SQL Always On secondary replicas that run under asynchronous-commit mode for disaster recovery scenarios.
Operations Management Suite (OMS) added to Azure Services Wizard – You can now use Azure Services Wizard to connect Configuration Manager to Log Analytics in OMS to sync device collection data.

Update 1705 for Technical Preview Branch is available in the Configuration Manager console. For new installations please use the 1703 baseline version of Configuration Manager Technical Preview Branch available on TechNet Evaluation Center.
106 new PowerShell cmdlets
In addition to the above, there are 106 new PowerShell cmdlets ! awesome, Johan blogged about that here.
Adam Meltzer raised a separate post describing some of the new cmdlets here.
Installing this release
So how do you get Technical Preview 1705 installed ? There are two methods:
Upgrade from a previous installation of Technical Preview (as shown in this guide).
Do a clean install of Technical Preview 1703 (the latest TP baseline)  by using the following guide  and replace the base version in that guide with the  TP1703 release and then upgrade.
Upgrading to this release
Once you have a Technical Preview release installed, in the Configuration Manager console browse to Administration, Overview, Updates and Servicing as shown below and click on Check for Updates (in the ribbon)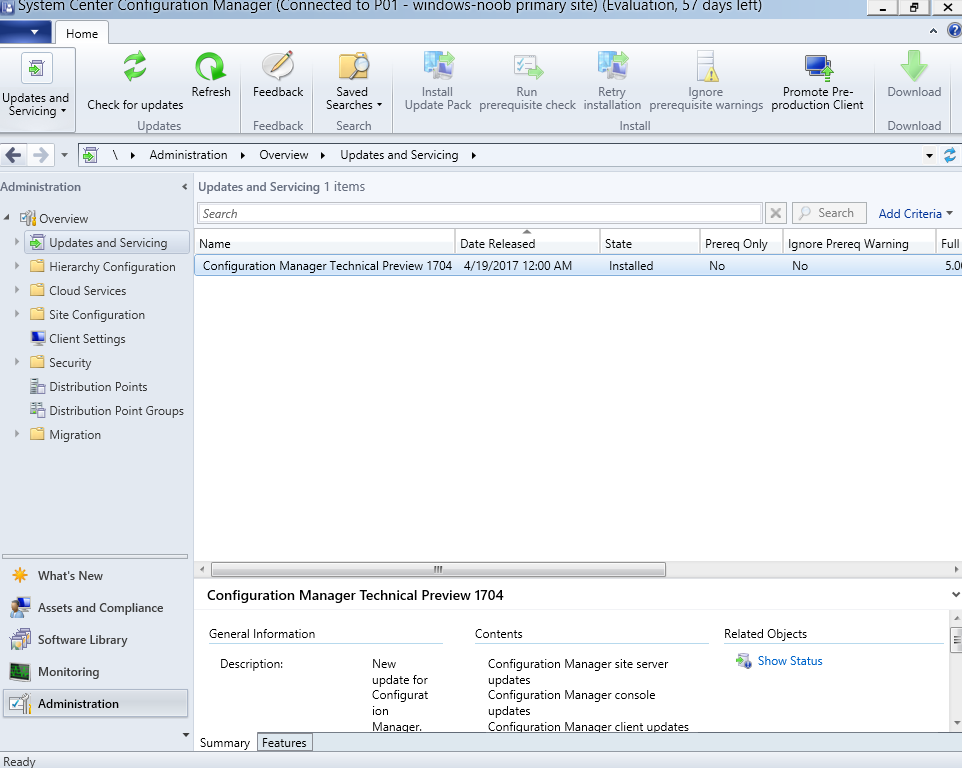 followed by clicking on the OK button.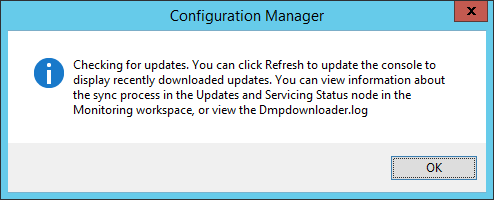 As instructed, read the DMPDownloader.log available in <drvletter>:\Program Files\Microsoft Configuration Manager\Logs, you can use CMTrace to do so.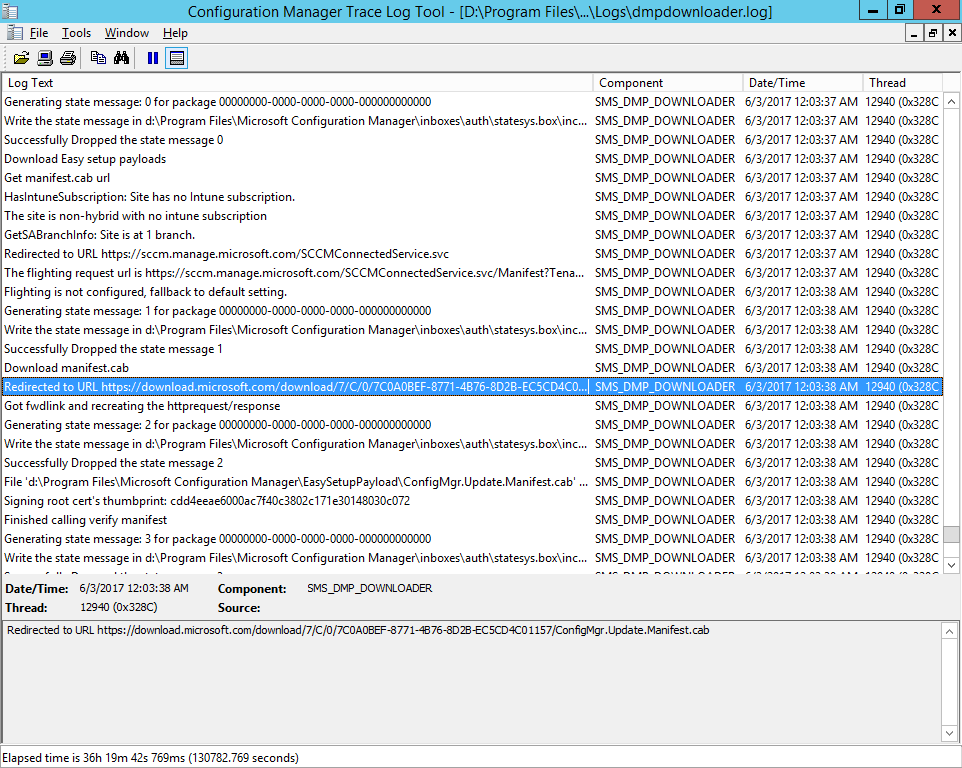 And refresh the console, and you should see the update pack is available to download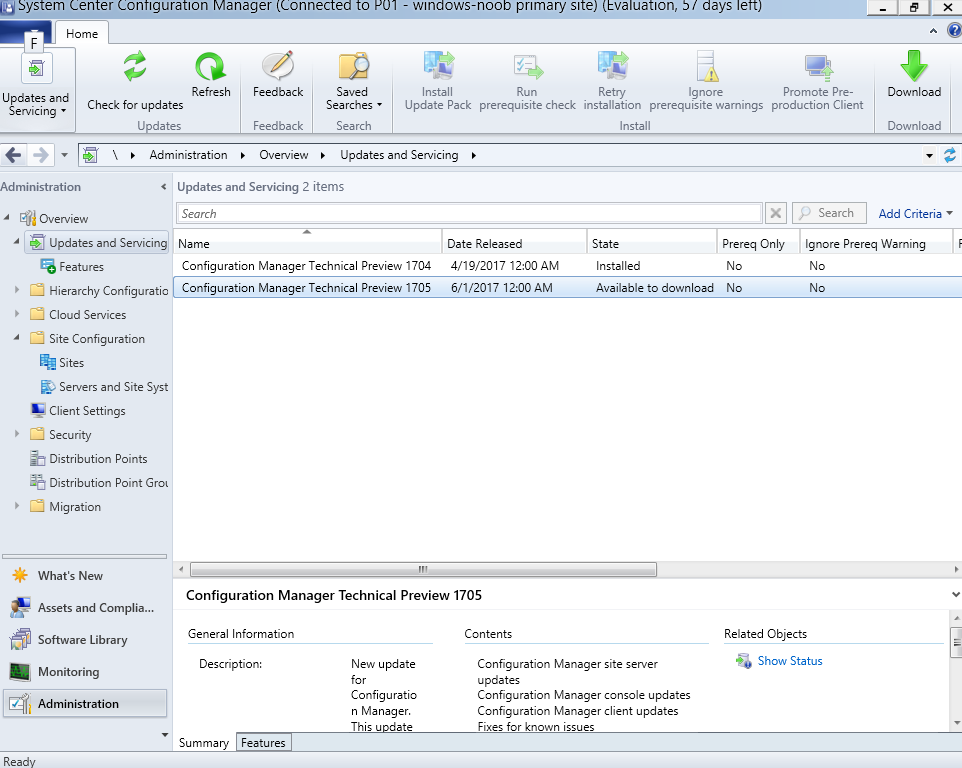 So right click and choose Download.
and click OK to the message that appears.
Note: If nothing appears to happen after a few minutes (no download starts, yet the Download option is greyed out), then restart the SMS_dmp_downloader component and it will start downloading immediately.

Once downloaded, it will be listed with a state of Ready to Install, right click the update pack and choose Install Update Pack.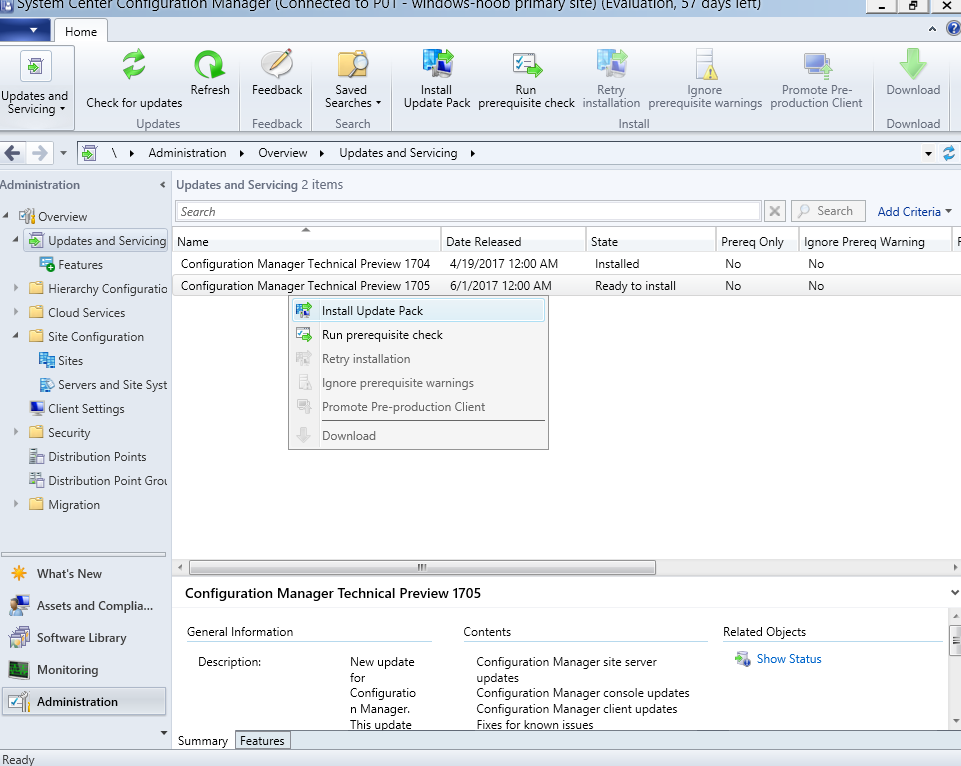 A wizard appears. Click Next.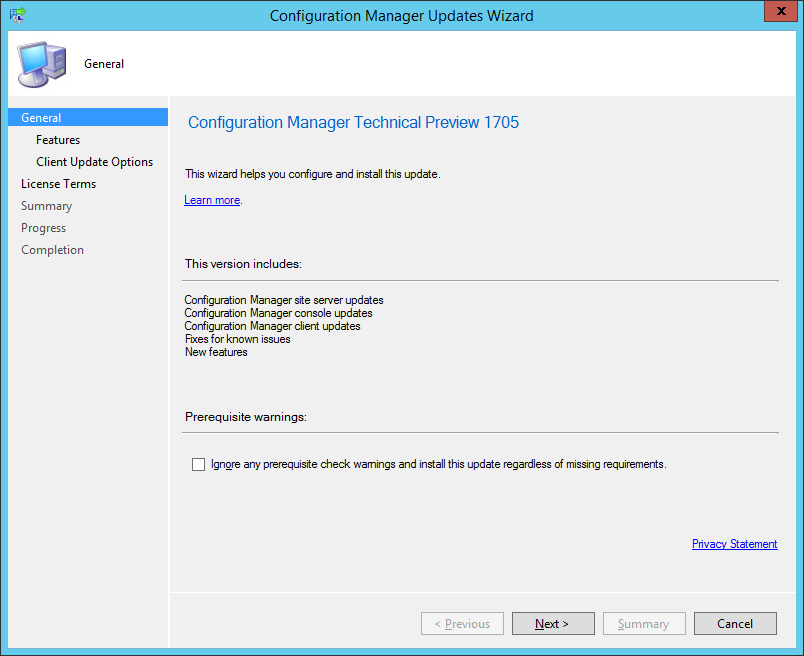 the features included in the update pack will be listed.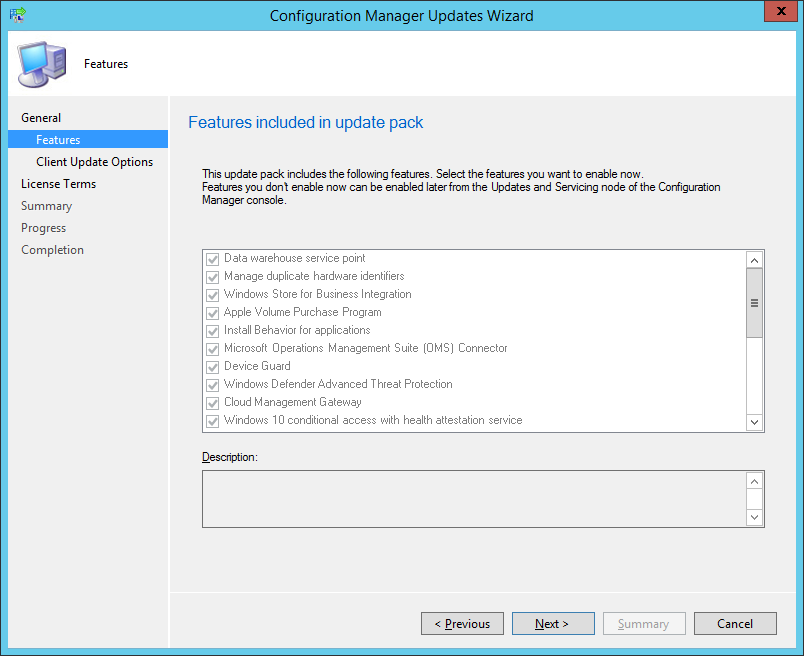 Make your client upgrade choice and click Next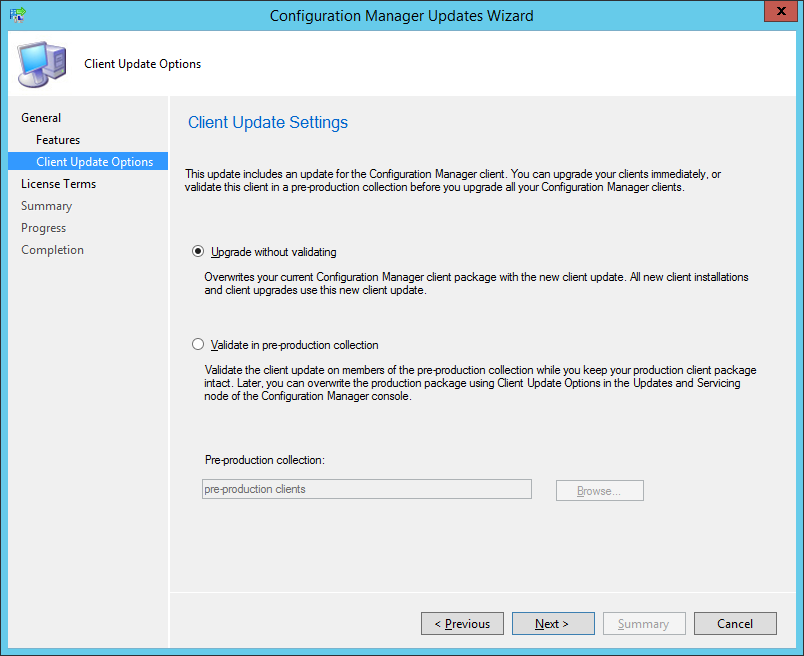 accept the EULA and configure the software assurance expiration date
and click through to the summary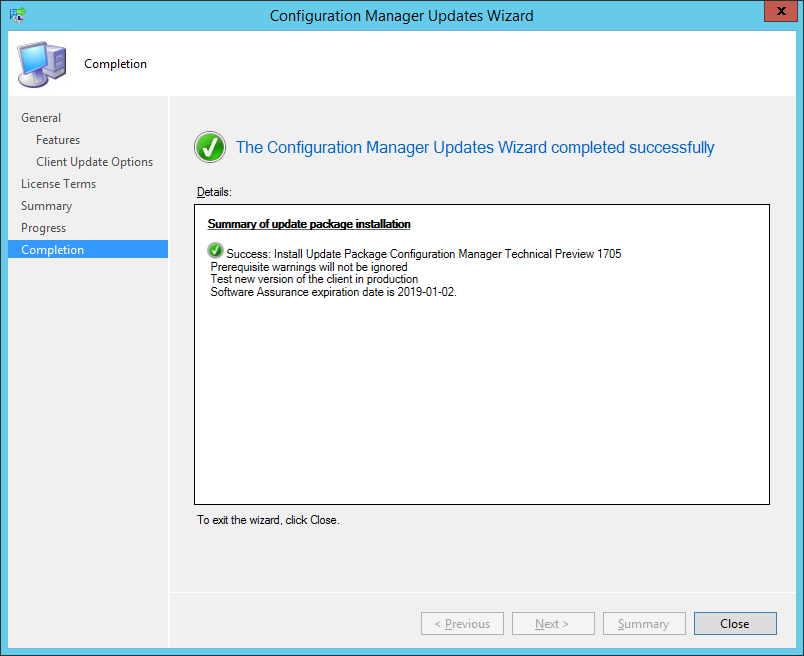 Monitoring the Upgrade
At this point you should monitor the CMUpdate.log available in <drvletter>:\Program Files\Microsoft Configuration Manager\Logs, you can use CMTrace to do so. This log will detail the installation of the update pack. You should also pay attention to the following log files present in the root of C:\.
CompMgrProv.Log
ConfigMgrPrereq.log
ConfigMgrSetup.log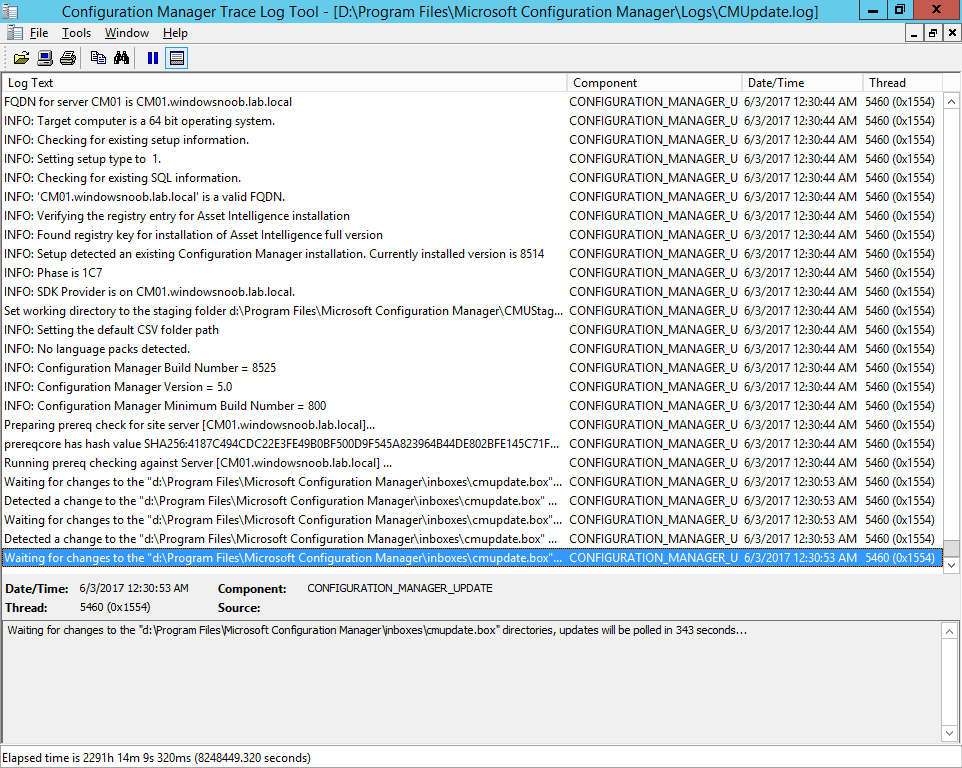 and after refreshing the console, the state of the update pack will change to Installing.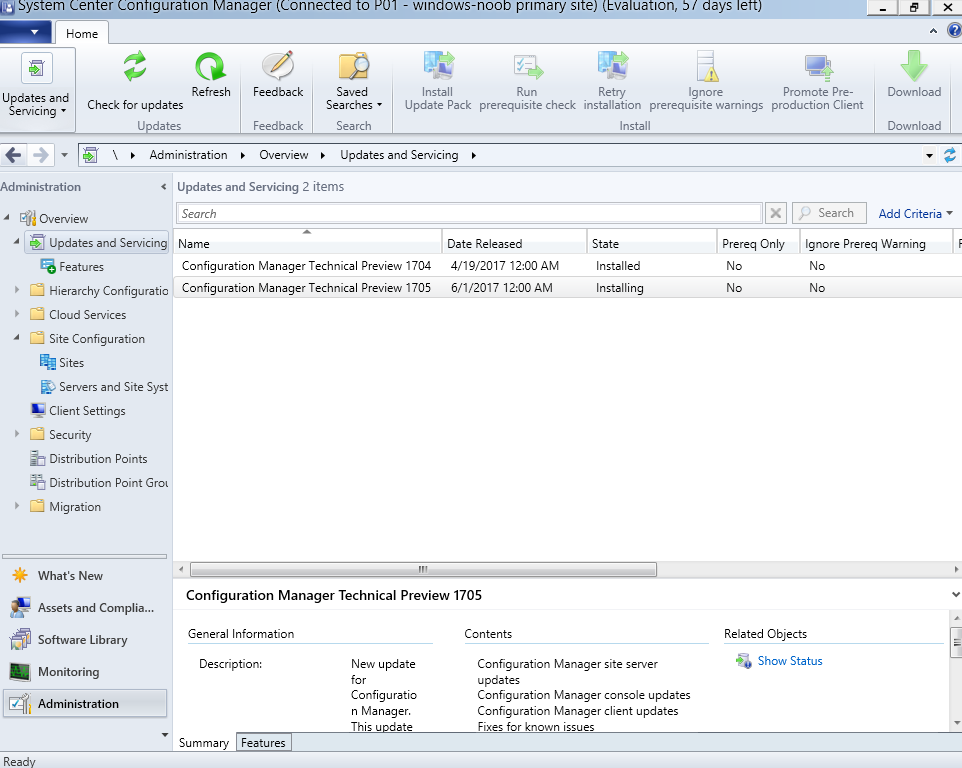 Clicking on Show Status will give you detailed info about the state the Installation is in, it is broken down into 5 distinct phases in the top pane:
Download
Replication
Prerequisite Check
Installation
Post Installation
Selecting the phase will highlight what state the update is in, including what (if any) problems it has, such as in my example, where the site server is out of disc space.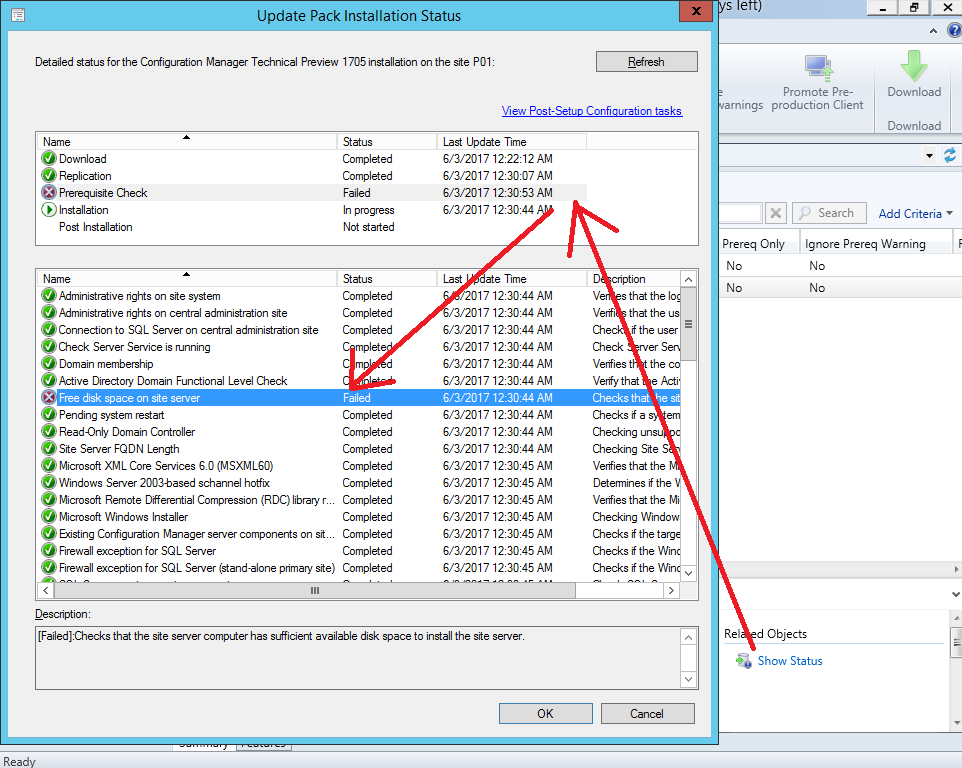 The ConfigMgrPreReq.log in root of C:\ will give more details,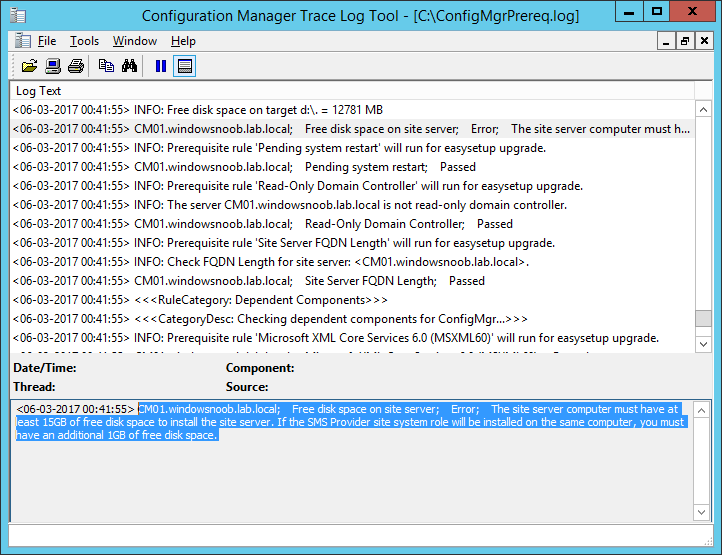 After freeing up space, I chose retry installation from the monitoring node.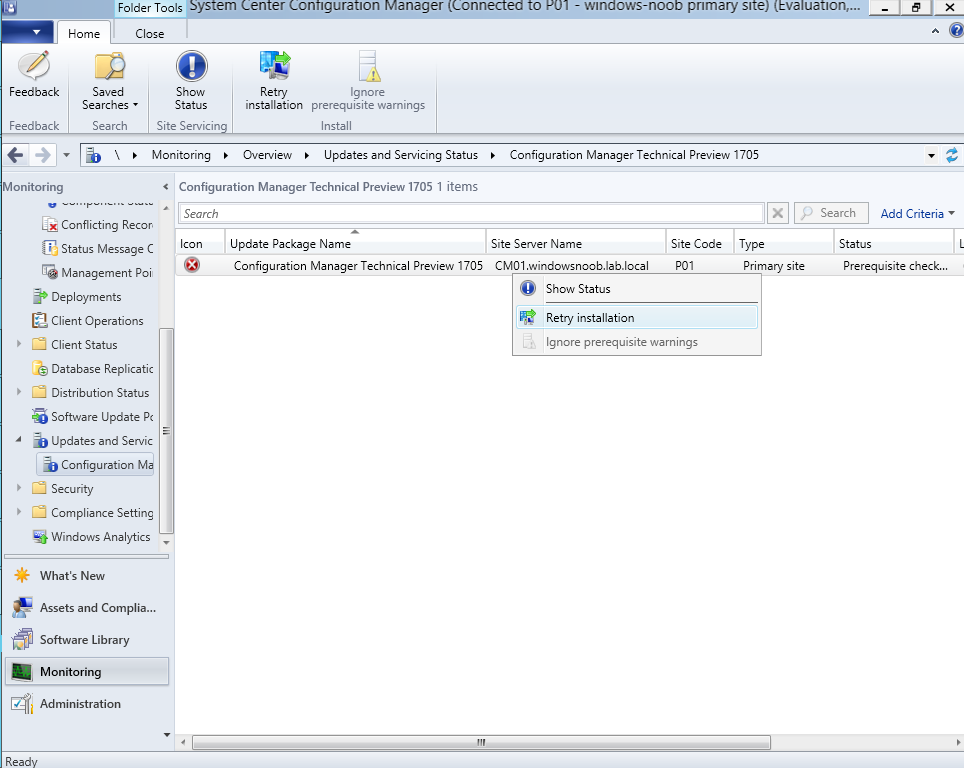 which allowed it to continue with the installation…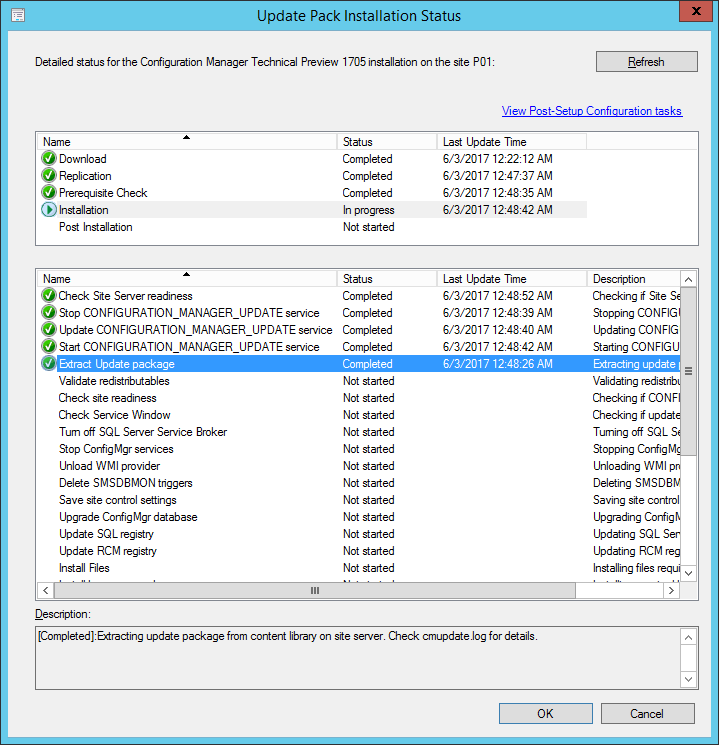 and after some time it has moved on, click on the Refresh button to update the status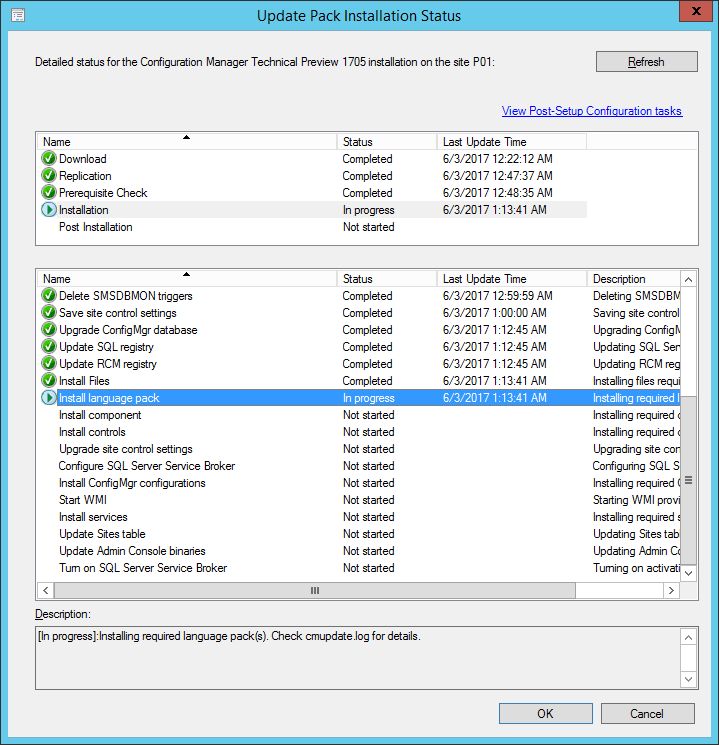 until finally it's all complete and you are notified of a new console version available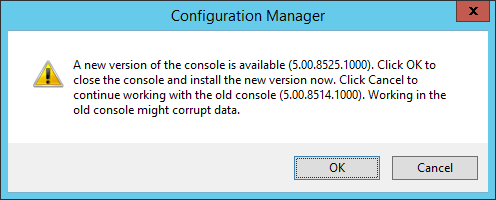 and the new console appears, listed as both 1706 and 1705 🙂
Note: Even though you might see this Technical Preview list versions such as 1706 & 1705, this release  is indeed 1705 and the 1706 references were incorrectly left in this build (confirmed by @Djammmer).
For more information about the capabilities of System Center Configuration Manager 1705 Technical Preview see this link.