Introduction
System Center Configuration Manager Technical Preview 1612 is now available, and it offers the following new features:
Azure Active Directory onboarding – Creates a connection between Configuration Manager and Azure AD to be used by other cloud services, such as the Cloud Management Gateway.
Windows Hello for Business toast notification   – A new Windows 10 toast notification added to let end users know that they need to take additional actions to complete Windows Hello for Business PIN setup.
Enhancement for online-licensed apps from the Windows Store for Business – You can now deploy online-licensed apps with a deployment purpose of "Available" to Windows 10 PCs managed with the Configuration Manager client.
Express files support for Windows 10 Cumulative Update – Configuration Manager can now support Windows 10 Cumulative Update using Express files.
Ability to block installation of an application if specified executables are running – You can now configure a list of executable files (with the extension .exe) in Deployment Type Properties which, if running, will block installation of an application. After installation is attempted, a user will see a dialog box asking them to close the processes that are blocking installation, and then try again.
Ability to retry task sequence – If a step doesn't work properly in the task sequence wizard, you can now click "Previous" to retry the process.
OData endpoint data access  – Configuration Manager now provides a RESTful OData endpoint for accessing Configuration Manager data. The endpoint is compatible with OData version 4, which enables tools such as Excel and Power BI to easily access Configuration Manager data through a single endpoint. Update 1612 for the Technical Preview Branch supports read-only access to objects in Configuration Manager.
Data Warehouse for historical reporting – The Data Warehouse enhances reporting for Configuration Manager by storing long-term data for historic reporting.  This enables you to look at compliance, application deployment, and more, with reports that show trends over a period of time.This release also includes the following changes for customers using System Center Configuration Manager connected with Microsoft Intune to manage mobile devices:
Installing Technical Preview 1612
So how do you get Technical Preview 1612 ? Well you can upgrade from a previous installation of Technical Preview (like I did, from TP1611) or you can use the following guide  and replace the base version in the guide (which is TP4)  with the  TP1610 release.
Upgrading to TP1612
Once you have a Technical Preview release installed, in the Configuration Manager console browse to Cloud Services, Updates and Servicing as shown below.
Click on Check for Updates in the ribbon.

Click ok the popup.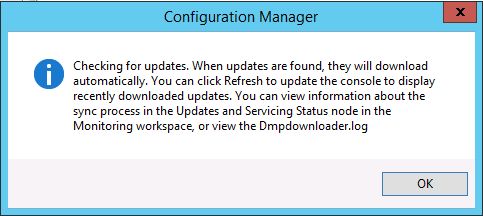 And as instructed open the DMPDownloader.log in CMTrace to monitor the process of checking for updates. Here you can see Generating state message 6 which highlights that it's found an applicable update.
and that update (TP1612) will be reflected in the console with a state of Downloading to signal that it is downloading the update
And then with a state of Available once it has completed downloading. You need to click refresh in the ConfigMgr console to update the view.
Installing the Update
Right click on the update and choose Install Update Pack.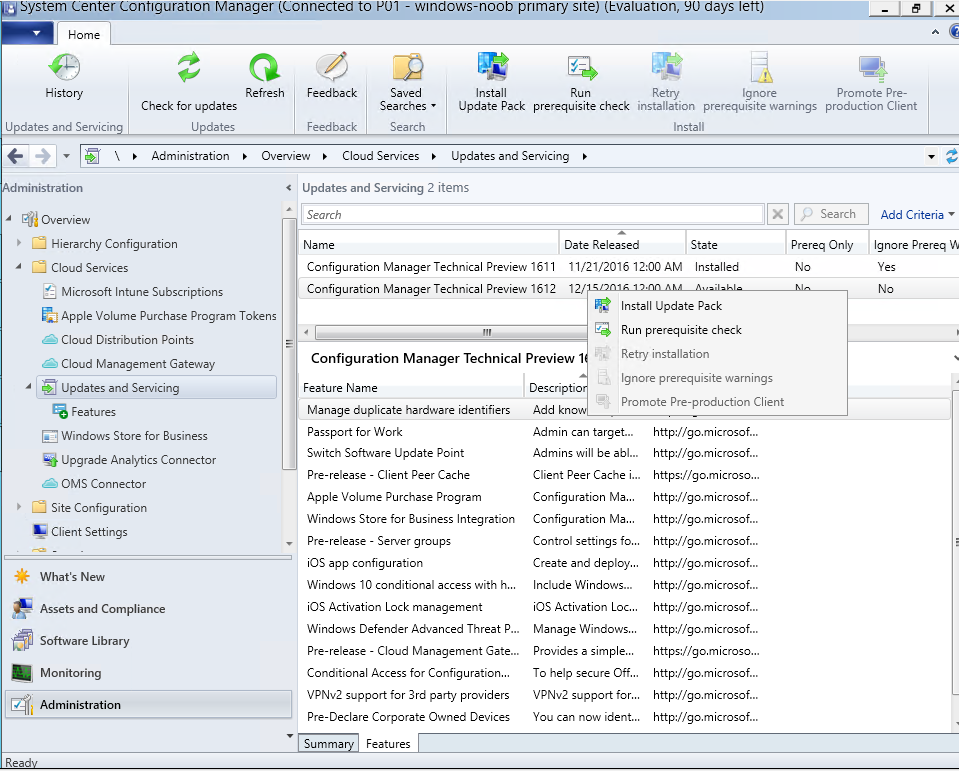 when the Wizard appears, make your choice for pre-reqs and click next.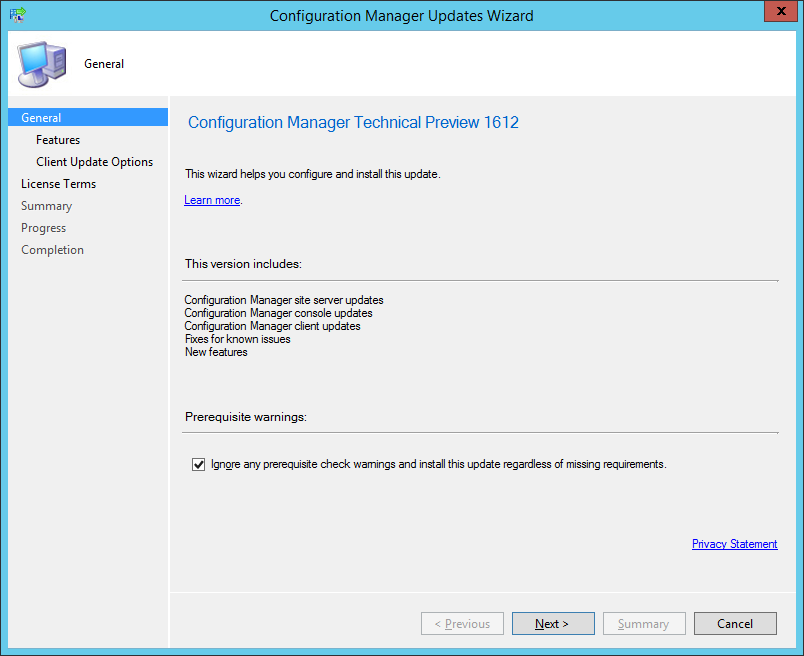 review the features included in this update pack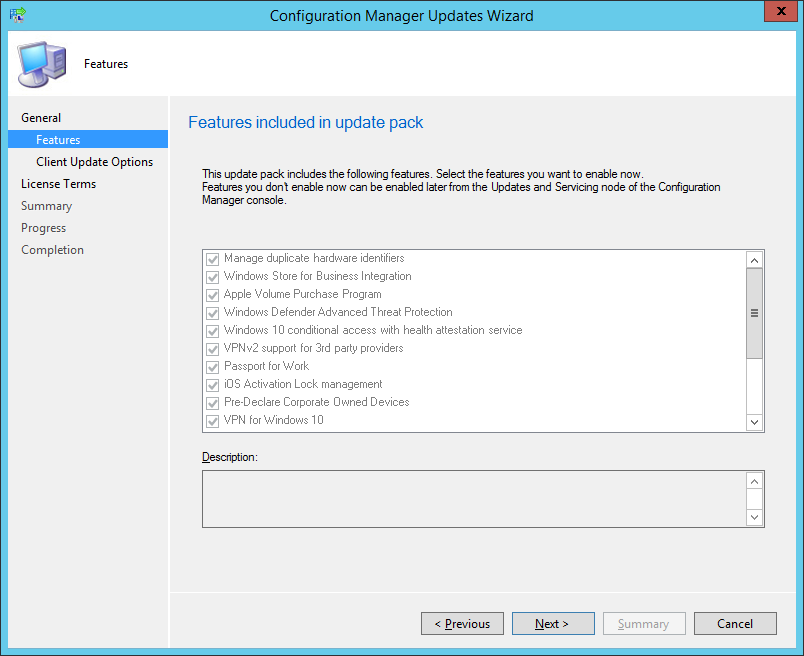 Before clicking next at the Client update settings please see this post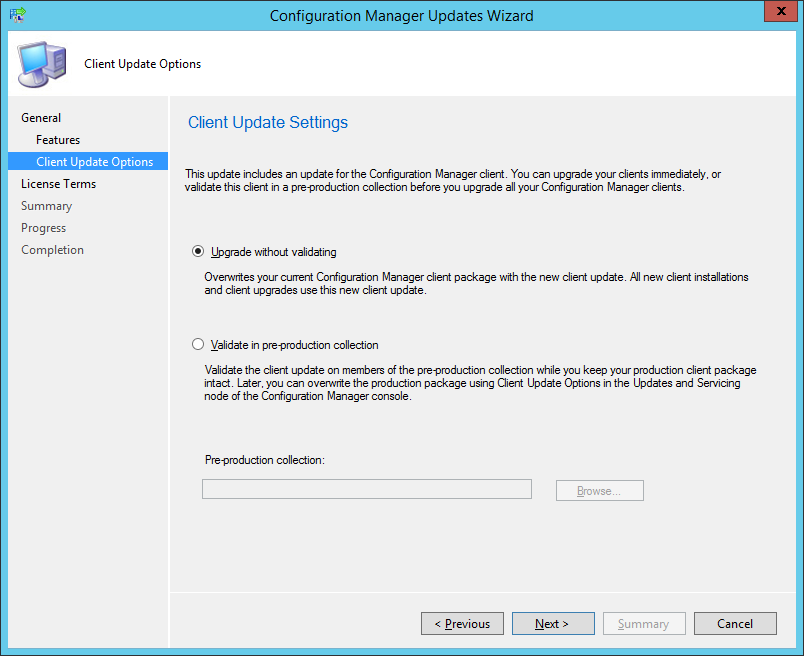 accept the EULA and configure the software assurance expiration date
Microsoft does not validate the expiration date you entered and will not use this date for license validation. Instead, you can use it as a reminder of your expiration date. This is useful because Configuration Manager periodically checks for new software updates offered online and your software assurance license status should be current to be eligible to use these additional updates.
close that wizard when done, the state should change to Installing in the Configmgr Console.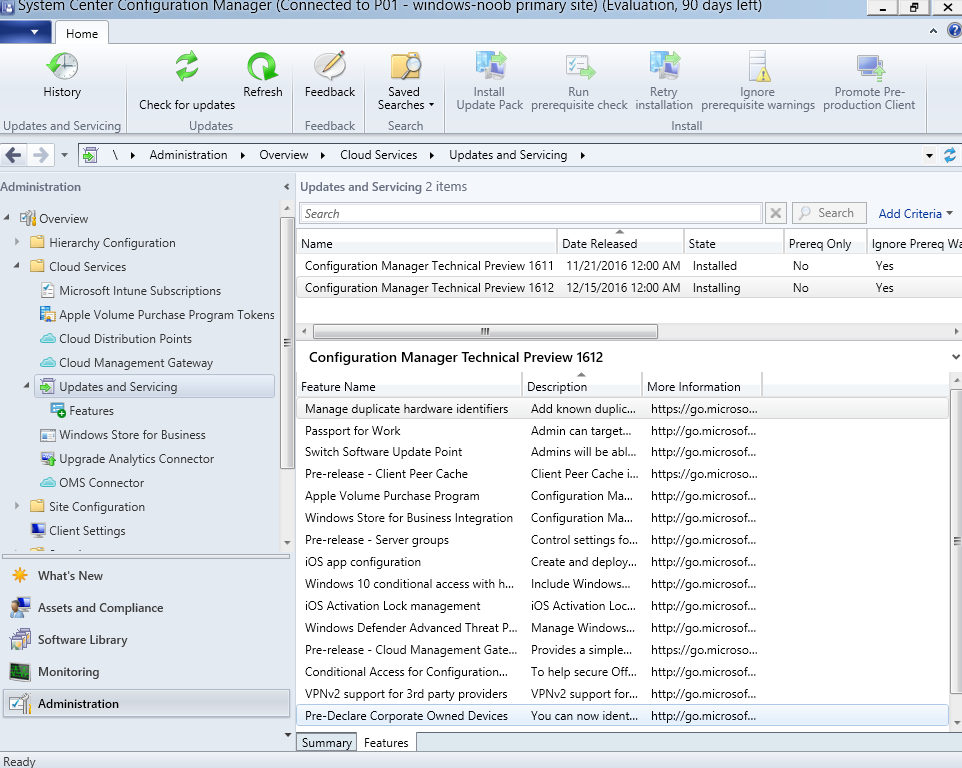 Note: The CMUpdate.log will take some time to start logging the installation of the update, so be patient if nothing appears to happen, it will.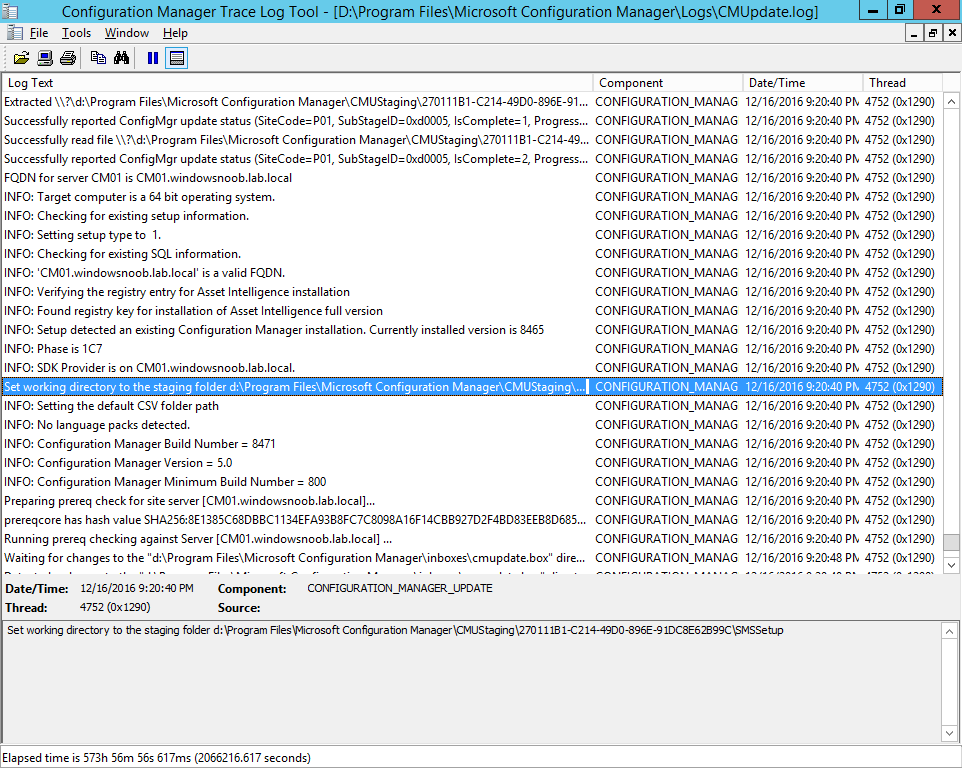 Once the update is complete, you'll see a hman notification in the log, don't worry about those red lines, it's normal.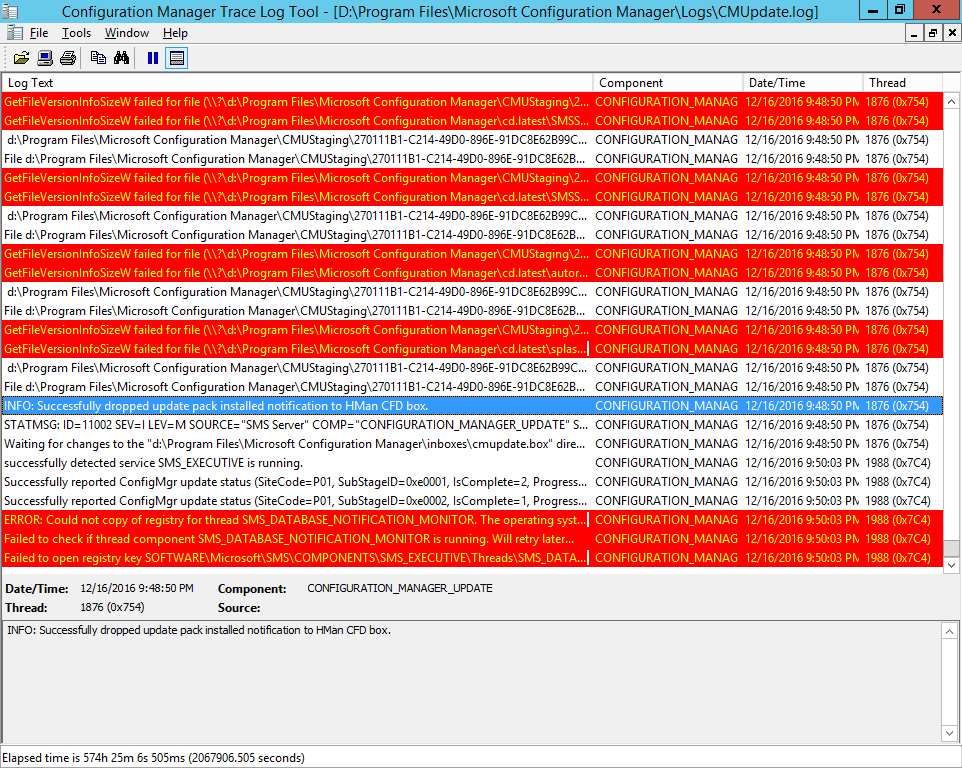 After the update is complete, you get the chance to update the ConfigMgr Console via a popup,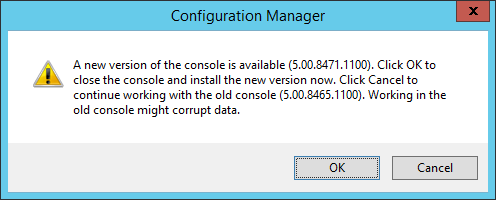 and after some minutes, it's installed.