Introduction
System Center Configuration Manager Technical Preview 1609 is now available, and it offers the following new features:
Windows 10 Upgrade Analytics – Assess and analyze device readiness and compatibility with Windows 10 to allow smoother upgrades.  This is done through integration with Windows Upgrade Analytics.
Office 365 Client Management Dashboard – Use the Office 365 client management dashboard to track Office 365 updates and deployments.
Deploy Office 365 apps to clients – We have added a new Office 365 Servicing node in the Software Library where you can deploy Office 365 apps to clients.
Improvements for BIOS to UEFI conversion – An OS deployment task sequence can now be customized with a new variable, TSUEFIDrive, so that the Restart Computer step will prepare the drive for transition to UEFI. See the documentation for additional details on the necessary customizations.
Improvement to Endpoint Protection antimalware policy settings – You can now specify the level at which the Endpoint Protection Cloud Protection Service will block suspicious files.
Boundary Group Improvements – Improvements have been made to boundary groups to allow more granular control of fallback behavior, and greater clarity of what distribution points are used.
Worthy to note is the Improvements for BIOS to UEFI conversion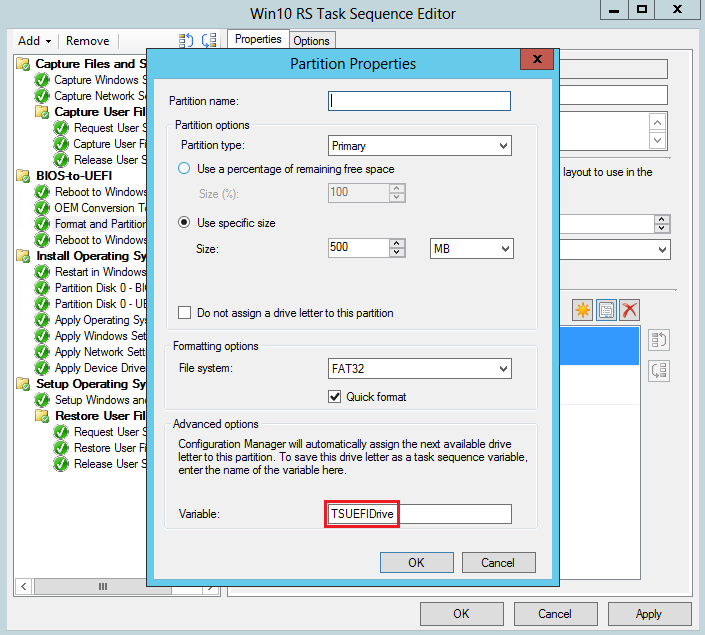 This release also includes the following new features for customers using System Center Configuration Manager connected with Microsoft Intune to manage mobile devices:
TouchID, ApplePay and Zoom DEP Settings – DEP provides the ability for admins to create enrollment profiles to skip initial setup screens for new iOS devices. TouchID, ApplePay and Zoom have now been added as options to configure in the iOS enrollment profiles.
Windows Store for Business – Windows Store for Business allows customers to obtain applications (purchased or free) and deploy them to users in their organization.
Android, iOS, and Windows Additional Settings – New settings have been added for Android, iOS, and Windows.
Native Connection Types for Windows 10 VPN Profiles– You can now create Windows 10 VPN profiles with Microsoft Automatic, IKEv2, and PPTP connection types in the Configuration Manager console without using OMA-URI.
Intune Compliance Charts – Admins can get a quick view of overall device compliance, and top reasons for non-compliance using new charts under the Monitoring.
Installing Technical Preview 1609
So how do you get Technical Preview 1609 ? Well first you need to have a base version of at least System Center Configuration Manager Technical Preview 5  installed. To see how to install these base versions use the following guide  and replace the base version of TP4 with TP5.
Once you have TP5 installed, in the Configuration Manager console browse to Cloud Services, Updates and Servicing as shown below.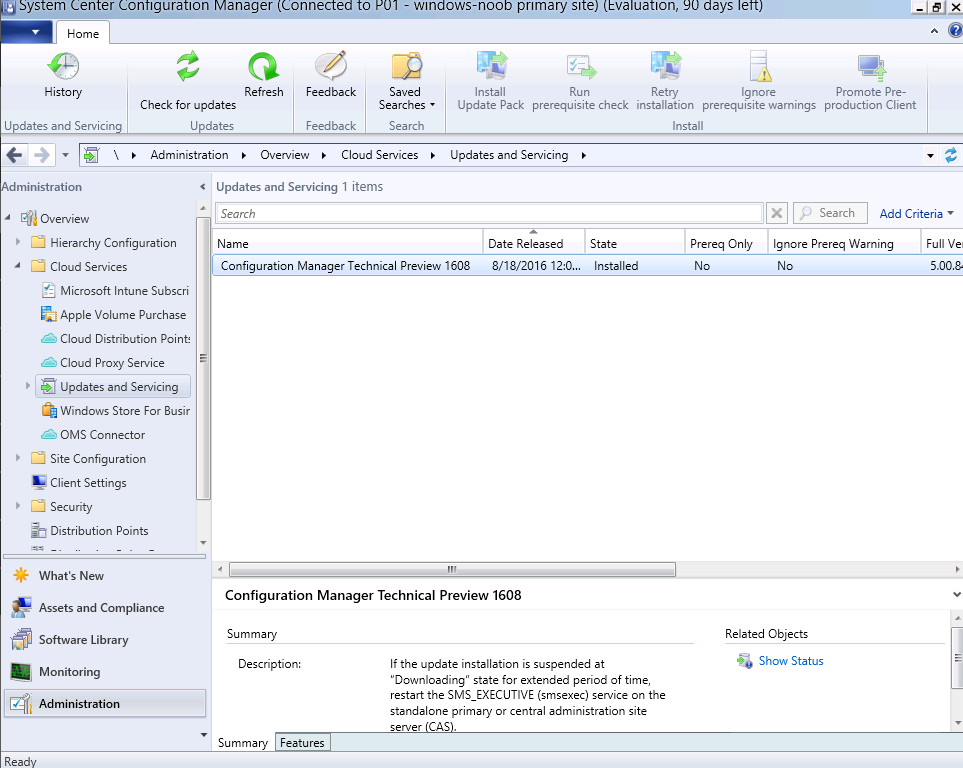 Click on Check for Updates in the ribbon.

Click ok the popup.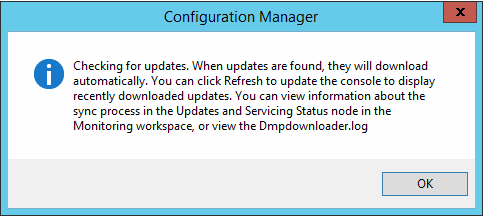 And as instructed open the DMPDownloader.log in CMTrace to monitor the checking of updates. Here you can see state message 6 which highlights that it's found an applicable update.
Generating state message: 6 for package 49d84b0f-4f33-4cef-9b8a-83ef526c9ce8
and it will be reflected in the console with a state of Downloading (click refresh to update the view).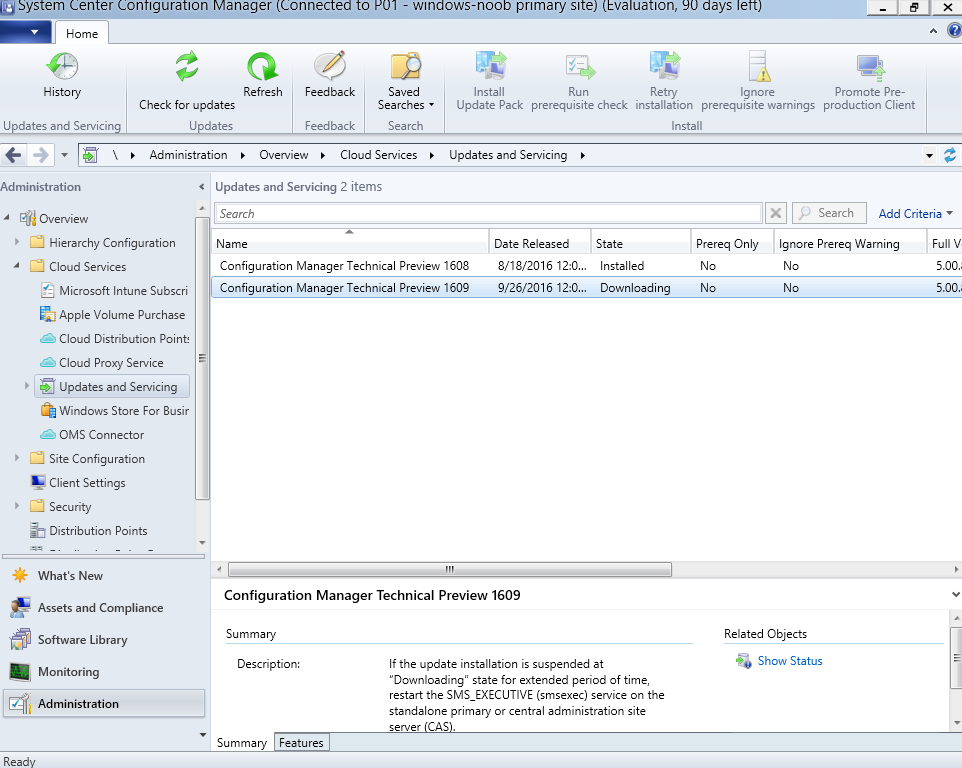 and after it has downloaded, you'll see that it's listed with a state of available.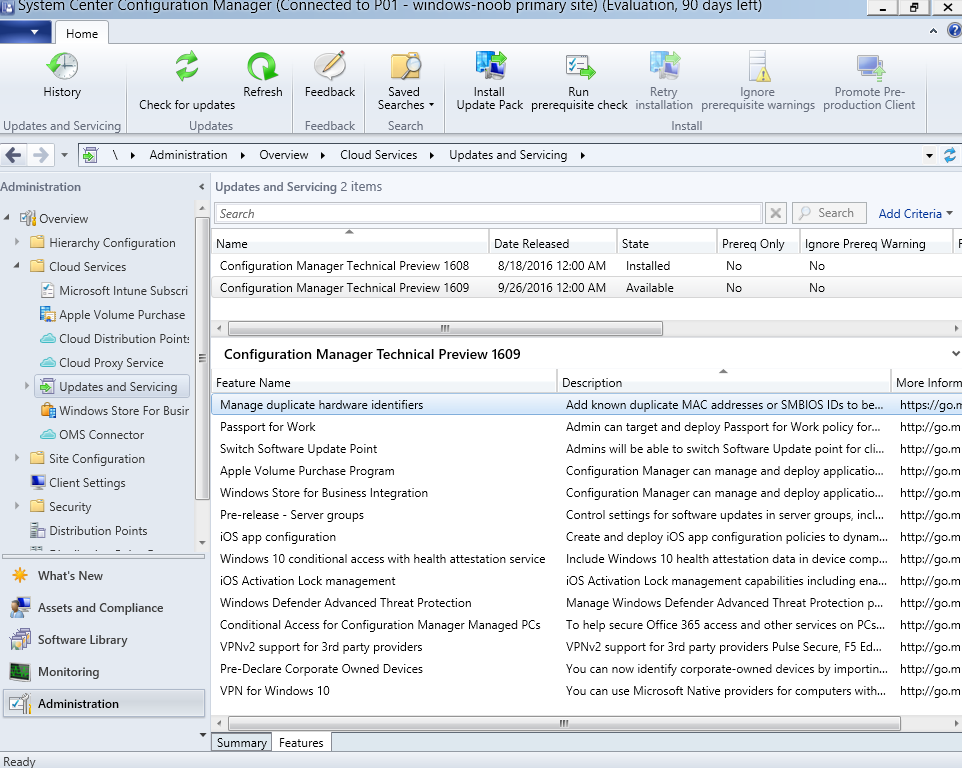 Installing the Update
Right click on the update and choose Install Update Pack.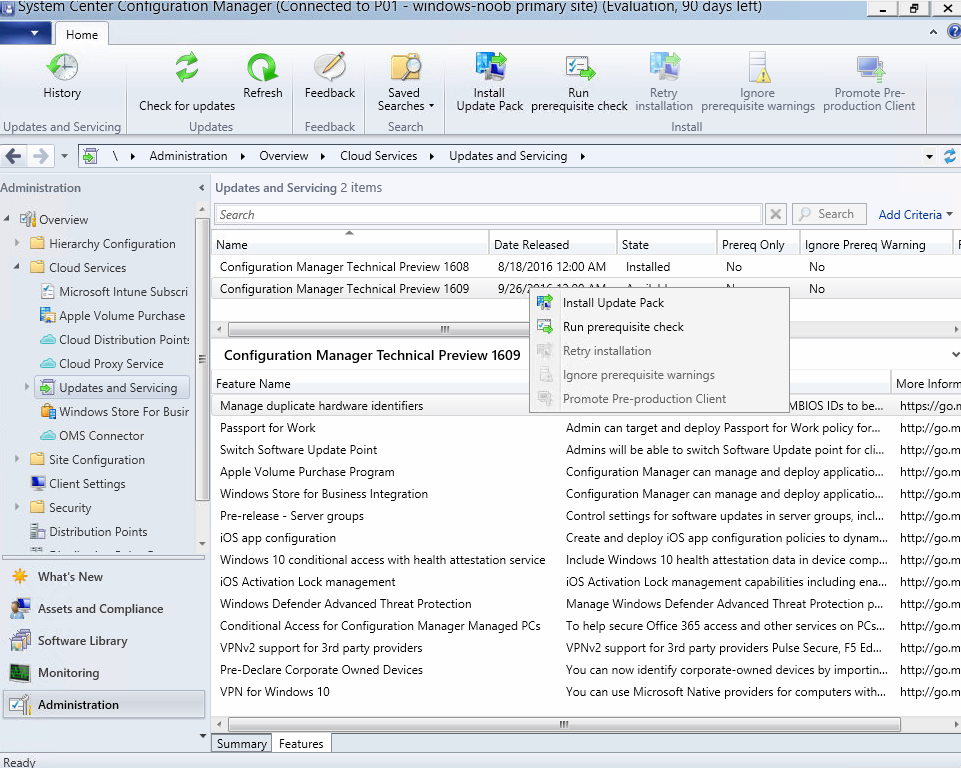 when the Wizard appears, make your choice for pre-reqs and click next.
review list of Features included in this update pack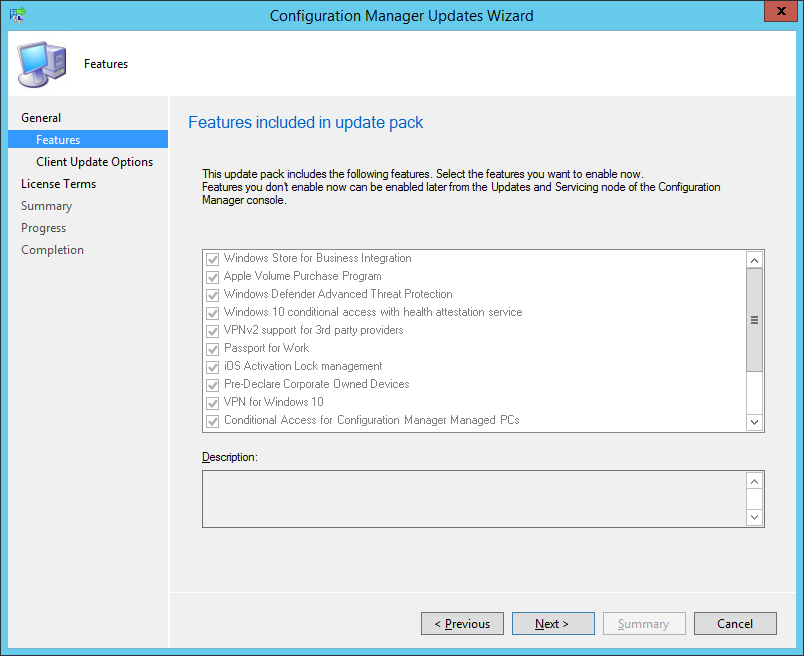 Before clicking next at the Client update settings please see this post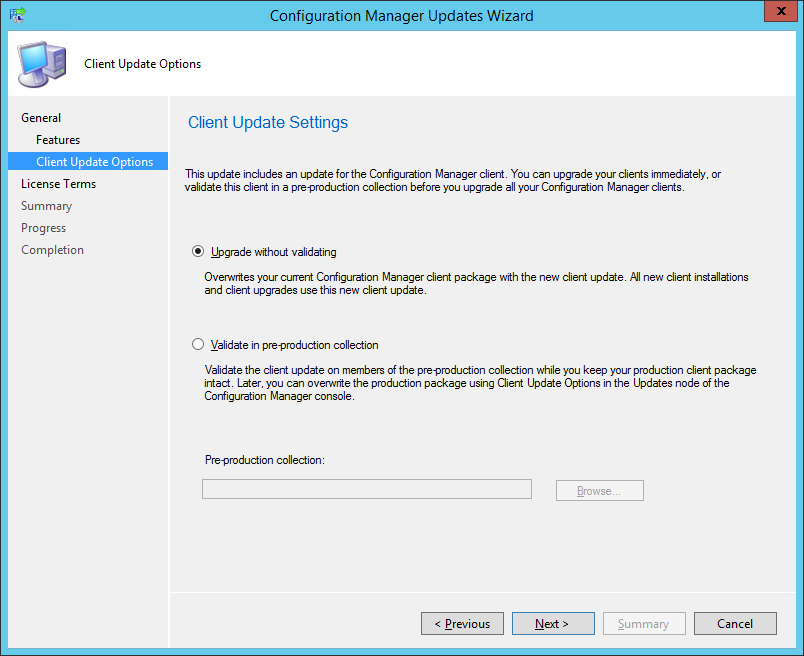 and review the EULA, Accept and continue,
close that wizard when done, and the state will now be listed as Installing.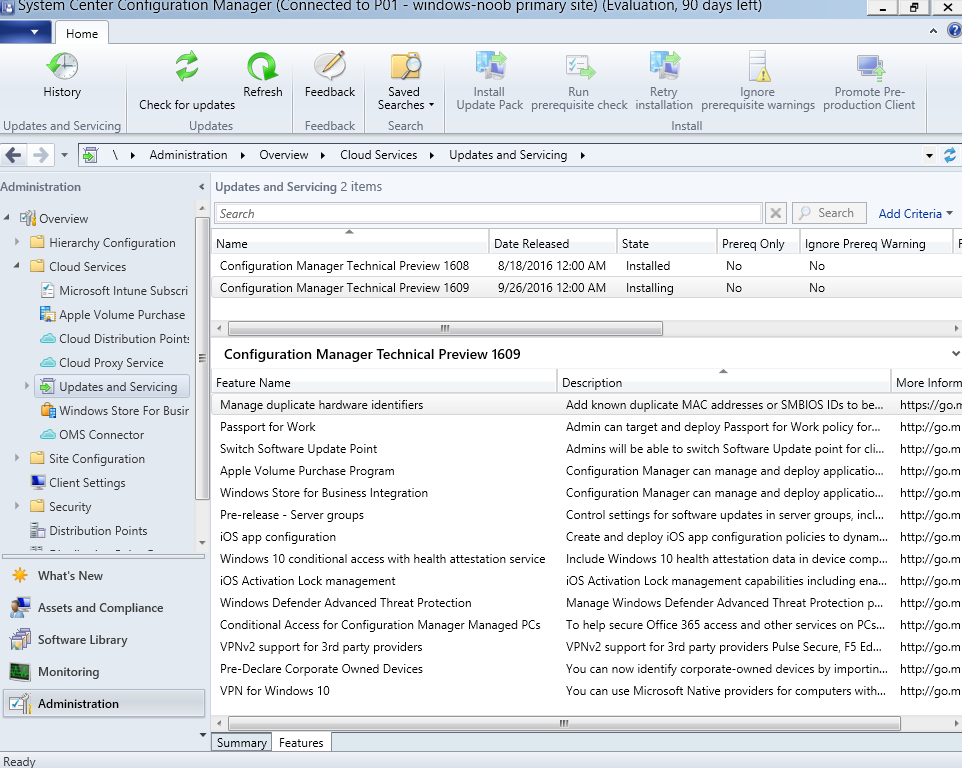 Note: The CMUpdate.log will take some time to start logging the installation of the update, so be patient if nothing appears to happen, it will.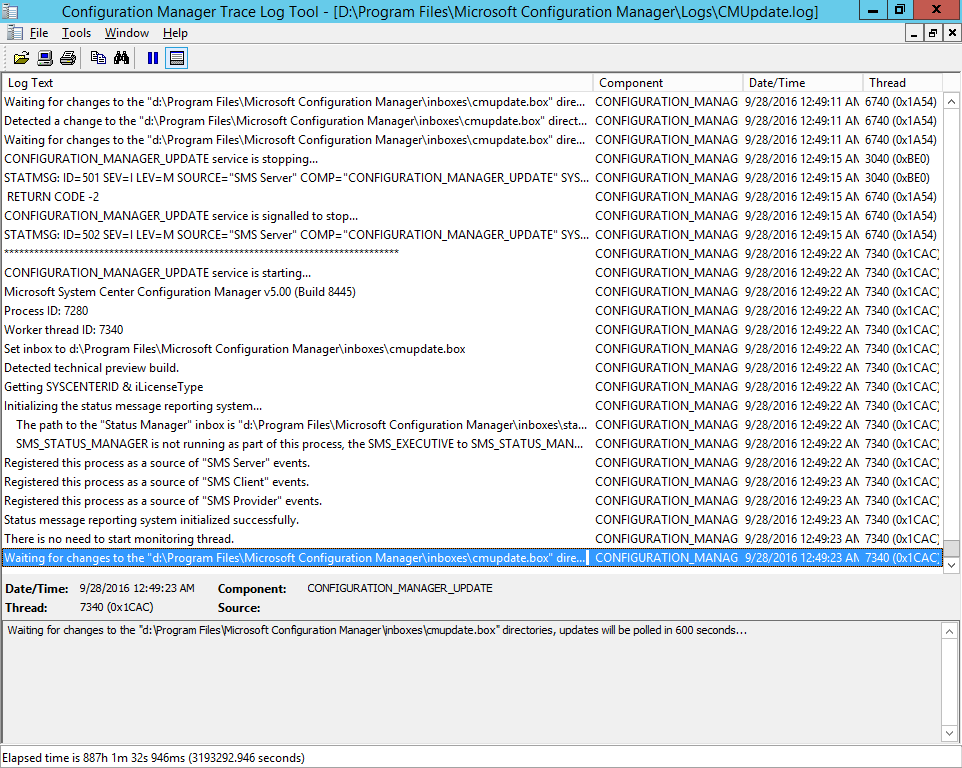 Once the update is complete, you'll see a hman notification in the log, don't worry about those red lines, it's normal.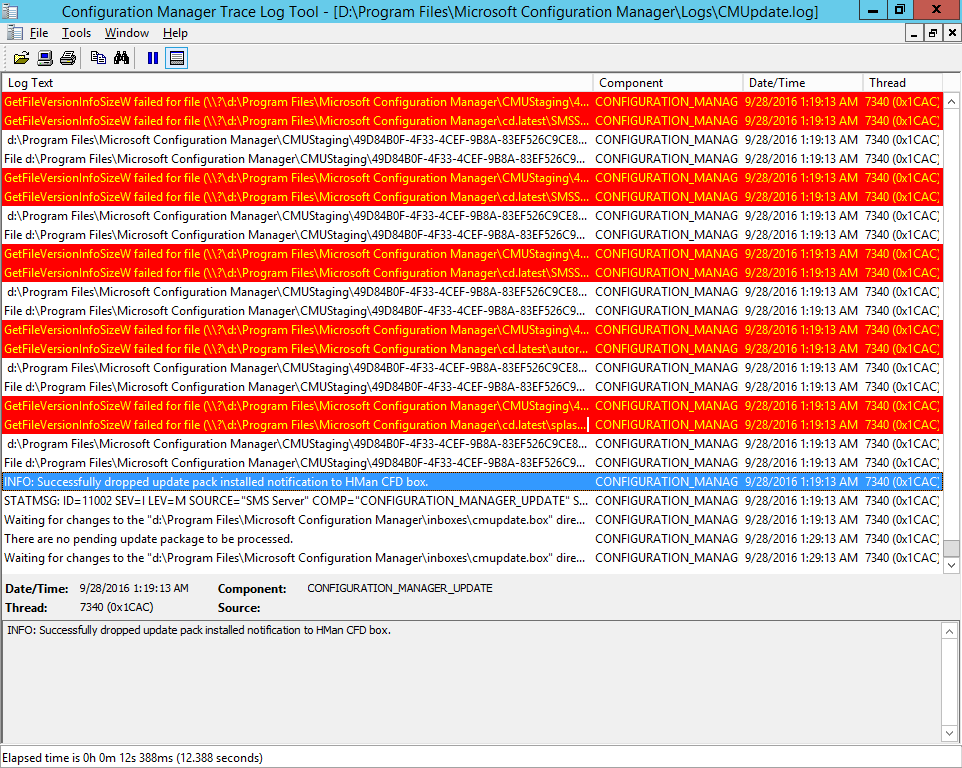 After the update is complete, you get the chance to update the ConfigMgr Console via a popup,
I clicked ok and went through the process but it informed me that it was unsuccessful and to click on the 'report' button to read the log.
which informed me that the console was in use and therefore couldn't be upgraded, I tried 5 or so times and even rebooted the server to attempt to resolve, to no avail, in fact after the reboot I didn't even get the 'report' screen, you can see a video of what I did see here.
After trying again a few times it actually completed, so I'm guessing it was a timing issue, so here is the final result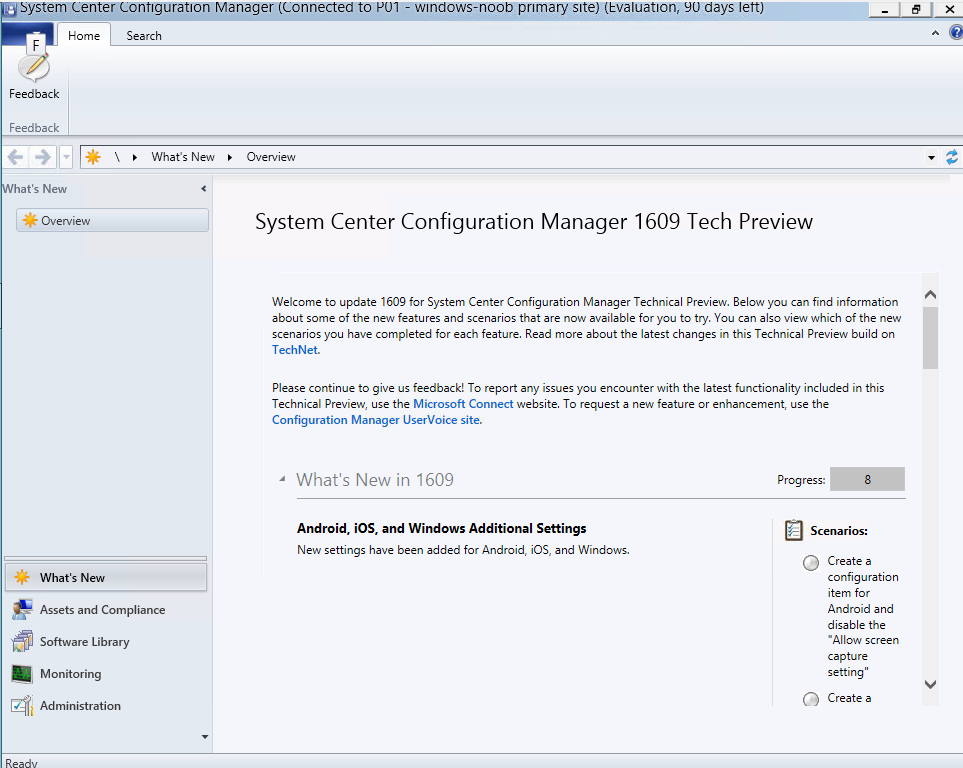 For more info see the official blog post on Technet here or see the full list of capabilities for 1609 here.