Introduction
A few weeks ago Microsoft release SCCM Technical Preview version 1904 and it had many interesting features, one of which is dedicated to community involvement.
After installing SCCM Technical Preview 1904, open the console and browse to the Community Node, you'll be presented with the Documentation section. Note that it was last updated a few days ago.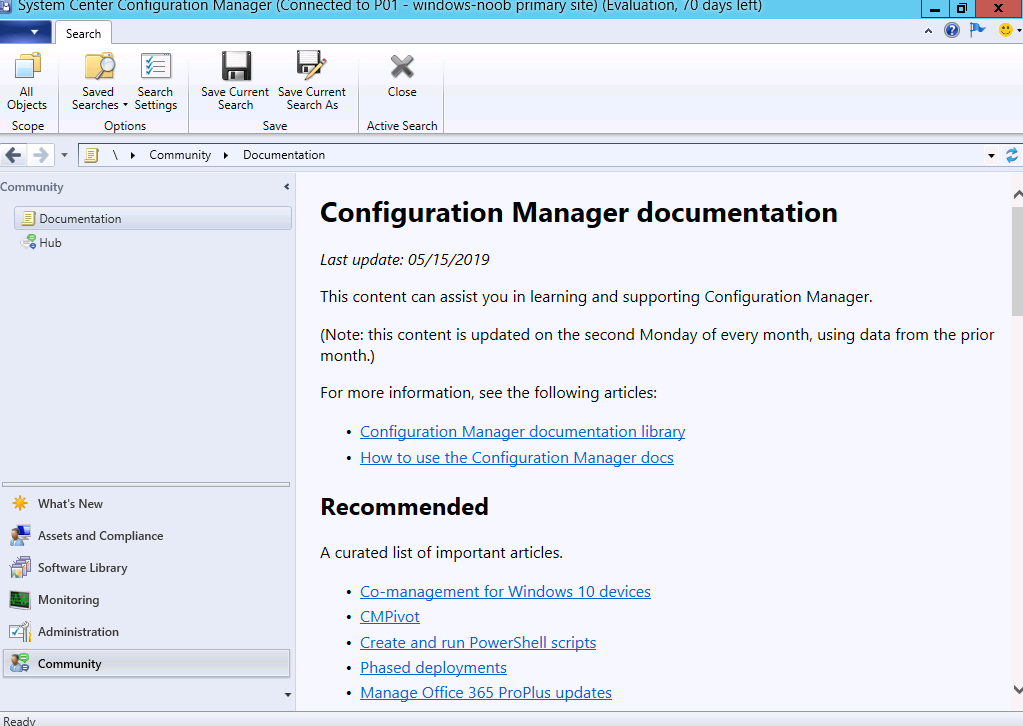 Adding community content
The Hub underneath it allows you to contribute to the SCCM environment and have your scripts (and other ConfigMgr related stuff) shared here for all to see (once you are approved), all you need as a prerequisite is a GitHub account. If you don't already have one, get over to https://github.com/ and create an account, while you are at it setup 2FA as Microsoft requires it for the Hub.
So let's see it in action. Click on Hub. If you are using an older version of Windows Server (such as 2012R2) or one that doesn't have .NET 4.6 you'll probably see the following.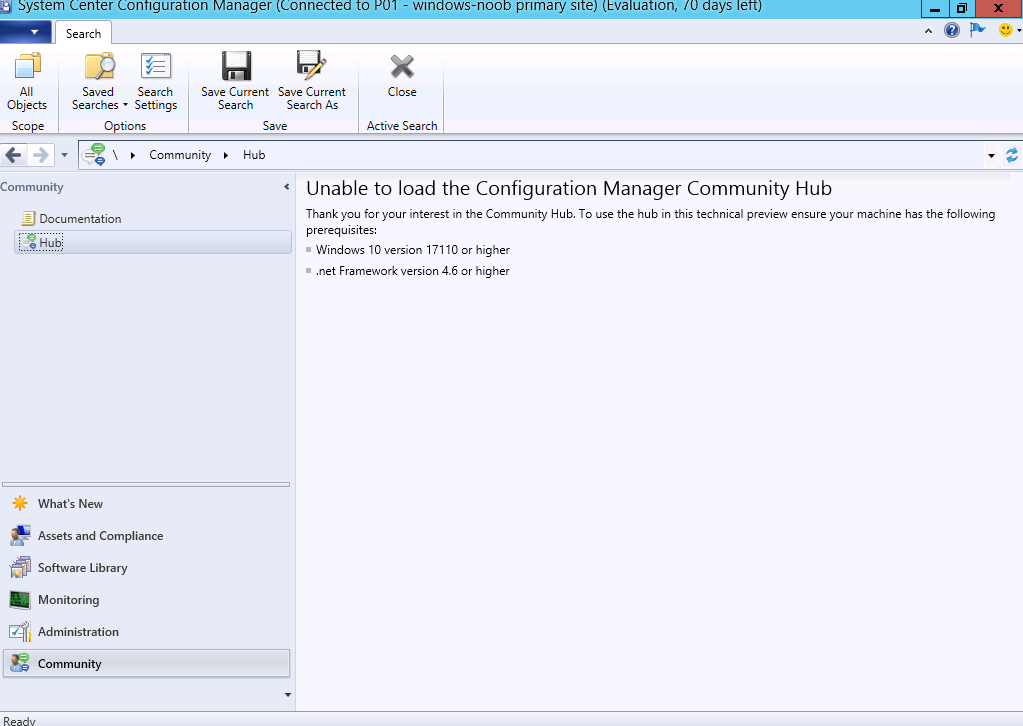 But that's easy to fix, I used a Windows 10 virtual machine and installed the console there, it allowed me to browse the Hub without issue.
To get started, click on My Hub and then sign in with your GitHub account and click Join.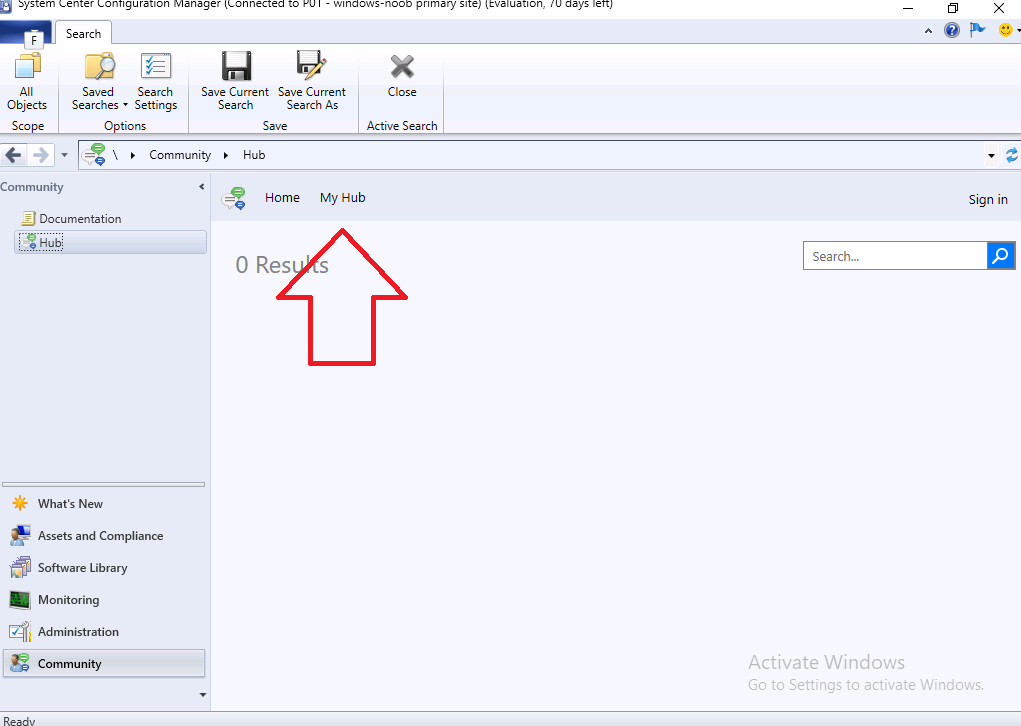 You'll get a message that your membership was received and awaiting approval.
After a while (usually within 1 day) you'll be approved (hopefully) and get an email stating that you've been invited to contribute, something like below.
Click on View Invitation, and once logged in to GitHub (otherwise you'll get a 404 on the invite), click Accept to accept the invitation.
Then, go back to the Hub, click on My Hub and sign in, you'll be prompted to Authorize the Hub.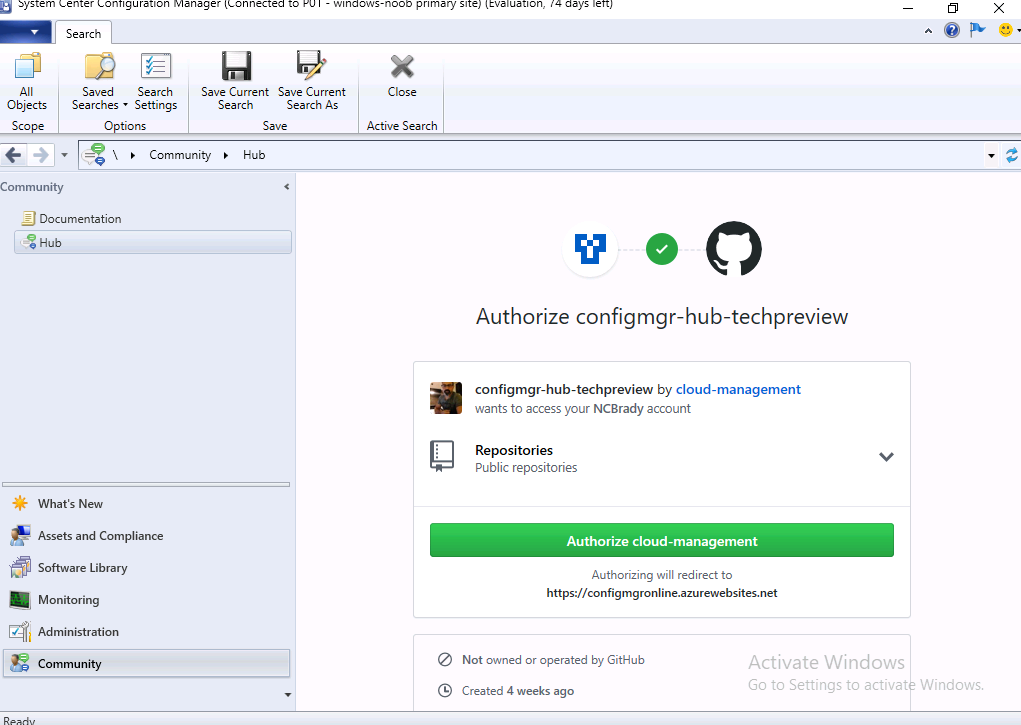 and finally, you'll see a 'Welcome to the hub'. You are in !

At this point you can start uploading content directly, so let's give that a try.
Note: To upload content such as PowerShell scripts to your Hub, you first need to add them to your own SCCM environment via the Scripts node, then you must Approve them. Please refer to the Approved script called Install SCCM shown below.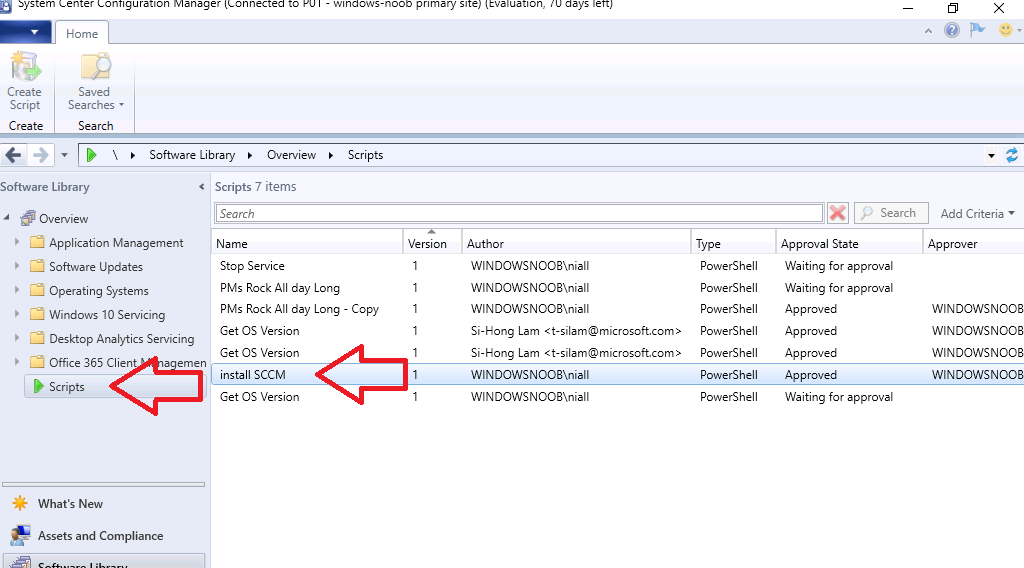 Click on Add an item
Note: If you cannot see the whole window that appears (you should be able to see Next and Cancel), press and hold CTRL while scrolling your mouse wheel back or forth to zoom out.
In the drop down that appears, select Script (the other options don't seem to work right now), and then fill in info about the script, lastly, click on Browse.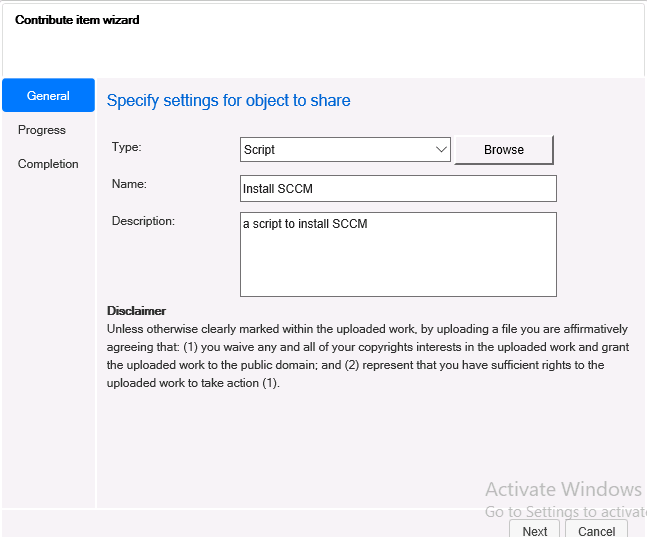 After clicking on Browse (for scripts) you'll be shown a list of Approved scripts in your hierarchy. Select the one you want to contribute. Finally, click Next.
The wizard will start Applying changes..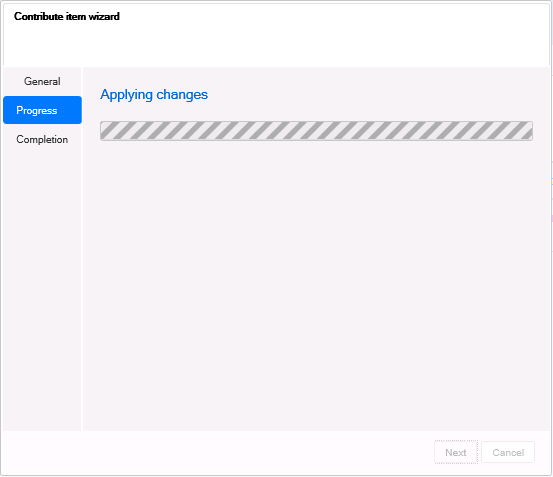 … and if you are lucky you'll see the following.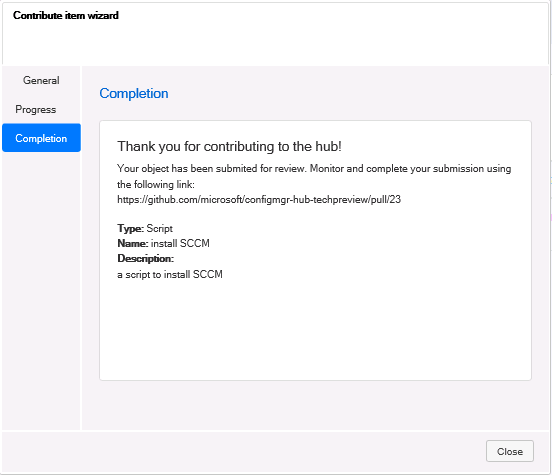 You might just miss the link above, it links back to GitHub and if you copy/paste that into a web browser you can see the status of your submission on GitHub.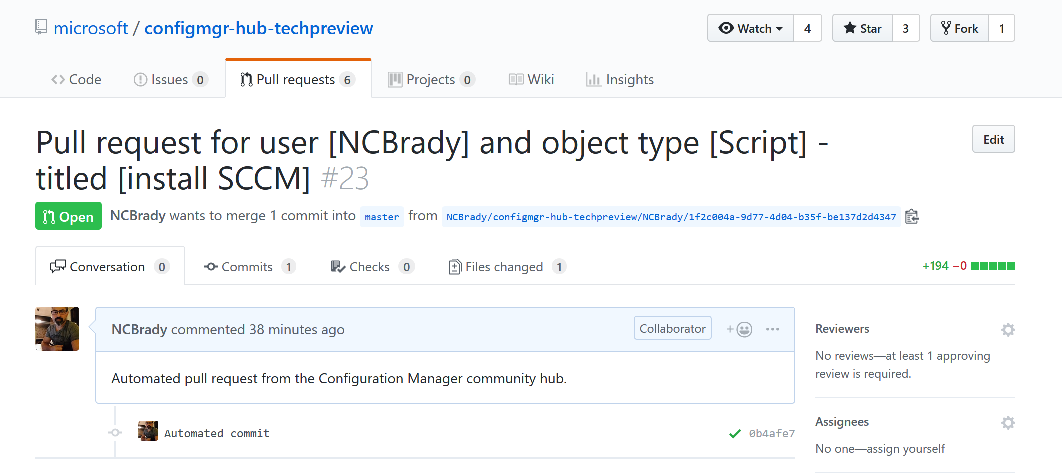 And this will be reflected in the console with a Pending for approval state.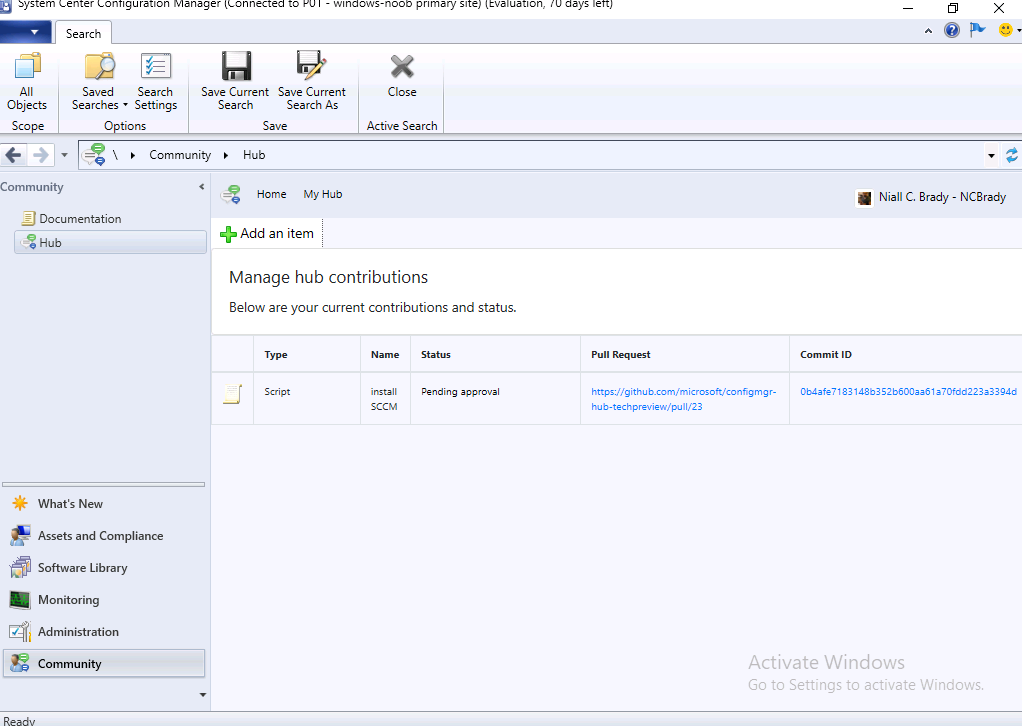 Accessing other community content
Well that's how you can contribute, if you want to access what others contribute click on Home.
In the Home section of the Community, you'll see other scripts, reports, CI's and other items that help the community with SCCM, you can download these items by clicking on them and selecting Download.
Once the item is downloaded it will need to be approved, either just by you or by another SCCM Admin if the following hierarchy setting is enforced.
Note: If the setting below (4) is enabled then the Approve button will be Greyed out if you are the approver of the script. In other words, another Admin needs to login and approve it.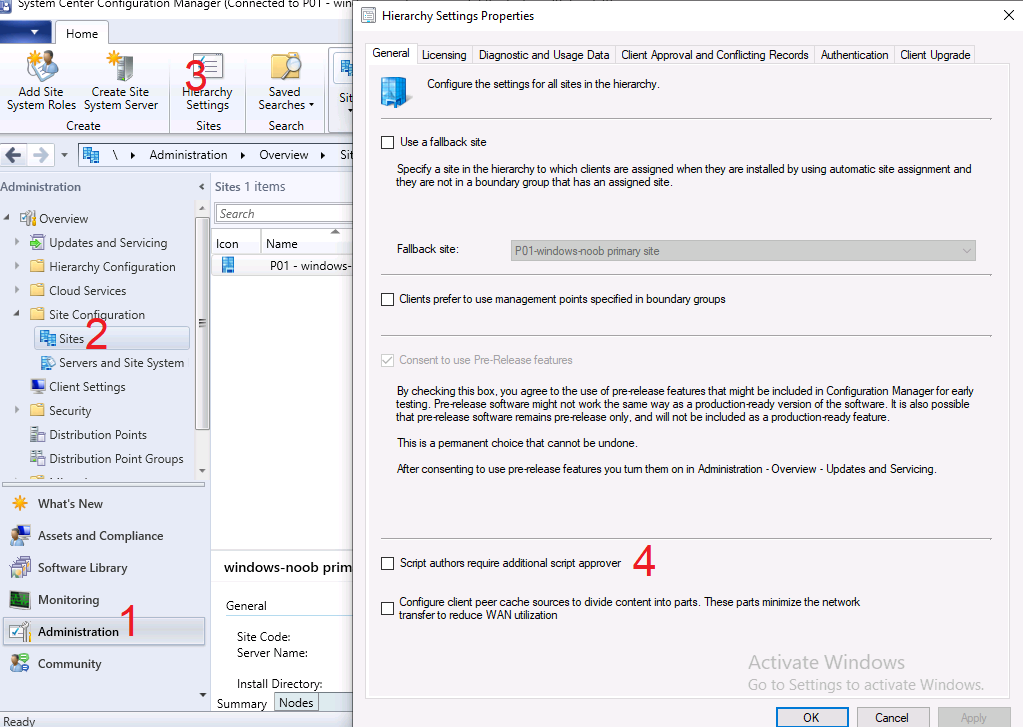 Ok assuming you can Approve downloaded scripts, you'll see something like the following.
Select the item in question and choose Approve (from the Software Library/Scripts node).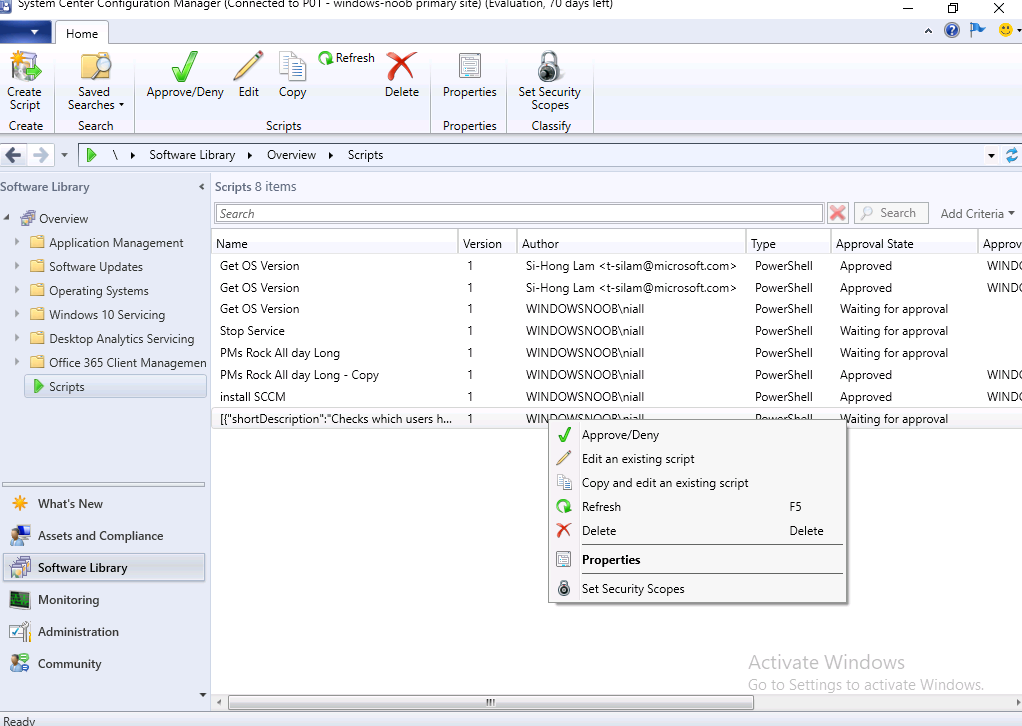 Next go through the Approve or Deny script wizard (this is a Technical Preview release so it might look a bit half baked).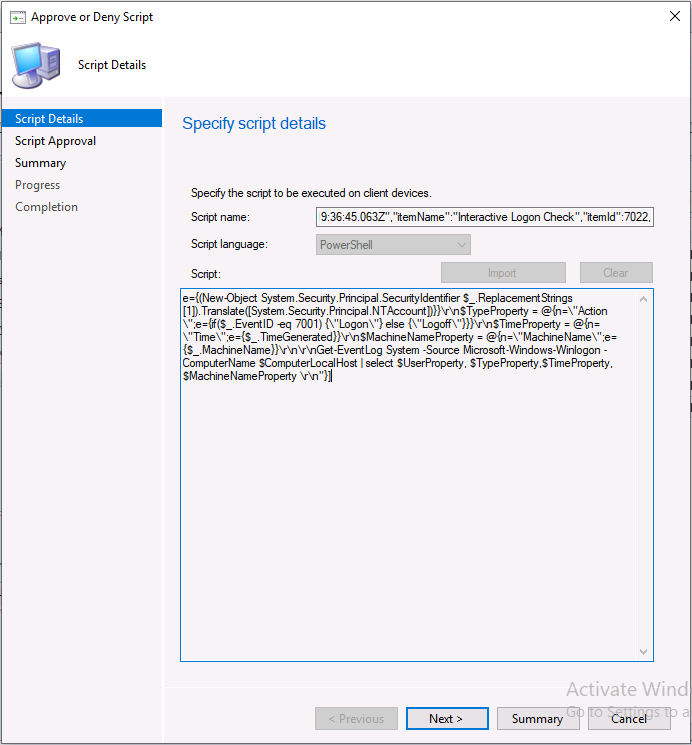 and choose approve, fill in some text about why you approved it.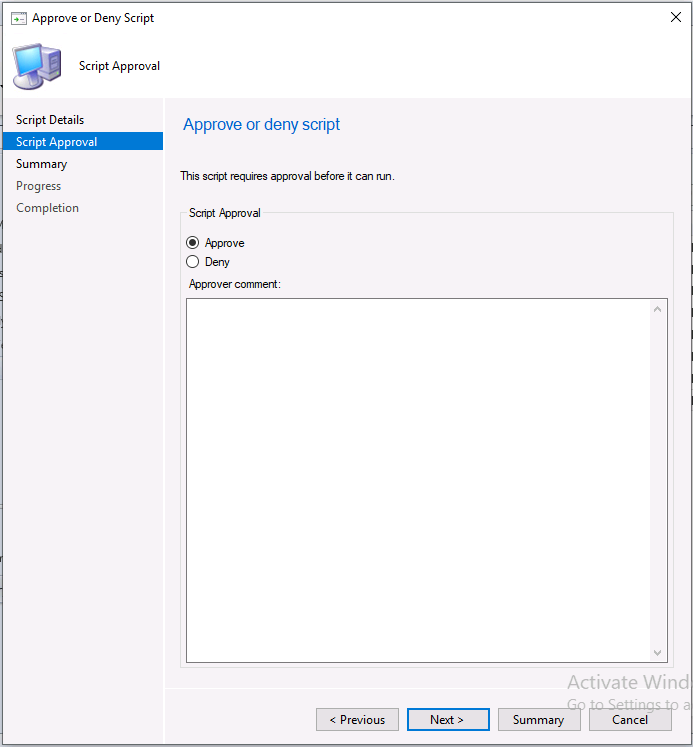 And the script is now available for use in your SCCM environment.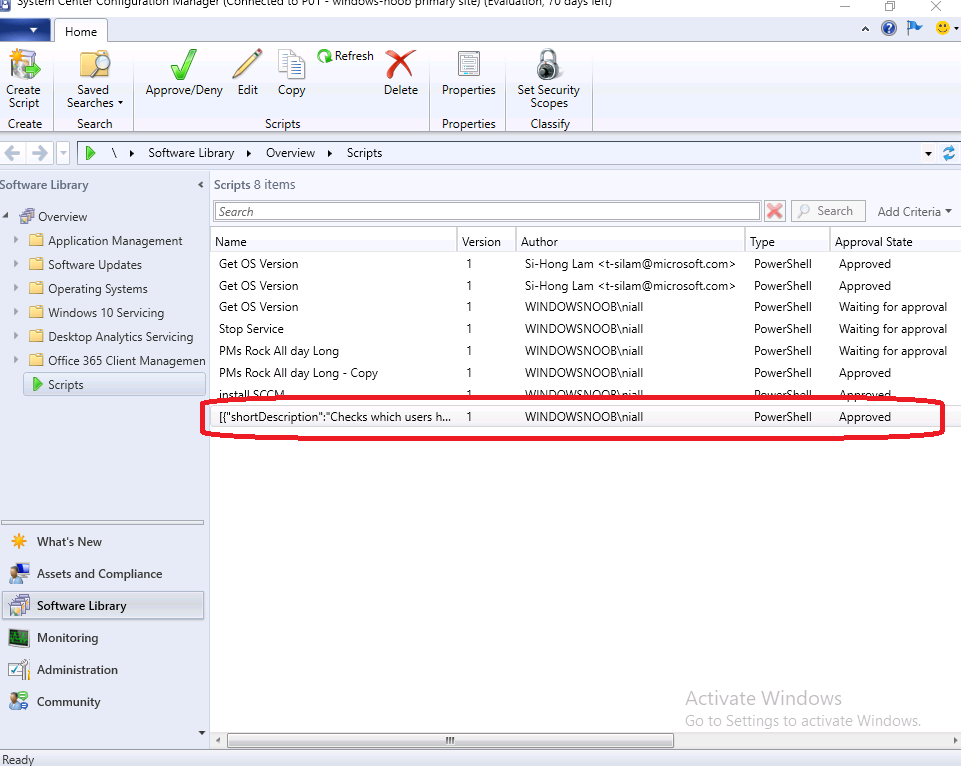 That's it for this post, I'll return to this when it get's more capabilities, great feature if you ask me ! great work ConfigMgr team !
cheers
niall