Introduction
Today (in Seattle, WA), Thursday the 22nd of March, 2018, System Center Configuration Manager (Current Branch) version 1802 was released, you can read the official announcement here. For a detailed list of what's new, see the following blog post.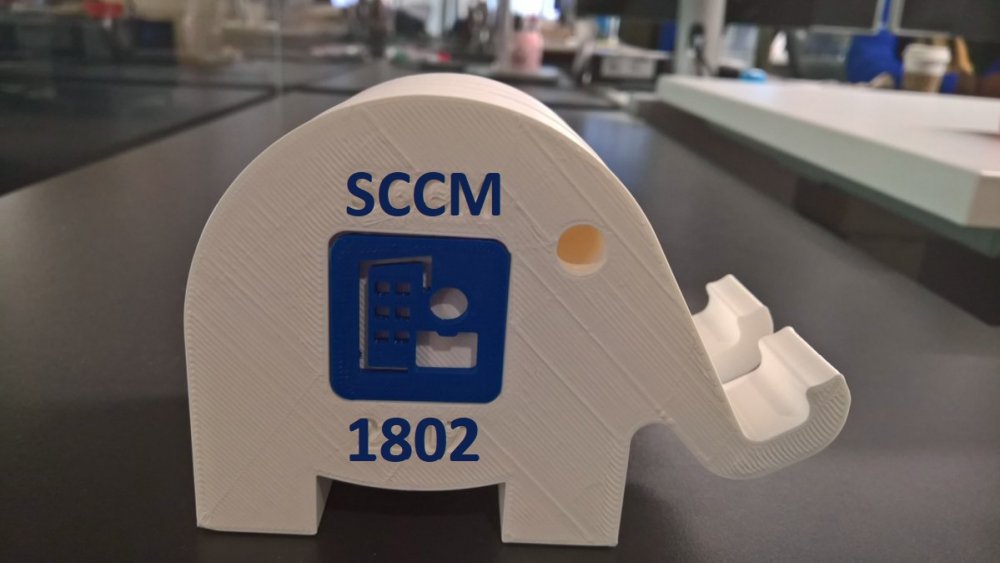 The white elephant above is based on an original graphic here, thanks Djam !
Understanding the different SCCM releases
There are two main branches of Configuration Manager currently available, Current Branch and Technical Preview. System Center Configuration Manager (Current Branch) is designed for use in production environments, for managing anything from relatively small to very very large Enterprises, whereas System Center Configuration Manager (Technical Preview) is for lab testing environments only and is limited to 10 clients.
The Technical Preview releases are released monthly, and contain the latest and greatest features that are being trialed in the product, and usually these new features are the result of feedback from uservoice. Current Branch releases on the other hand are released only a few times per year and contain stable, tested features that are mature enough to release into production environments.
Note: You cannot upgrade from a Current Branch to Technical Preview or vice versa, they are two distinct different branches.
The following versions have been previously released since Microsoft moved to the Current Branch release cadence for Configuration Manager:
Source Microsoft.
A note about Baseline releases
Baseline releases are the versions of Configuration Manager that you can use to do a clean install or when upgrading a System Center Configuration Manager 2012 hierarchy to Current Branch. Baseline releases are available for download in the Microsoft Volume License Service Center. As System Center Configuration Manager (Current Branch) version 1802 is now the new baseline, you should it for all new installs (or applicable upgrades) until the next baseline version is released.
Upgrading to 1802 Current Branch
In a previous post you used PowerShell scripts to install System Center Configuration Manager (Current Branch) version 1702. This post will focus on upgrading from one current branch version to version 1802. This post assumes you are running a minimum version of 1702 (or later) of System Center Configuration Manager (Current Branch).
Note: Before upgrading, please review the following checklist to verify you are ready for the update.
Fast ring versus Slow ring
Do you want it now or later ? When new Current Branch releases are made available to the public, you have the choice of getting the release immediately using a method called the fast ring. The fast ring method uses a PowerShell script which you download from Microsoft. After running the PowerShell script, the upgrade will show up in the ConfigMgr console. If however you decide to wait a couple of weeks after the release is publicly available, then the upgrade will be released to the slow ring and at that point it will show up in the ConfigMgr console for all Current Branch hierarchies.
To use the fast ring PowerShell script, download it, and run it to self-extract to FastRingScript_1802.
Once extracted, start an Administrative PowerShell command prompt in that folder and from there use the following command (where CM01 is the <SiteServer_Name | SiteServer_IP> of your CAS or standalone Primary site server).
.\EnableFastUpdateRing1802.ps1 CM01
Next, open the ConfigMgr console and find Updates and servicing in the Administration node. Click on Check for Updates in the ribbon, followed by Refresh. After a few minutes you should see that Configuration Manager 1802 is listed with a state of Available to download as shown below.
You can read the rest of this long and detailed blog post on windows-noob.com here.