Introduction
Another month, another release, this time System Center Configuration Manager 1608 (Technical Preview). Microsoft are developing updates for ConfigMgr at a commendable rate. Kudos to David and the rest of the ConfigMgr team.
What's New in 1608
Application Requests from Software Center
Users are now able to request approval for applications and view the request history for applications in the Application Details view in Software Center. The Request button in Application Details no longer redirects to the web-based Application Catalog.
Improvements to Asset Intelligence
In the Configuration Manager 1608 Technical Preview, we have added a field to the properties for inventoried software that lets you set a parent and child relationship with other software. In the Inventoried Software list, you can view the parent of any software and also hide all child software.
New Software Indicators in Software Center
The Software Center Applications, Updates, and Operating Systems tabs now show what software was recently added. Numbers in the navigation pane show how many new pieces of software are in each tab.
Remote Control Keyboard Translation
In a remote control session, keys typed are now mapped by default to the sharer's keyboard when the keyboard languages do not match, so that the viewer is able to type normally. This behavior may be turned off in the Remote Control viewer Action menu.
For a list of what's new see this page on Technet.
Getting Technical Preview 1608
In the ConfigMgr console on a Technical Preview install you'll see this if you have 1607 installed.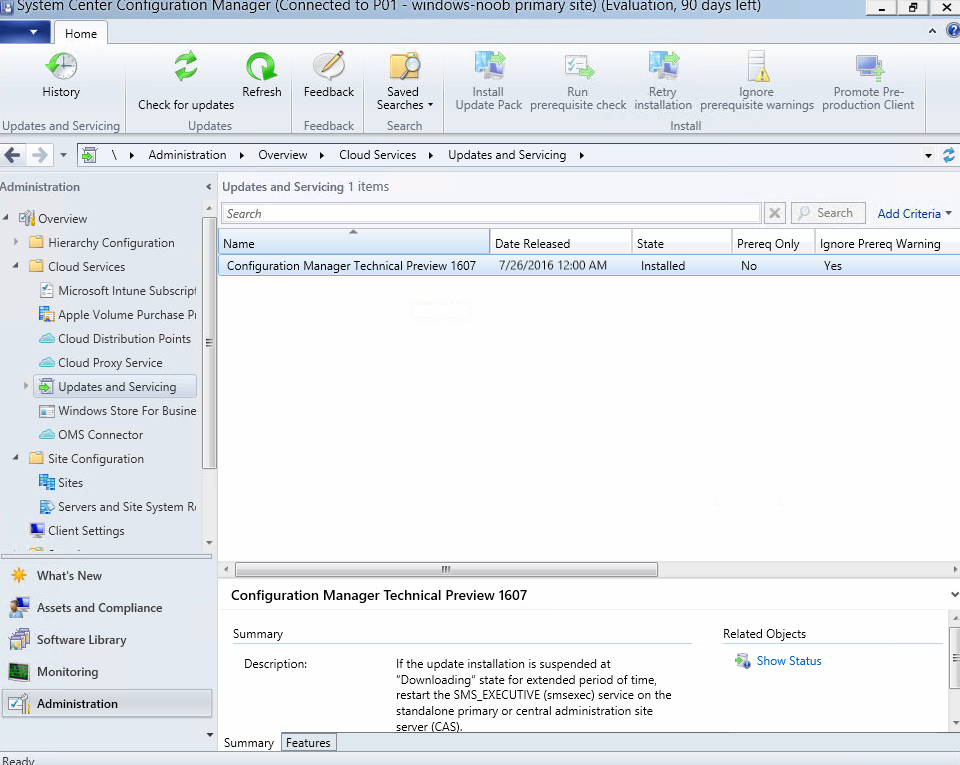 Click on Check for Updates in the ribbon.

Click ok the popup.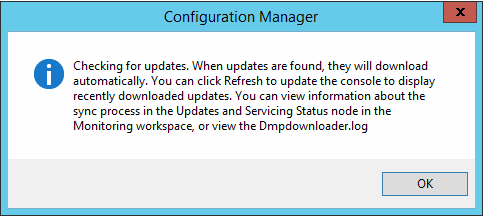 And as instructed open the DMPDownloader.log in CMTrace to monitor the checking of updates. Here you can see state message 6 which highlights that it's found an applicable update.
Generating state message: 6 for package c6d08d5e-533a-447b-98fe-8fbb2e7fac37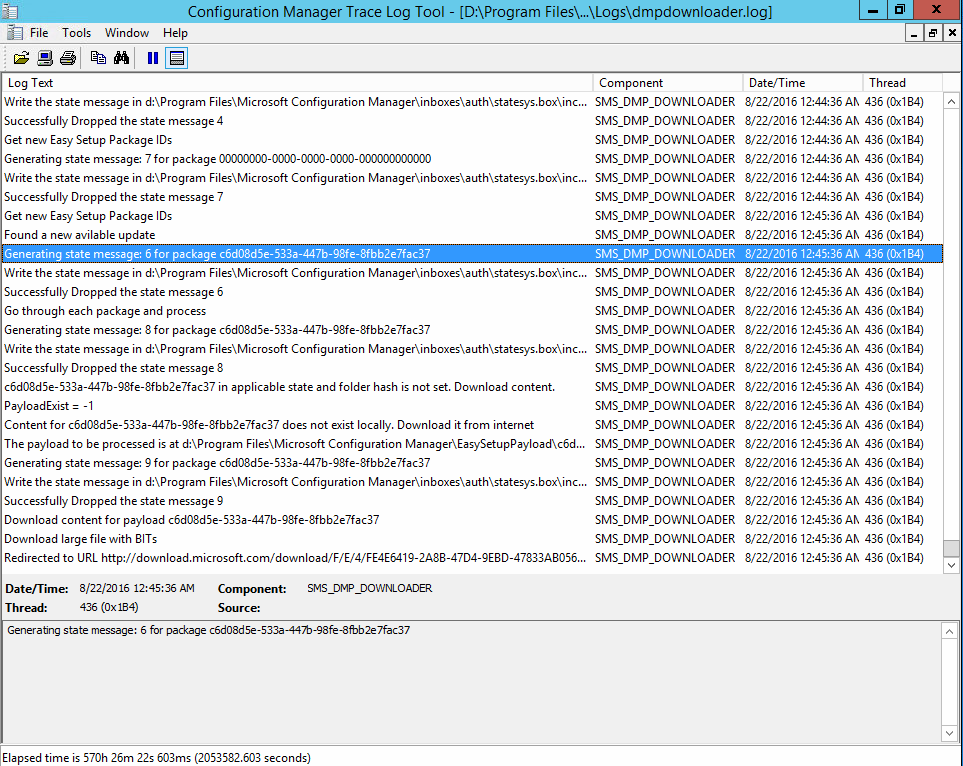 and it will be reflected in the console with a state of Downloading.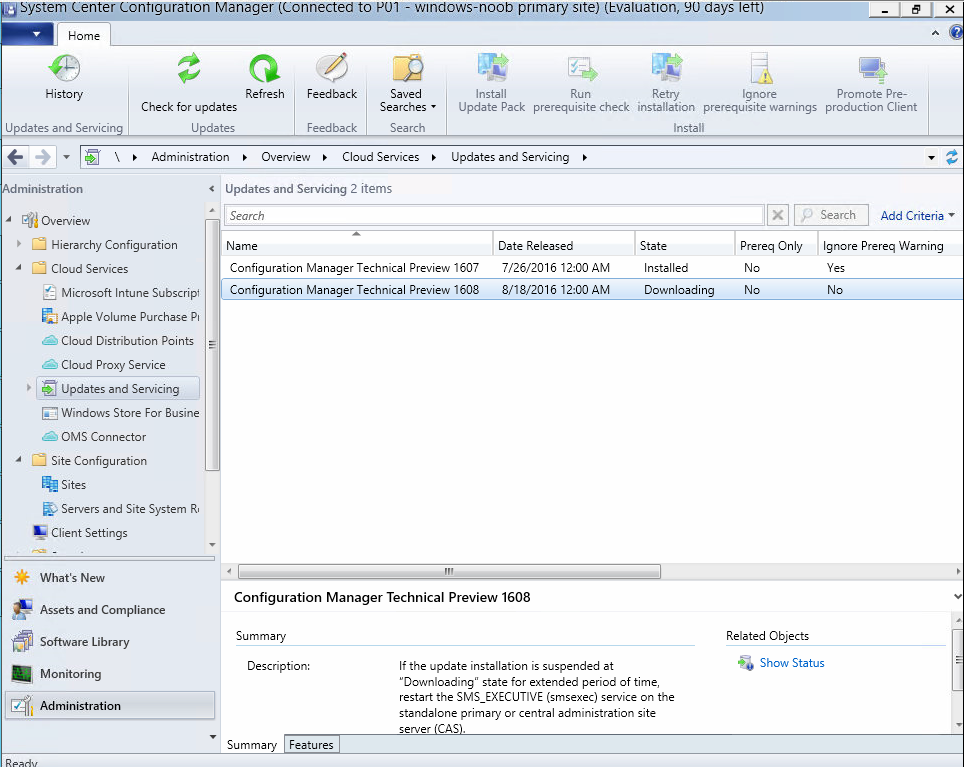 After it has successfully downloaded, it will be listed with a state of Available.
Installing the Update
Right click on the update and choose Install Update Pack.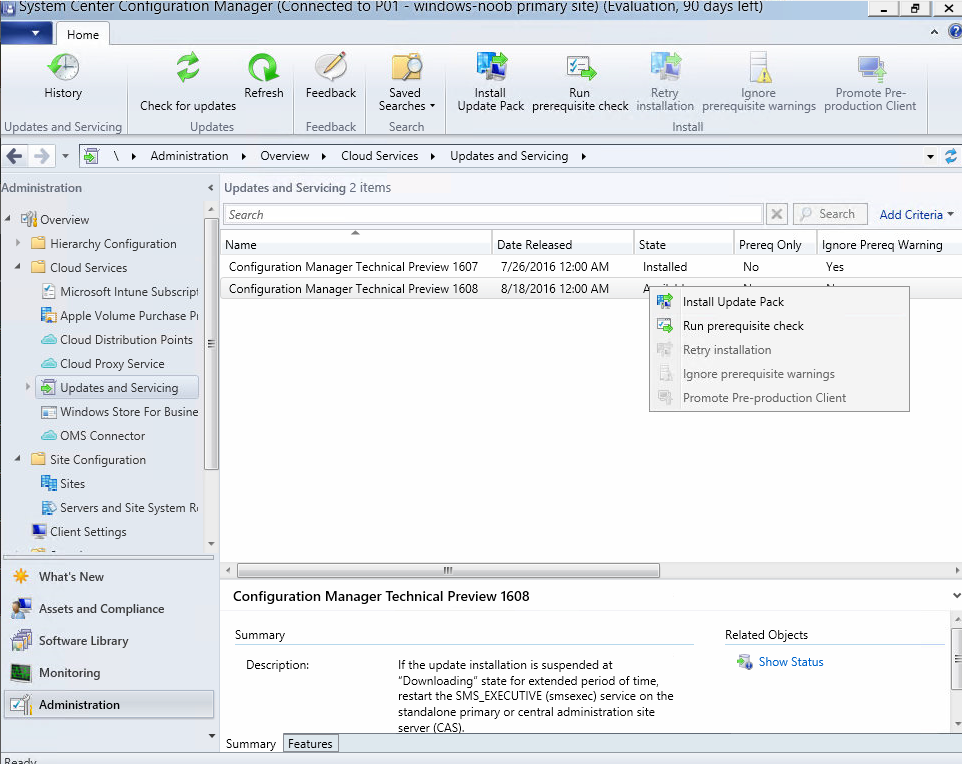 when the Wizard appears, make your choice for pre-reqs and click next.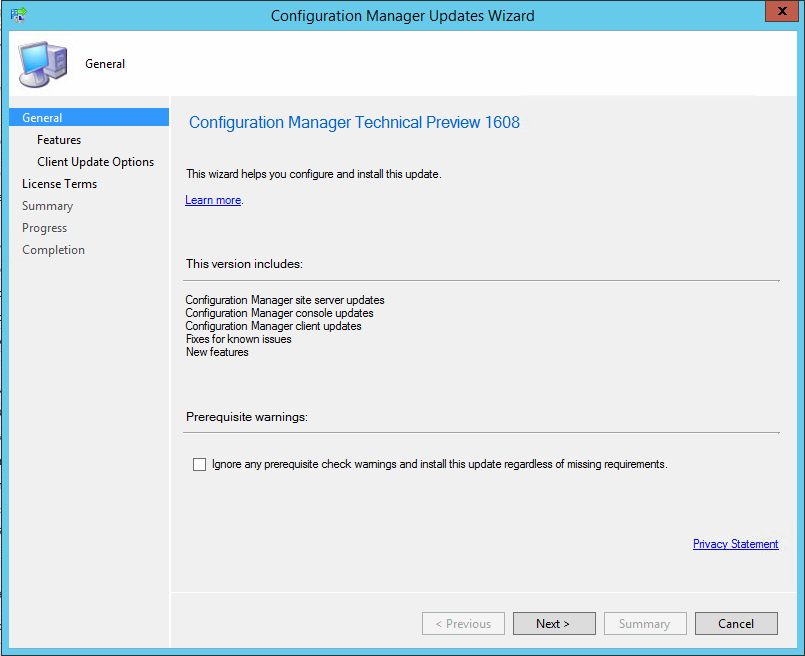 review list of Features included in this update pack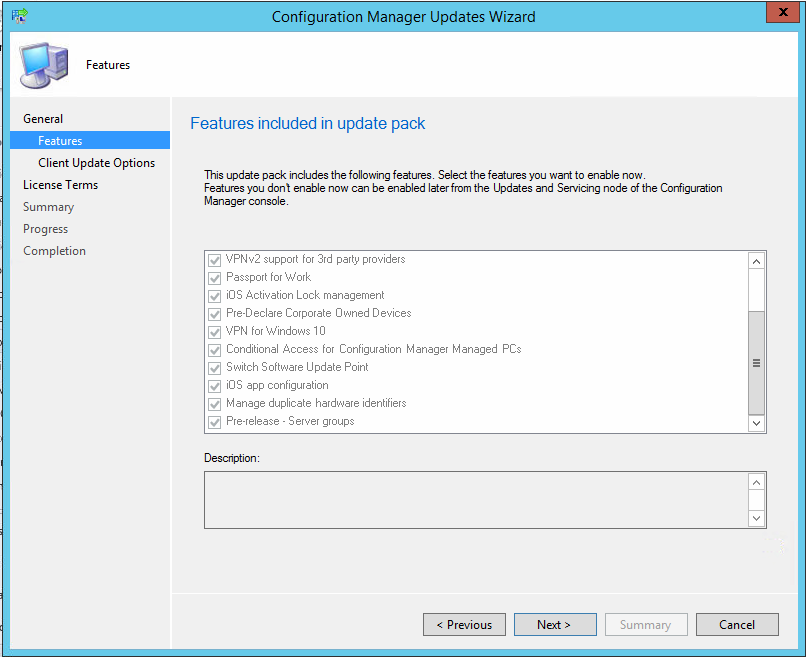 Before clicking next at the Client update settings please see this post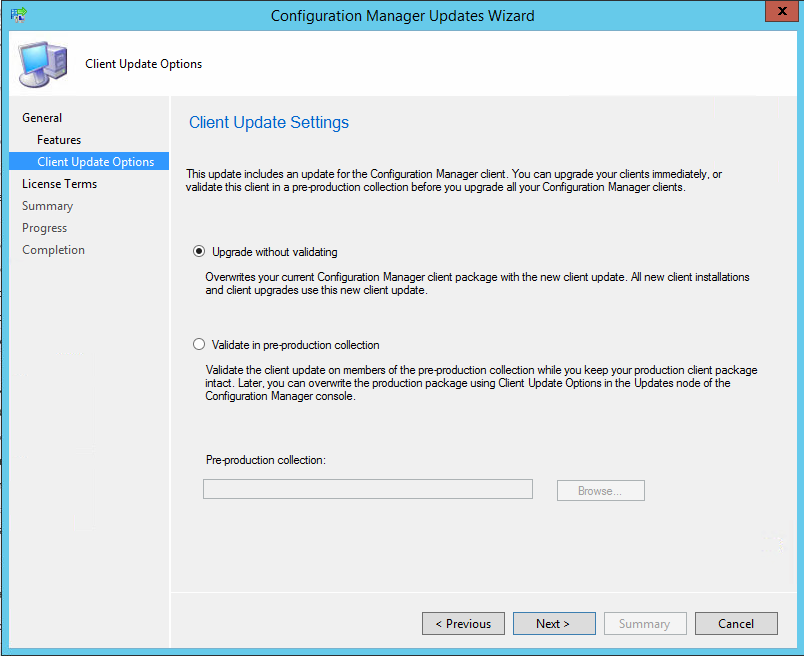 and review the EULA, Accept and continue,
While waiting for System Center Configuration Manager Technical Preview 1608 to install.. you can review the logs.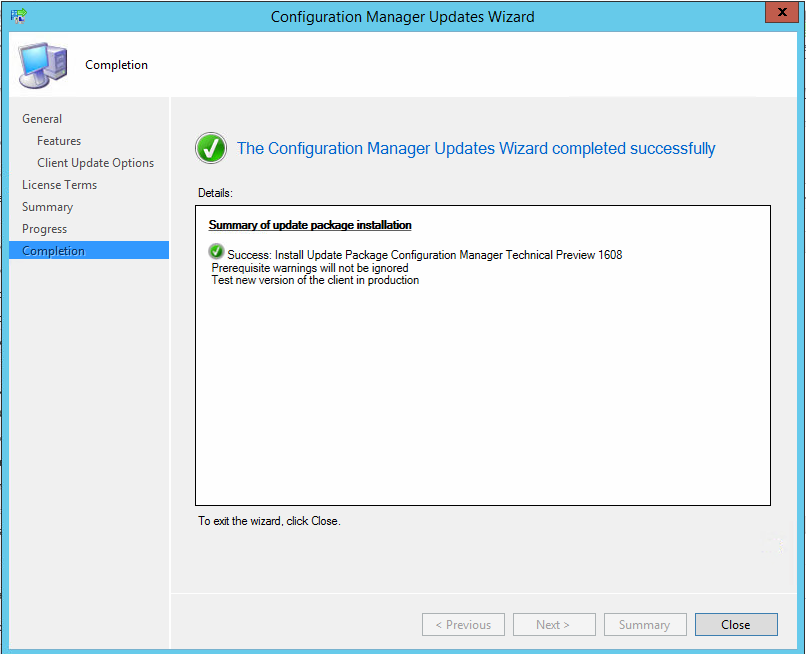 At this point the state should be listed as Installing in the ConfigMgr console.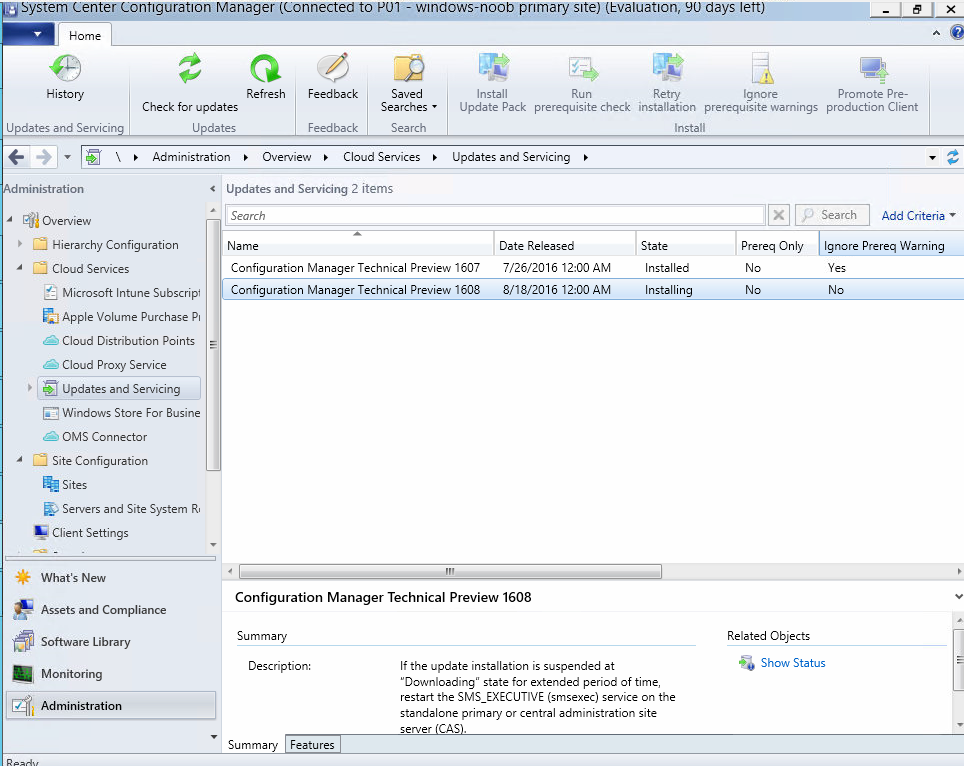 Note: The CMUpdate.log will take some time to start logging the installation of the update, so be patient if nothing appears to happen, it will. Once the update is complete, you'll see a hman notification in the log.
After the update is complete, you get the chance to update the ConfigMgr Console via a popup,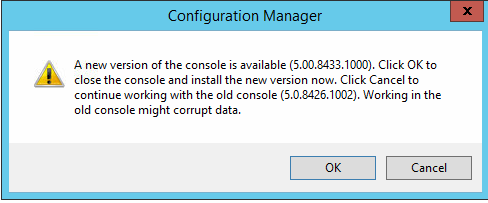 and after the console is installed, you can see the new ConfigMgr 1608 release.