Introduction
Windows 10 version 1607 was released this week and already people are upgrading their Windows devices. Prior to the upgrade, you may have been connecting to Active Directory using RSAT (Remote Server Administration Tools).
When you upgrade from one version of Windows to another, a side-effect of that process means that the upgrade itself (setup.exe) will remove the currently installed RSAT (if one is detected) as it will be incompatible with the newer version of Windows 10.
Therefore if you need the functionality that RSAT provides, you'll need to find the newer release of RSAT and install it.
Download and install the new RSAT
If you need to connect to Active Directory services from Windows 10 version 1607 you'll need a corresponding version of RSAT installed. The version that works with Windows 10 version 1607 is this release and it works just fine, you can download it here.
To install, simply run the WindowsTH-KB2693643-x64.msu or WindowsTH-KB2693643-x86.msu and when you are prompted by the Windows Update Standalone Installer dialog box to install the update, click Yes.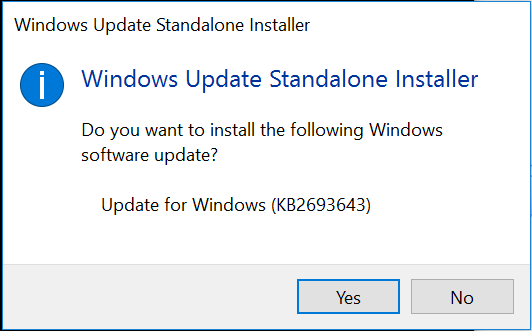 Accept the license agreement and after a few moments it is installed. You can access the RSAT tools themselves in the Windows Administrative Tools group in the start screen.