Now that there is support for additional operating systems in Configuration Manager 2012 SP1 you can download clients for those operating systems (Linux, Unix, Mac), but where can you download them from ?
The answer is easy, on the first page of the Installation Media (Configuration Manager 2012 SP1 Setup) there's a link to download these additional clients, see below: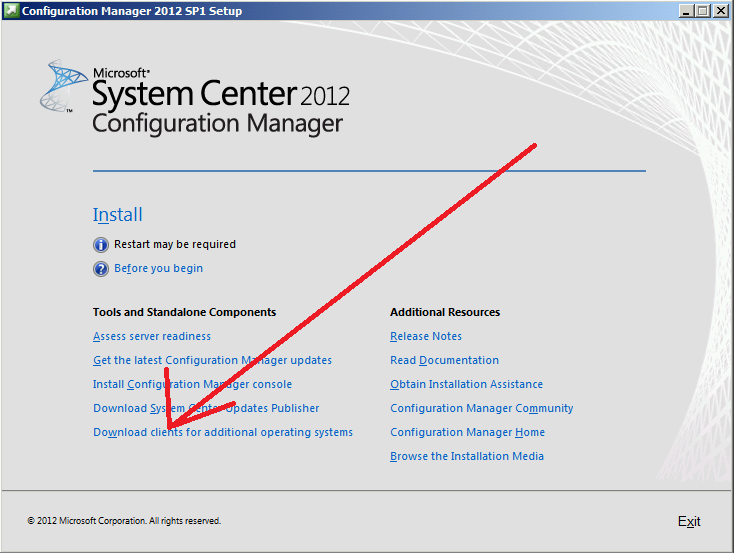 click on that and it should take you to the Microsoft Download Center to download the clients, they may be still listed as Beta SP1 clients but I would imagine that they'll be updated soon as SP1 goes through General Availability release.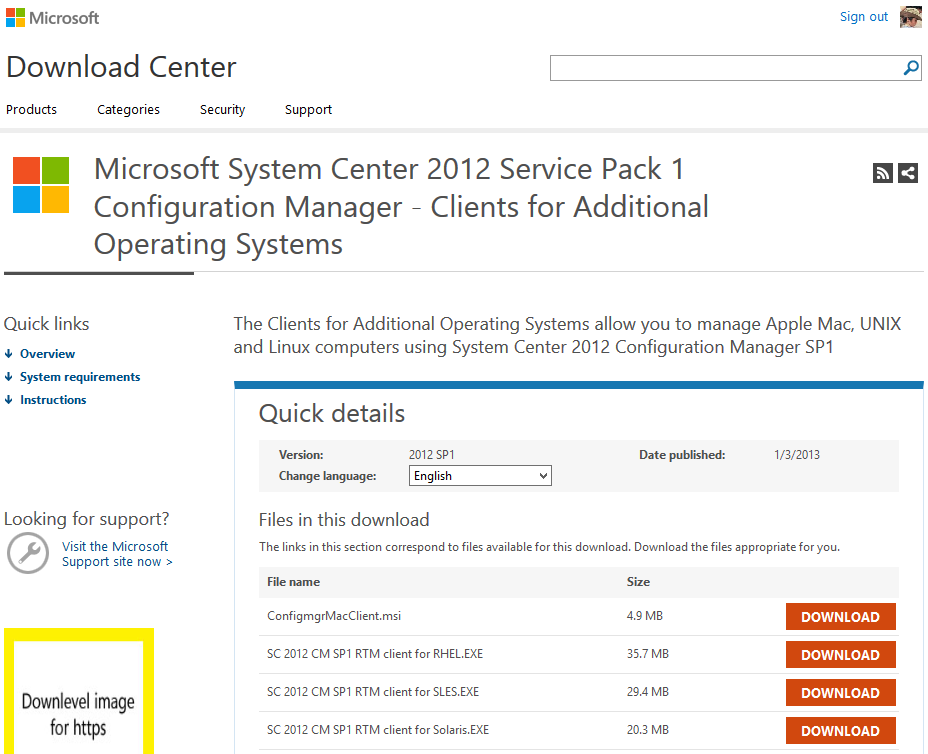 Below is some additional information (from the download center) explaining what the features of these clients are.
Feature Bullet Summary:
Mac Client:
The following Mac versions are supported in this release:
Mac OS X 10.6 (Snow Leopard)
Mac OS X 10.7 (Lion)
The following scenarios are supported through the Mac client in Microsoft System Center 2012 Configuration Manager SP1:
Discovery – Discovers Mac OS X system in Active Directory and through network discovery
Hardware Inventory – Provides hardware inventory and auditing of computers running Mac OS X, including a list of installed software similar to add/remove programs for Windows systems.
Settings Management – Ensures computers running Mac OS X comply with company policies using scripts and preference list management.
Application Deployment – Distributes required software via app model.
Software Updates Management – Distributes patches utilizing Software Distribution and Settings management features.
UNIX/Linux Client:
The following UNIX and Linux versions are supported in this release.
RHEL Version 6 (x86 & x64)
RHEL Version 5 (x86 & x64)
RHEL Version 4 (x86 & x64)
Solaris Version 10 (x86 & SPARC)
Solaris Version 9 (SPARC)
SLES Version 11 (x86 & x64)
SLES Version 10 SP1 (x86 & x64)
SLES Version 9 (x86)
The following scenarios are supported by the UNIX and Linux clients:
Hardware Inventory – Hardware inventory can be viewed through Resource Explorer and can be used to create collections of UNIX and Linux computers.
Software Inventory – Through hardware inventory the list of natively installed software can be gathered from the UNIX and Linux computers – similar to add/remove programs for Windows systems.
Software Distribution – Deploy new software, update existing software and apply OS patches to collections of UNIX/Linux computers (using a package and program). Run arbitrary maintenance scripts on a collection of UNIX/Linux servers.
Secure and Authenticated Communications
Consolidated Reports
cheers
niall