I had this problem today and thought I'd blog it as someone else will have the same problem someday. I wanted to view some  built in reports but when I clicked on Monitoring, Reporting, Reports it showed No Items found. I had already configured Reporting and it was working fine previously, so what was wrong.
I double checked to make sure I was logged in with a user with correct permissions to view all reports, I was logged in as SMSAdmin (with full access to everything). Next I checked the Component Status to see if there were any problems, and there were, with Reporting. The SMS_SRS_Reporting_Point was listed as Critical.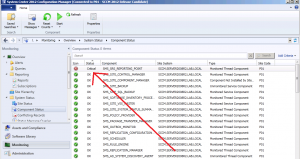 Right clicking on that and choosing Show all messages I could quickly see the problem, the Reporting Service was not started The report server service is not running on Reporting Service Point ID 7403).

so I started services.msc and could see that the service had not started for some reason (I had rebooted recently and perhaps the server was under heavy load after the restart and the service had not started as a result)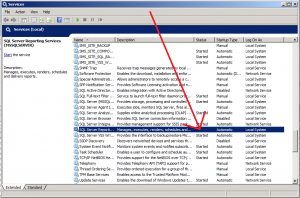 so i resolved the problem by right-clicking the service and starting it, a possible suggestion is that you could change the startup type of this service from Automatic to Automatic-Delayed Start, in the case of a heavily loaded server (such as my lab with multiple vm's running) this gives the service time to start after  Windows has started all the normal services. After starting the service, all is looking good as you can see below.
cheers
niall